"So many disputes have taken place because we do not have property documents…Now this can be prevented."
Layla Salu Alias, Borek resident, 21 years old.
"Our houses are not really our houses […] because we have no documents. With this programme we are taking steps forward to solve this situation."
Najat Naadosh Ali, Borek resident, 21 years old.
Najat and Layla grew up in the Yazidi township of Borek (Mujama'at) in Sinjar, where their families were forcibly relocated in the 1970's, as part of the previous regime's discriminatory policies against ethnic and religious minorities. Both were only 16 years old when ISIL occupied Sinjar in 2014. Due to their religious beliefs, Yazidis were targets of violence, with many killed and captured.
"Every family in Borek has a unique story about their displacement", says Najat. Her family were split during the escape: while some took the road to Kurdistan, her father and brother sought refuge in the Sinjar mountains, where her sister in law was eventually kidnapped by ISIL. Layla's family, along with many others, fled to the Sinjar mountains where they stayed for 10 days without food or water. Stories abound of people who couldn't survive the hunger and thirst. Layla was lucky; they were able to escape to Syria. "We did it all on foot", she recalls, "we could not find vehicles with fuel to cover the long distance."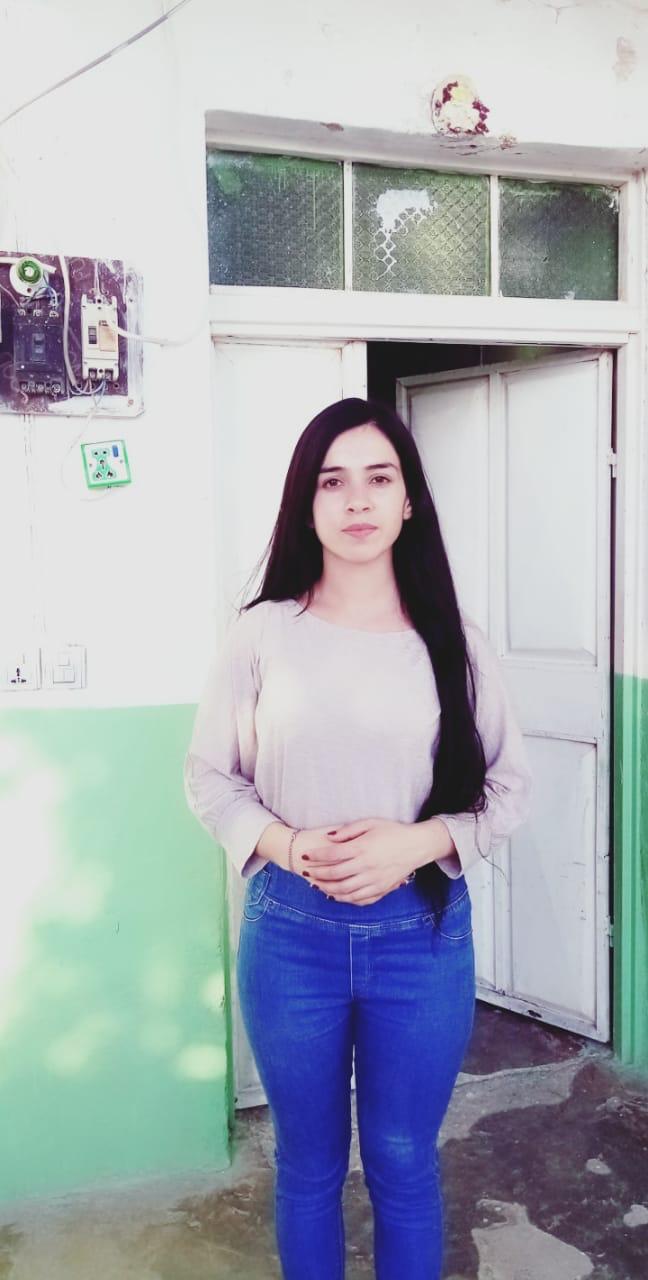 Feedback session, Sinjar, Northern Iraq, May 2019
UN-Habitat Iraq
Family members were scattered during the displacement, either in Iraq or in other countries as refugees. As they returned to Borek, people added the absence of loved ones to the hardships of coming back to a town that is now lacking many essential services, such as running water and a constant supply of electricity. Moreover, Najat's and Layla's homes were damaged during hostilities; to this day they have not been able to repair them due to lack of resources. "The house is made from mud and there were explosions all around," explains Layla, "it still has open walls and floods when it rains." Neither of these families has received assistance. Layla's family applied for compensation upon return: "After two years we have not received an answer from the government and we have spent so much money." As with every Yazidi family in Sinjar, they have never had any documents to prove they own their land, which often leads to unsuccessful compensation claims for destroyed or damaged property.
Now 21 years old, Najat and Layla have become active in their community. "In Borek, young women have few  opportunities to earn a living. Business training would help us", says Najat. Layla also draws attention to the dire situation of the most vulnerable members, such as people with disabilities.
In 2018, UN-Habitat launched the programme titled "Support to IDPs Housing, Land and Property Rights in Nineveh, Northern Iraq" with the aim of supporting the sustainable return of the displaced population by contributing to the resolution of property claims. Families are visited by the UN-Habitat team to collect information and geo-spatial data to identify the plot. The claim is then digitally registered in a software based on Social Tenure Domain Model, through a specially tailored mobile application. Once the property claim verified, an Occupancy Certificate is issued. Layla's and Najat's household were surveyed at the beginning of 2019 and have now received their certificates. For most of these Yazidi families this is the first time they possess any document that recognizes their rights over the lands they work and the houses they live in.
Awareness raising being a cornerstone for empowering communities, the programme intends to strengthen the knowledge on housing, land and property rights among Yazidi people. In line with UN-Habitat's gender-sensitive approach, in May 2019 a female-only session allowed 67 women to discuss, in a safe and friendly environment, what these rights mean to them.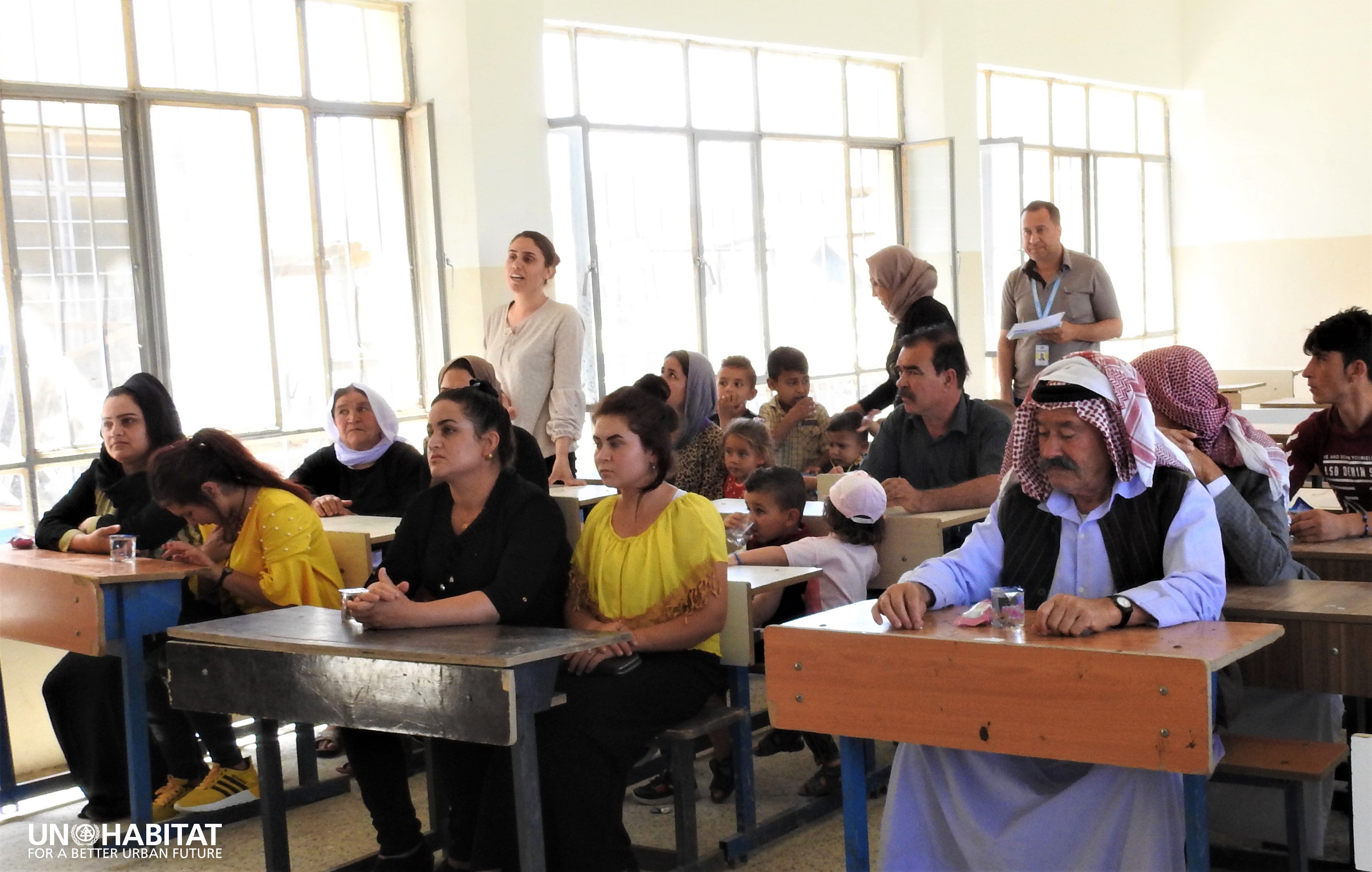 Feedback session, Sinjar, Northern Iraq, May 2019
UN-Habitat Iraq
"I have heard members of the community say that our houses are not really our houses. It doesn't matter how long we have been living here, it's not our property because we have no documents. Anyone can come and take them from us. With this programme we are taking steps forward to solve this situation", comments Najat. Layla agrees: "So many disputes have taken place because we do not have property documents; it turns into land conflicts that can last years. Now this can be prevented." She recalls her grandfather living in anguish because of a disputed piece of land, saying it could be taken away at any time because he had nothing to prove it belonged to him. In the end, the family did in fact lose the land. "To have a document with which we can prove our property rights is very important for our families," she concludes.
As of July 2019, UN-Habitat has delivered Occupancy Certificates to 2,811 households in Sinjar, Ninewa Governorate, Northern Iraq.