Berlin, 15 September 2022 – Niels Annen, Parliamentary State Secretary at the Federal Ministry for Economic Cooperation and Development, and Maimunah Mohd Sharif, Executive Director of UN-Habitat, signed a contribution agreement for one million euros in core funding from BMZ funds for UN-Habitat.
In its coalition agreement, the German Government announced its intention to support partner countries in their rapidly advancing urbanisation and to work politically and financially to strengthen the United Nations (UN). With this funding, Germany is helping to further strengthen UN-Habitat as the central organisation for urban development worldwide.
Maimunah Mohd Sharif, Executive Director of UN-Habitat was very pleased with the German contribution, "I thank the Government of Germany for this decision to contribution one million Euros to the organization's core funding and invite other member states to follow suit. UN-Habitat needs your support to close the gap in sustainable urban development."
Niels Annen emphasised the importance of cities for sustainability, "Cities are central to a socially just transformation of our way of life and economy. Whether housing, working, resource consumption, climate change, social cohesion or economic advancement - almost all of humanity's future issues are decided in cities. As the central UN organisation for sustainable urban development, UN-Habitat is an important multilateral partner for German development policy."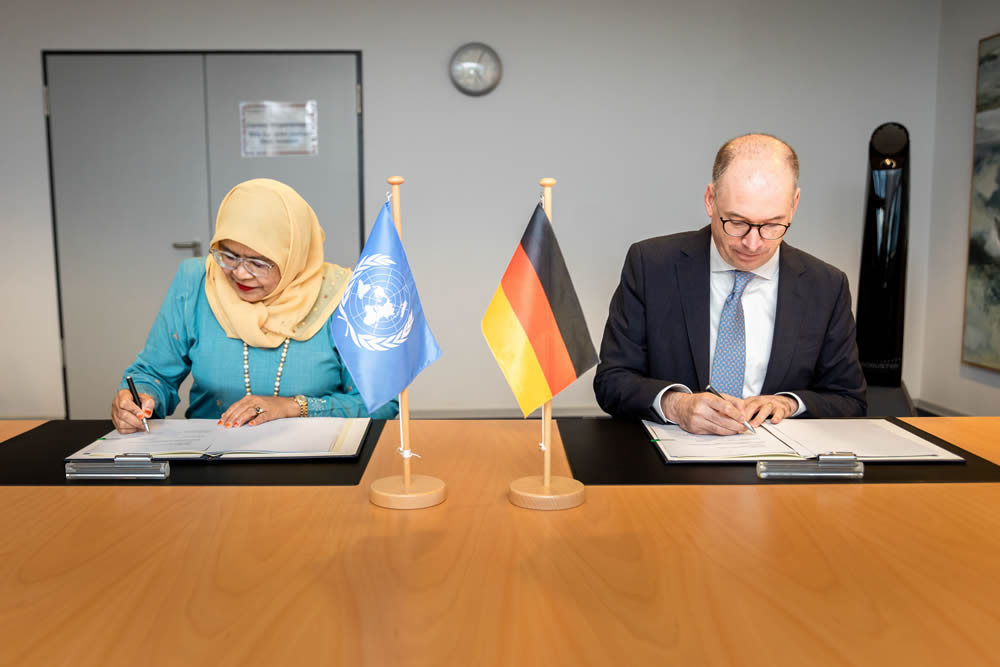 Funding had been pledged to UN-Habitat by the BMZ during the eleventh session of the World Urban Forum in Katowice, Poland, in June 2022. The theme of this largest bi-annual conference on sustainable urban development was "Transforming our Cities for a Better Urban Future". Non-earmarked core funding, or flexible financial support to the organization, will be directed toward realizing the 2020-2023 strategic plan of UN-Habitat. This plan was adopted to accelerate efforts towards climate action, invest in post-conflict reconstruction and recovery, and build capacity for local action on sustainable urban development.
State Secretary Annen and Executive Director Sharif also discussed a new project being implemented by the United Nations Innovation Technology Accelerator for Cities (UNITAC) in Hamburg, which will be financed with BMZ funds.
For further enquiries or interview requests, contact Katerina Bezgachina, Chief of Communications, UN-Habitat, ekaterina.bezgachina@un.org.