Sinjar, Northern Iraq. "When we first heard there would be a programme to support our property rights, we did not believe it. But then it happened!" Hazem Kcho Saado, Borek resident, 47 years old.
As a Yazidi from Sinjar, Hazem has been displaced more than once during his lifetime. Like most Yazidi families from the area, he came to Borek Township (Mujama'at) in 1975, when they were forcibly relocated from the traditional Borek village as part of the previous regime's policy. People, he says, were not happy to leave behind their lands and way of life. But in time they started to see the positive aspects: electricity and running water, opportunities for business. However, as a result of decades-long discriminatory policies against ethnic and religious minorities, they were never able to gain access to official recognition of the ownership of their lands and houses, lacking any documents to support their property rights.
With the ISIL occupation of Sinjar in 2014, the Yazidi community became a particular target of killings and enslavement due to their religious beliefs. To escape the violence, families were forced to flee within Iraq or to other countries, becoming internally displaced or refugees. Hazem recalls that when ISIL approached Borek, he tried to cross the Sinjar mountains to reach his sister, but ISIL had already closed the roads. His family then joined others to march into Kurdistan. Although he eventually found work, resources were scarce. He ended up losing his uncle due to lack of medical supplies. "That time was very difficult", says Hazem. More than a year and a half later, Hazem returned to Borek with his wife and children.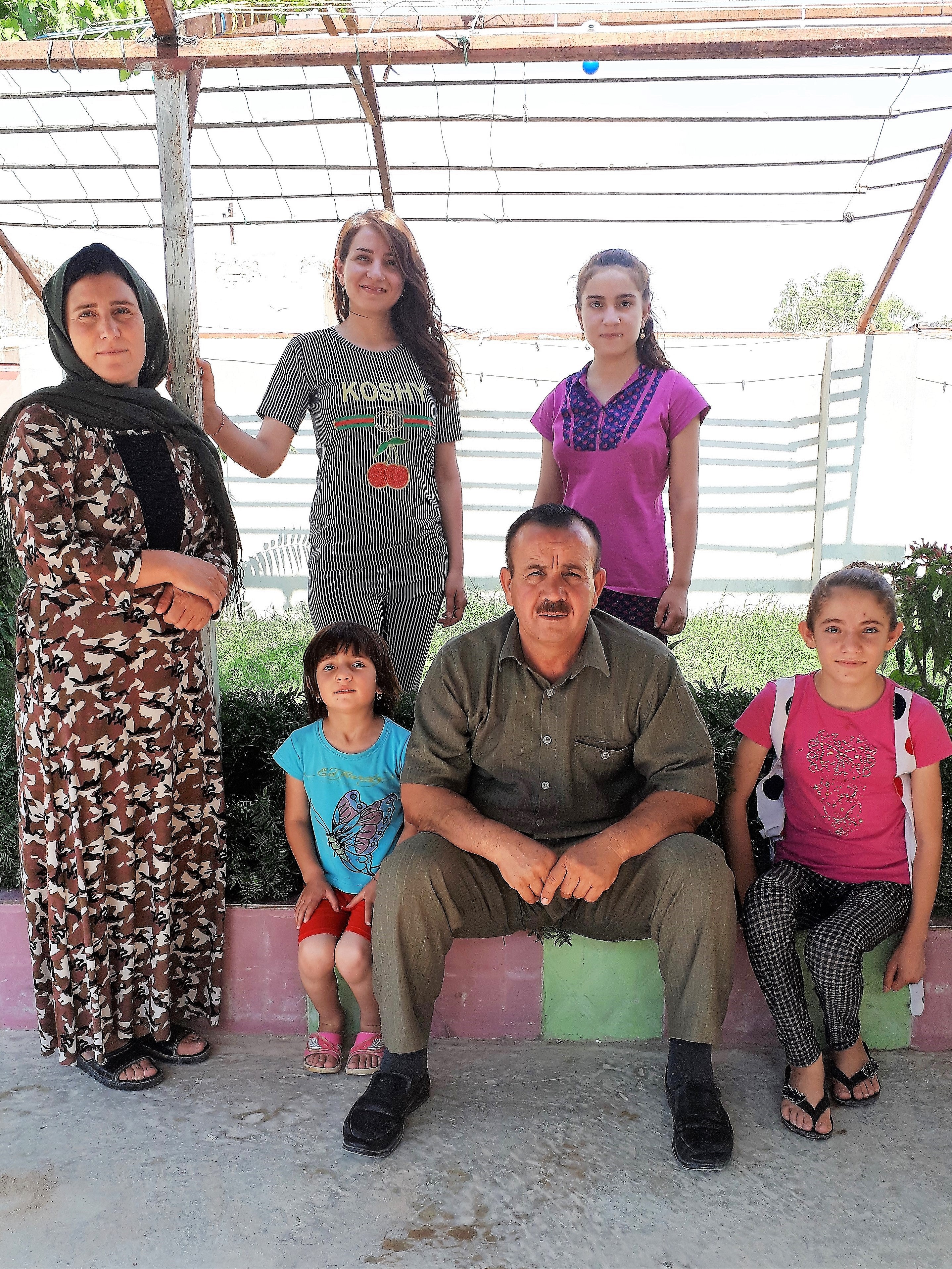 Hazem and his family, Sinjar, Northern Iraq, July 2019
© UN-Habitat Iraq
Little by little, they repaired the family home, damaged during hostilities. Hazem, a school teacher, is now receiving a salary. However, the lack of basic services makes life very hard. According to Hazem, the township lacks electricity, families must buy water from water trucks, roads remain unpaved, and there are no basic medical services.
In 2018, in close collaboration with the local government and the community, UN-Habitat announced that the programme titled "Support to IDPs Housing, Land, and Property (HLP) Rights in Nineveh, Northern Iraq" would be coming to Borek.
Aiming at a sustainable return of IDPs, the programme addresses property claims, providing occupancy certificates to families that currently possess no such documents. Through awareness raising sessions on HLP rights, the programme also intends to empower the community. "When we first heard there would be a programme to support our property rights, we did not believe it. But then it happened!", says Hazem. He then heard about the awareness sessions on HLP rights. "I have attended twice!", laughs Hazem. "We have been waiting for this for so long!"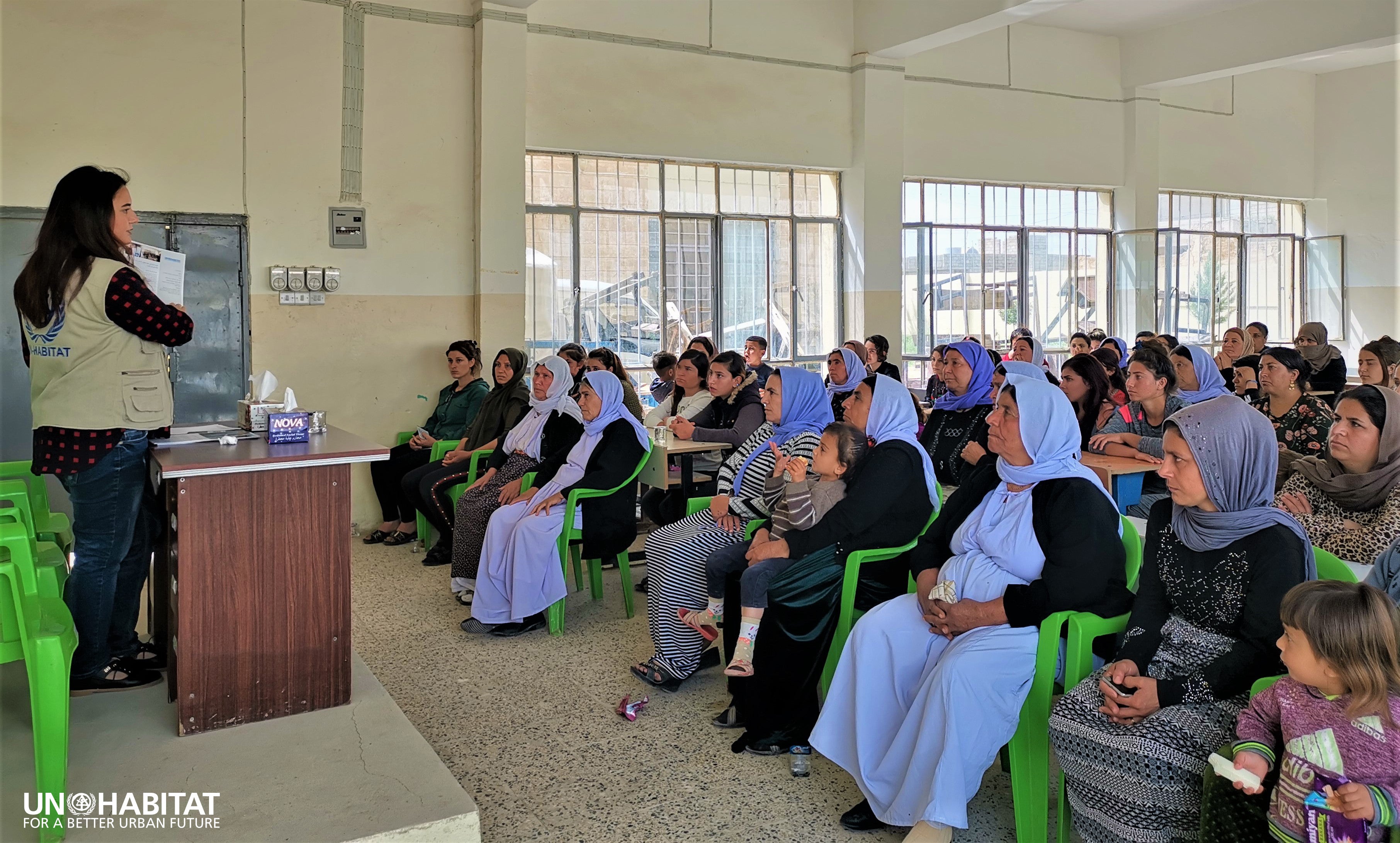 Female-only awareness raising session on Housing, Land and Property rights, Sinjar, Northern Iraq, July 2019
© UN-Habitat Iraq
Early in 2019, the UN-Habitat team visited Hazem's house to collect information. As his wife was not able to attend the awareness sessions, he was especially keen for her to be present during the interview. "I know that women's rights are very important, and I wanted to do this together." Through a specially tailored mobile application data collection tool, Yazidi people's claims are supported by family documents as well as geo-spatial data and imagery of the plot. The claim is then endorsed by the community.
Shortly after this interview, Hazem received the household's Occupancy Certificate. "This is so important for us because we have never had any documents relating to property, and we are very grateful to UN-Habitat and to the team that is doing this hard work."
UN-Habitat has delivered over 2,811 Occupancy Certificates to households as of July 2019 and has reached over 550 men and women through awareness sessions in Sinjar, Ninewa Governorate, Northern Iraq. Although the situation in Borek is still challenging, Hazem hopes that the community will get back on its feet. Therefore, he calls for UN support to ensure that these certificates are formalized by the Iraqi Government in recognition of the rights of the Yazidi people.
Article: Claudia Flores Suarez