Iligan City, Philippines, 29 November 2019 – In battle-scarred Marawi City, recurring humanitarian issues like water, sanitation, and waste have remained and have not been addressed through conventional means since the five-month armed conflict broke was officially declared by government as finished on October 2017.
In a bid to help come up with new or innovative ideas to respond to poor living conditions persisting in vulnerable Marawi communities, UN-Habitat and UNIDO teamed up with hackathon organizer Red Wizard Events Technology to bring students together from across Mindanao to generate innovative ideas in the rehabilitation of Marawi through a Mindanao Youth Innovation Hackathon on 29-30 November at the Mindanao State University- Iligan Institute of Technology (MSU-IIT) in Iligan City.
Dubbed as the CleanTechHack, the coding marathon challenged students to come up with innovations using clean technology or green solutions—be they in the form of web and mobile apps, infographics, business plans, or prototypes—aimed at encouraging recycling and improving sanitation while expanding livelihood options.
Both UN-Habitat and UNIDO are looking for solutions that will help manage plastic wastes in communities and generate income from collected wastes, particularly plastic bottles and other recyclables. Other solutions that will improve water quality in Marawi, including user-friendly systems that will allow residents to monitor water quality and/or purify water using materials available in the neighborhood, are also encouraged.
"This hackathon is a first for UN-Habitat here in the Philippines," said Christopher Rollo, Programme Manager of UN-Habitat Philippines. "The hackathon concept has been around for years now and, for us working in the humanitarian sector, it is an innovative approach that may just hold the key to unlocking the answer in addressing current humanitarian challenges, especially in an urban context where technology can play a transformative role."
Rollo added that the hackathon aimed at engaging the youth and the communities in coming up with fresh innovative ideas and pragmatic solutions in the rebuilding of Marawi.
The hackathon complements the Rebuilding Marawi through Community-Driven Shelter and Livelihood that UN-Habitat is implementing in Marawi City, with funding from Japan. The project follows global common standards, which are embedded in the design of activities to minimize risks and negative impacts. 
An Environmental and Social Safeguards (ESS) assessment done in February through May this year in select affected areas identified interconnected issues related to water quality, water usage, and waste disposal.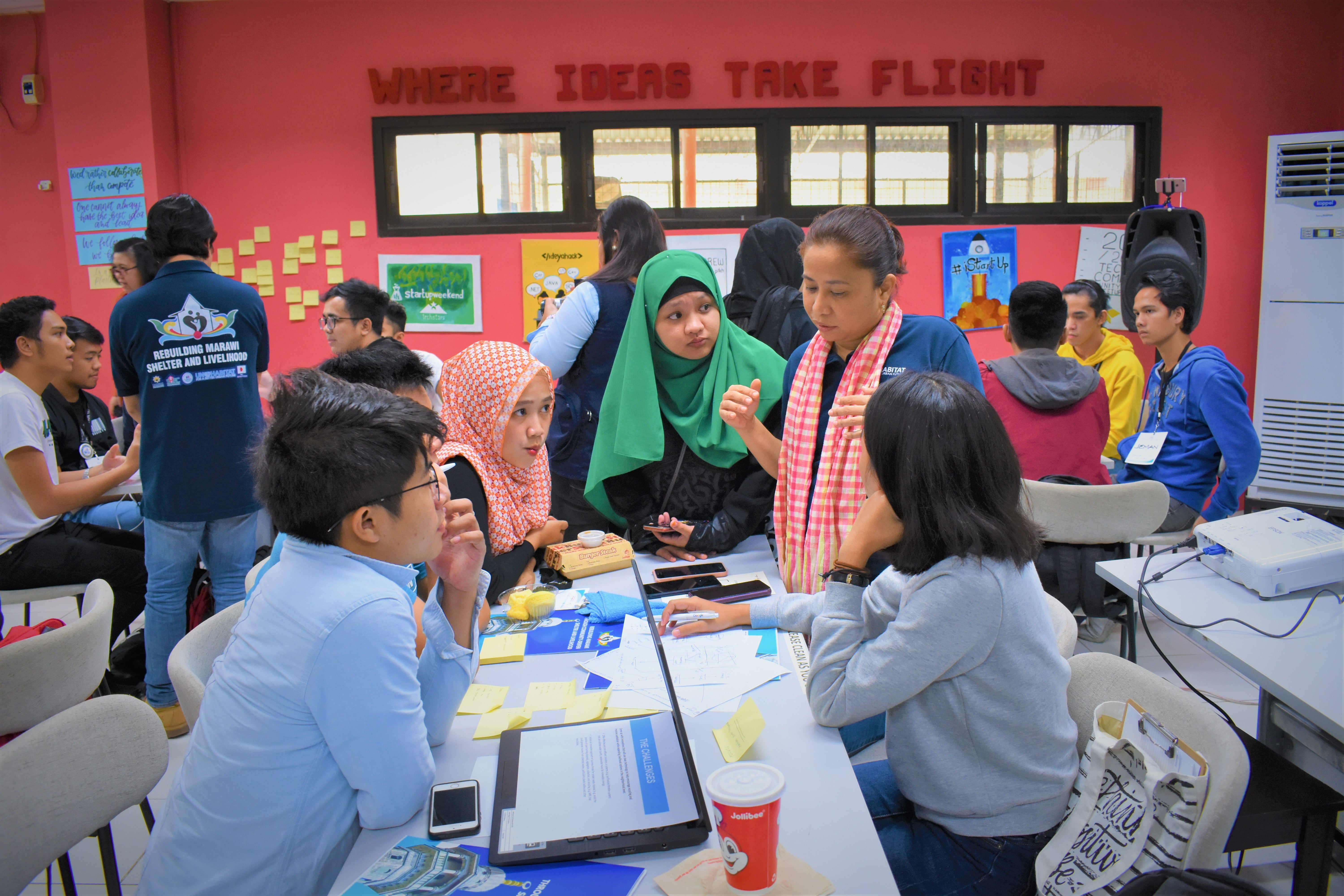 University students, teachers, humanitarian workers, government officials, and communities gather in the first clean technology hackathon to address humanitarian issues in Marawi City.
UN-Habitat/Mark Padida
The inaugural hackathon sparked conversation and brainstorming among student participants, mentors, community representatives, university professors, and organizers over the two-day meet. Five Information Technology majors from the MSU-IIT clinched the top prize for their digital solutions project called e-Tapon, a mobile gaming app that uses applied or experiential learning approach to instill knowledge and good practices in community waste segregation. The game is designed to improve mobile users' visuospatial cognition and situational awareness and ultimately have a positive impact on their social behavior.
The game features color-coded garbage bins: blue for food waste, red for non-biodegradable, yellow for plastic bottles, and green for biodegradable. The game opens with graphics of these bins and different kinds of trash at the bottom of the screen. A garbage bin  moves from left to right or right to left and changes color, the player has to toss the trash into the appropriate bin. The type of trash will vary and mimic actual trash or waste items in Marawi.
During the presentation and deliberation, the judges recommended for the team to enhance the game and incorporate an incentive system based on a tier of goals that they need to complete and achieve.
Zoologist and environmentalist Inshirah Alonto Ala from Marawi City had nothing but praises for the participants: "I am impressed with the outputs and, more importantly, I am very thrilled the youth were able to pinpoint the root cause of the environmental problem in our community, our behavior."
"What we need right now is a revolution against this perverse behavior of reluctance and neglect through progressive platforms like this hackathon. It is innovative as it is achieving two things at once, providing a tangible solution while presenting a social approach to changing human behavior," Ala added.
Other green solutions presented by student participants included a livelihood proposal called Plangkit, which incorporates solid waste materials, particularly tarpaulin and plastic sheets, with a traditional Maranao fabric called langkit to make bags, apparel,  and handicrafts.
Another pitch was the Cleaner Marawi project based on a progressive web application (PWA) using GIS and photogrammetry to provide a 3D visualization of a community and  document areas where accumulated solid waste needs to be disposed of.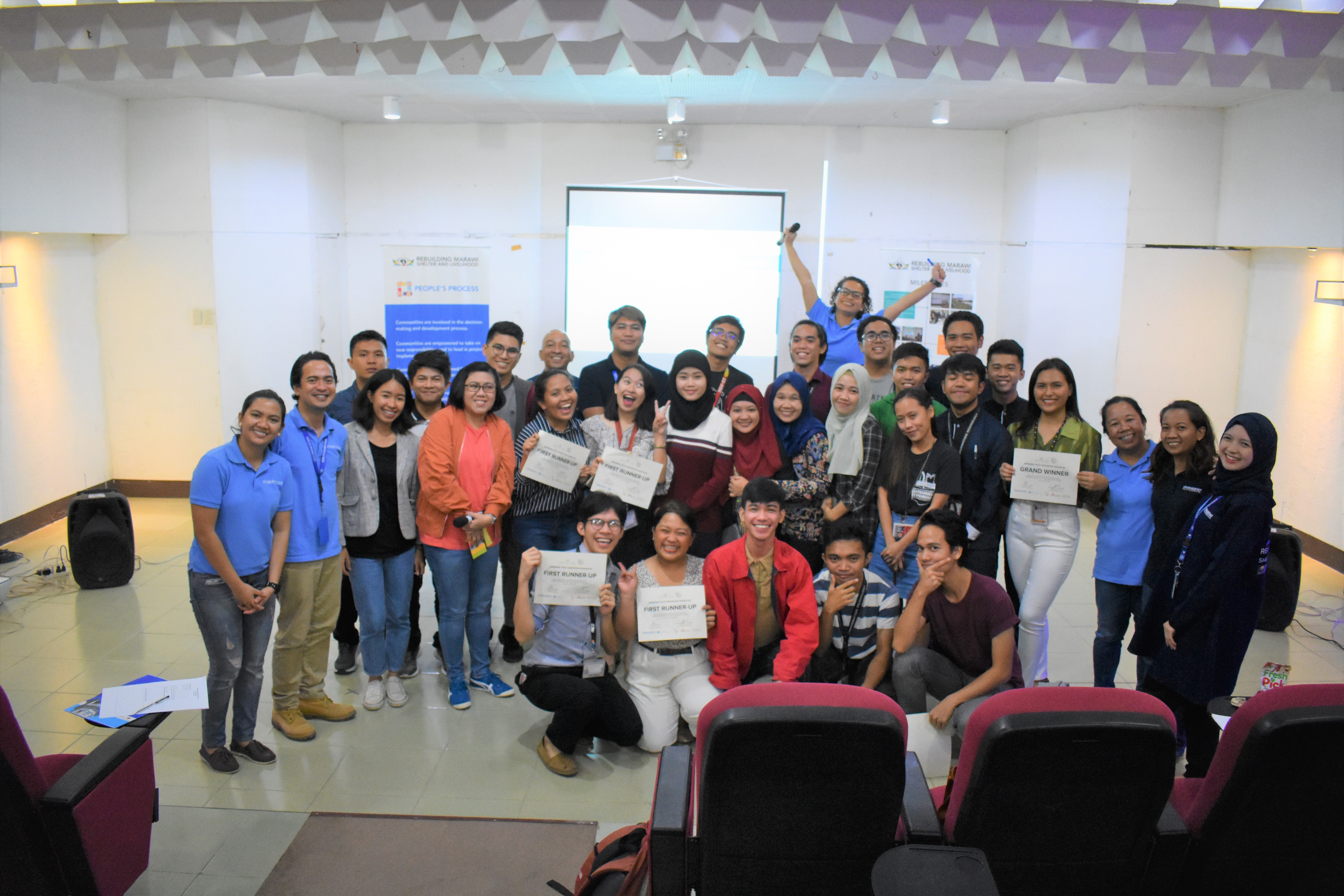 The Mindanao Youth Innovation Hackathon showcased the creativity and innovativeness of students in the call to offer solutions for sustainable water and solid waste management.
UN-Habitat/Mark Padida
Web application TAMA or TrAsh Management Application uses third-party technology sensors and microcontrollers to monitor and detect garbage levels in trash bins across Marawi City.
Melody Mae Maluya, team leader for e-Tapon, said that it was her first time to participate in a hackathon, made more memorable with their win. She added that "aside from winning, the event was an eye-opening experience to all of us. It gave us a redirection of our purpose and a new perspective of the many ways that we can impact society as students."
The best cleantech projects were awarded prizes and the winning teams will be given the opportunity to implement their project if and where deemed feasible.
iDEYA: Center of Innovation and Technopreneurship of the MSU-IIT and Philam Life, the Philippine leading insurance company, sponsored the event.