Wednesday 19 August - UN-Habitat is on the frontline of the world's urban crises, responding immediately to help people most in need and to ensure a quick recovery. We work closely with communities and authorities in cities and towns across the world to support critical emergency responses.
On World Humanitarian Day, UN-Habitat thanks all those who keep delivering services and support to people in our cities and towns through crises and disasters. We are also grateful to all our donors who support our emergency response around the world
In 2020, as needs are outpacing funds and with extremely difficult restrictions in our towns and cities, humanitarians including UN-Habitat have responded to the massive spike in humanitarian needs around the world. UN-Habitat engages national and local authorities to bring together a collective urban response in emegency situations.
Humanitarian responses need to be targetted effectively to ensure we assist the most vulnerable. UN-Habitat is working with community groups using mobile aps to map the needs and responses in informal settlements. This enables us to make sure the right assistance goes to the right people.
Damage assessment in Beirut
Despite countless challenges and suffering, refugees, displaced people and local communities in urban areas are often the first responders who save  lives during times of crisis.They represent the best of humanity. They are #RealLifeHeroes.
Around 90 per cent of people with COVID-19 are in cities and towns which the UN-Secretary General has called the 'ground zero' of the pandemic. City authorities are at the forefront of efforts to overcome this pandemic and to build back better. On World Humanitarian Day UN-Habitat recognizes that their leadership has saved countless lives.
The COVID-19 pandemic shows the resilience and ingenuity of our urban communities who have found solutions to prevent and contain the spread of the virus. On World Humanitarian Day UN-Habitat highlights the contribution of local action now and to finding durable solutions .
The COVID-19 pandemic has exposed deep inequalities in the way people live in cities. Nearly a quarter of the world's urban population are in informal settlements  and the most vulnerable people have been hit the hardest. UN-Habitat supports youth groups in Kenya to halt the spread of  COVID-19 by providing public handwashing facilities, masks and information using murals and kiosks in informal settlements. So far there have been 1.5 million handwashes at these facilities.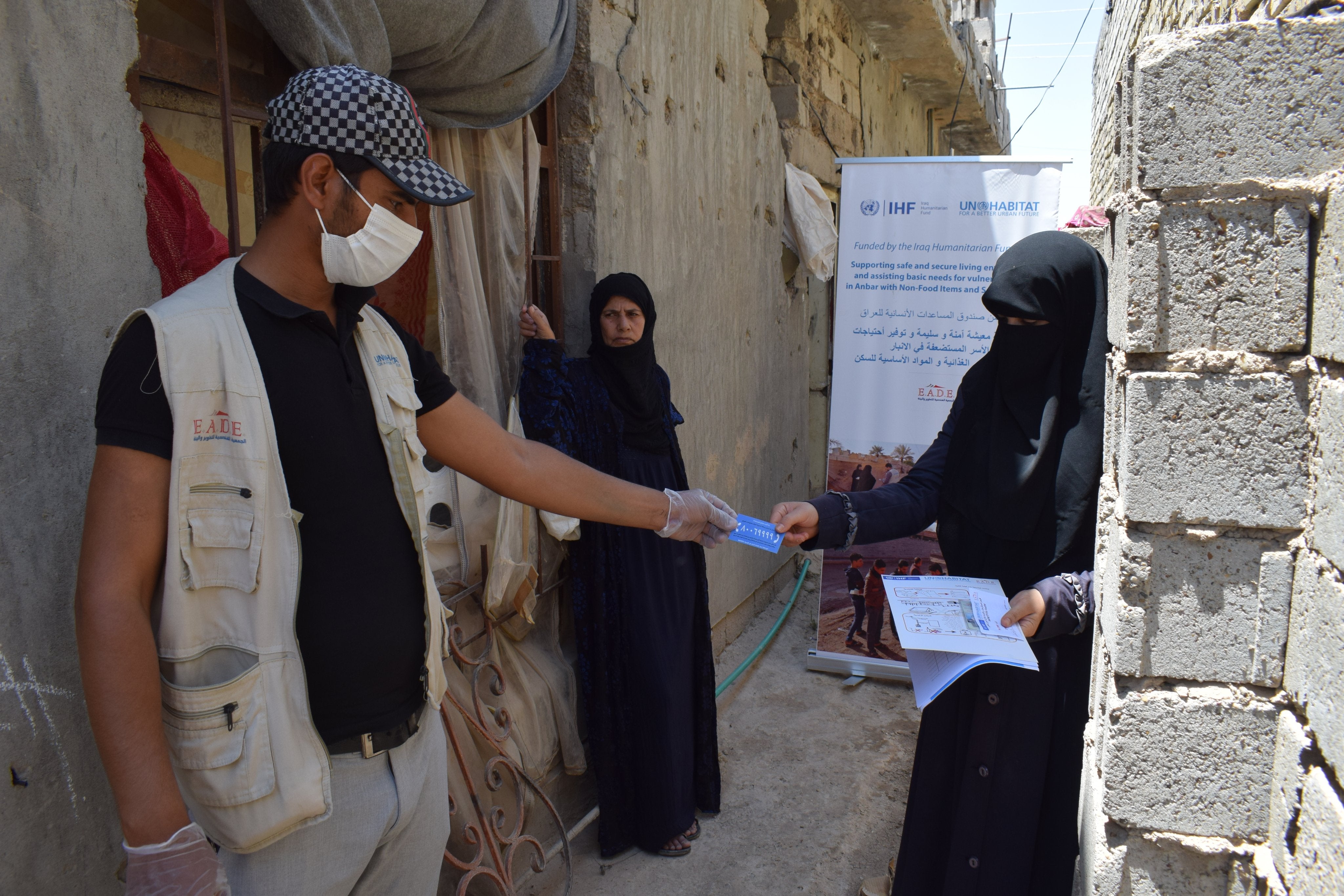 A UN-Habitat staff member does community sensitization on the shelter upgrading project in Anbar, Iraq
Some 300,000 people were made homeless by the massive explosions in Beirut. UN-Habitat is on the ground working with local authorities and the humanitarian community, supporting the coordination and using technology to map the damage and planning the recovery and reconstruction of impacted neighbourhoods. Urgent support will be provided to around 800 families who were displaced by the explosion, through cash for rent modalities.
Following the explosions which destroyed large areas of the city, the needs in Lebanon are enormous. UN-Habitat is on the ground and is contributing to the early response, recovery and reconstruction of impacted neighbourhoods. An urban recovery response will be developed with a view to build back better. On World Humanitarian Day we stand with the people of Lebanon.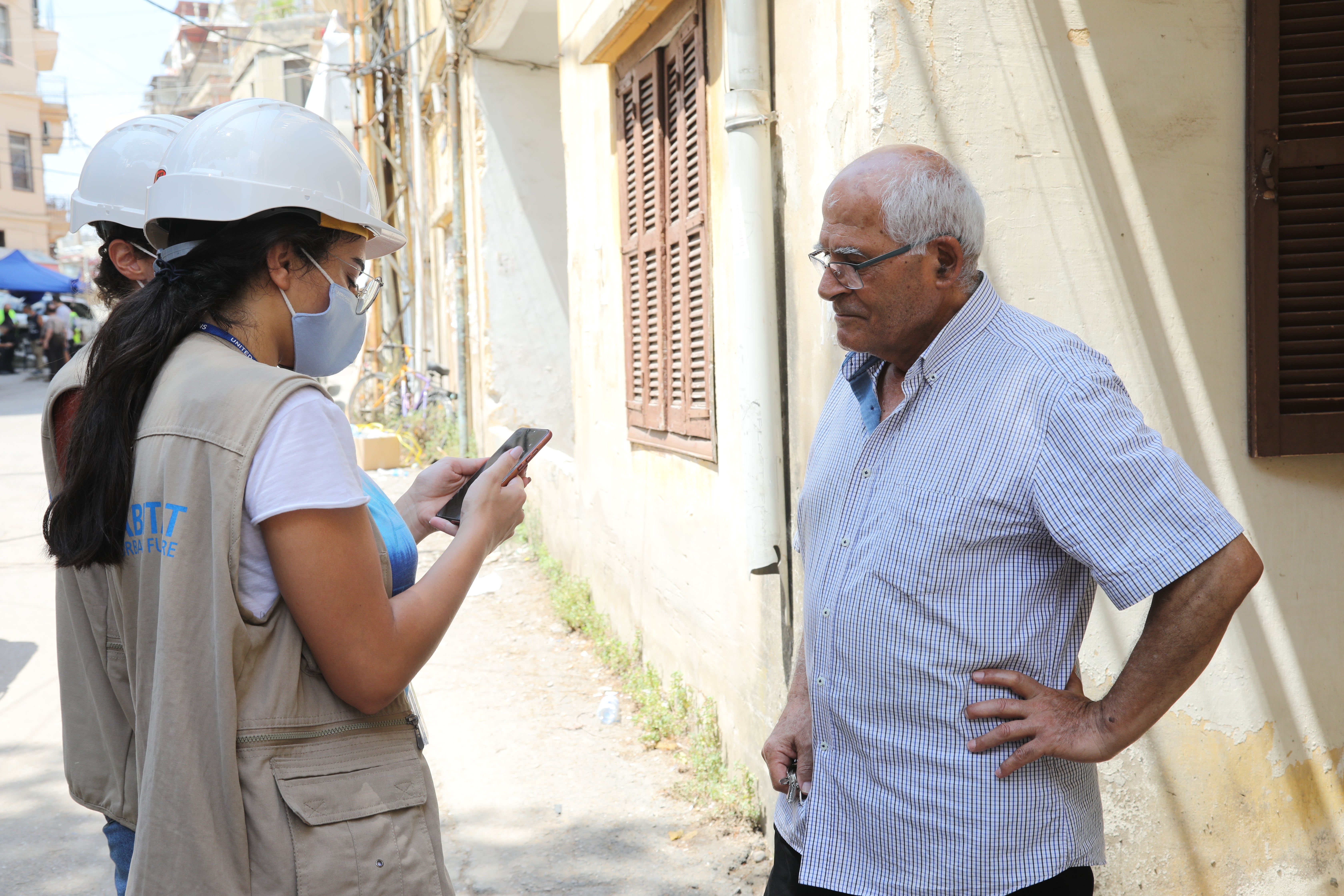 Community needs mapping in Beirut after the explosion in Lebanon