Karachi, Pakistan, 22 April 2022 – Pakistan is the most urbanized nation in South-East Asia but more than a third of that population faces urban challenges. Karachi, the country's most populated city, for example, confronts frequent power failures, water shortages, transport woes, heat island effect, rising sea levels, ever-expanding unregulated informal settlements, urban flooding.
Compounding the problem in Pakistan, and cities like Karachi is that they also house many urban slums. According to some estimates, more than 50 percent of the city population lives in informal settlements, known as Katchi Abadis.
In Karachi, 64 per cent of the population live in 986 Katchi Abadis, 562 of which are regularised by the government and the remaining 424 are non-regularised, hence without the security of tenure.
Residents of katchi abadis face a number of challenges, among others, with regard to waste management, clean water and sanitation, electricity and gas supply, environmental quality, and poor infrastructure. They are also more vulnerable to natural hazards such as flooding, heatwaves, landslides, and earthquakes.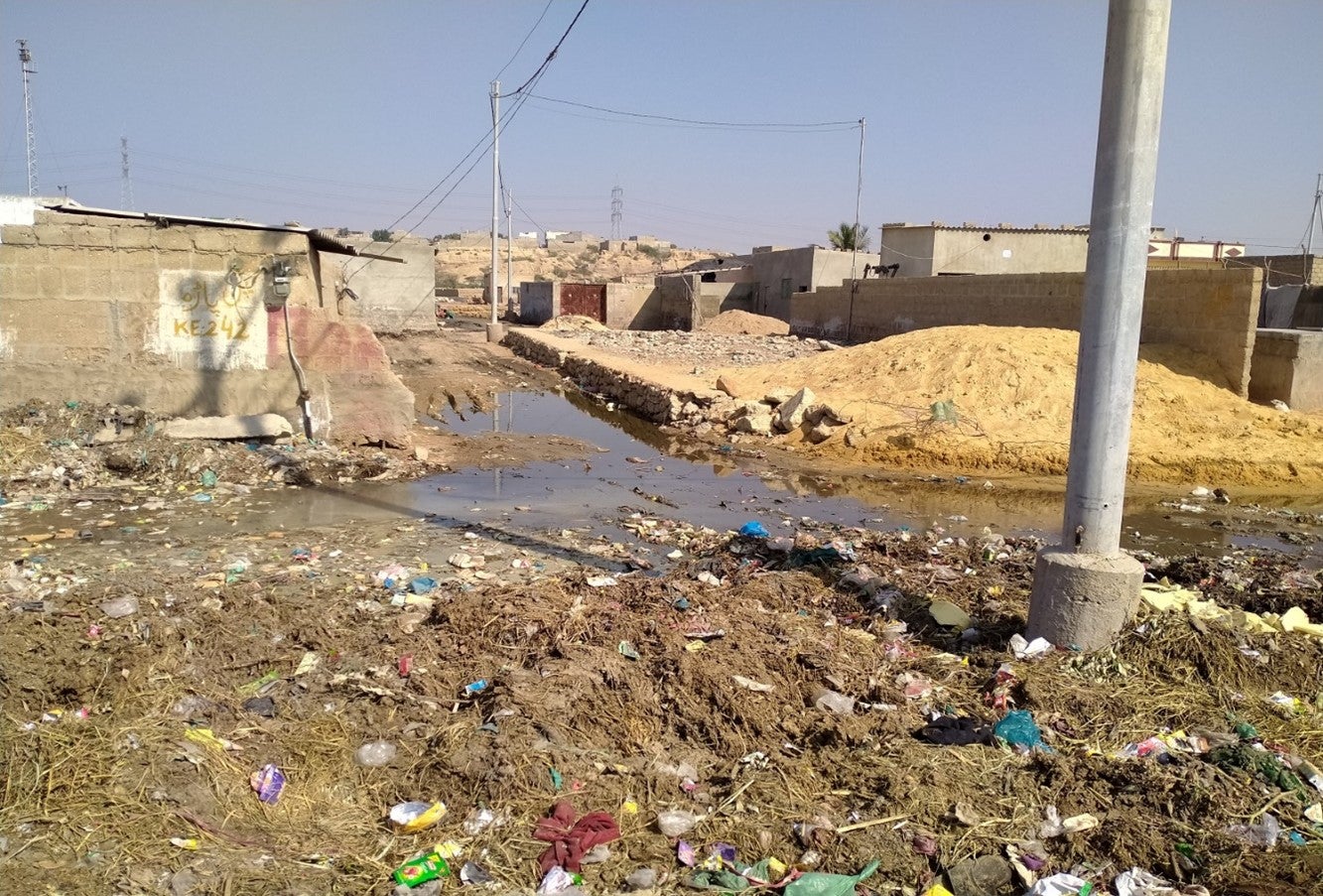 Drain water logged in Rehri Goth Katchi Abadhi Community, Karachi
UNHabitat/Pakistan
"We do have gas lines but there is no gas available, and we are forced to burn wood. We do not have a water supply we have to travel far away to fetch water for drinking and daily use. Almost 15 to 18 hours a day we do not have electricity, our nights are spent in darkness," Muhammad Wasayo, a focal community member from a Karachi urban slum.
Slums have so limited the government's capacity that officials often cannot deal with their shortcomings.
To remedy the problem, UN Habitat, in collaboration with Pakistan's Ministry of Climate Change and Republic of Korea's Land and Housing Corporation recently initiated a project to enhance the capacity of its key institutions and communities to promote low emission development process under Paris Agreement.
Part of that capacity building is to increase the government's ability in its considerable effort to address the issues of basic needs such as health, water, sanitation and education in the slums, which studies have shown they suffer from extremely unhygienic and unhealthy living conditions. 
Due to poor ventilation, small houses, and burning of wood and biomass for cooking purposes, indoor air pollution is high in Katchi Abadis, leading to increase in health problems.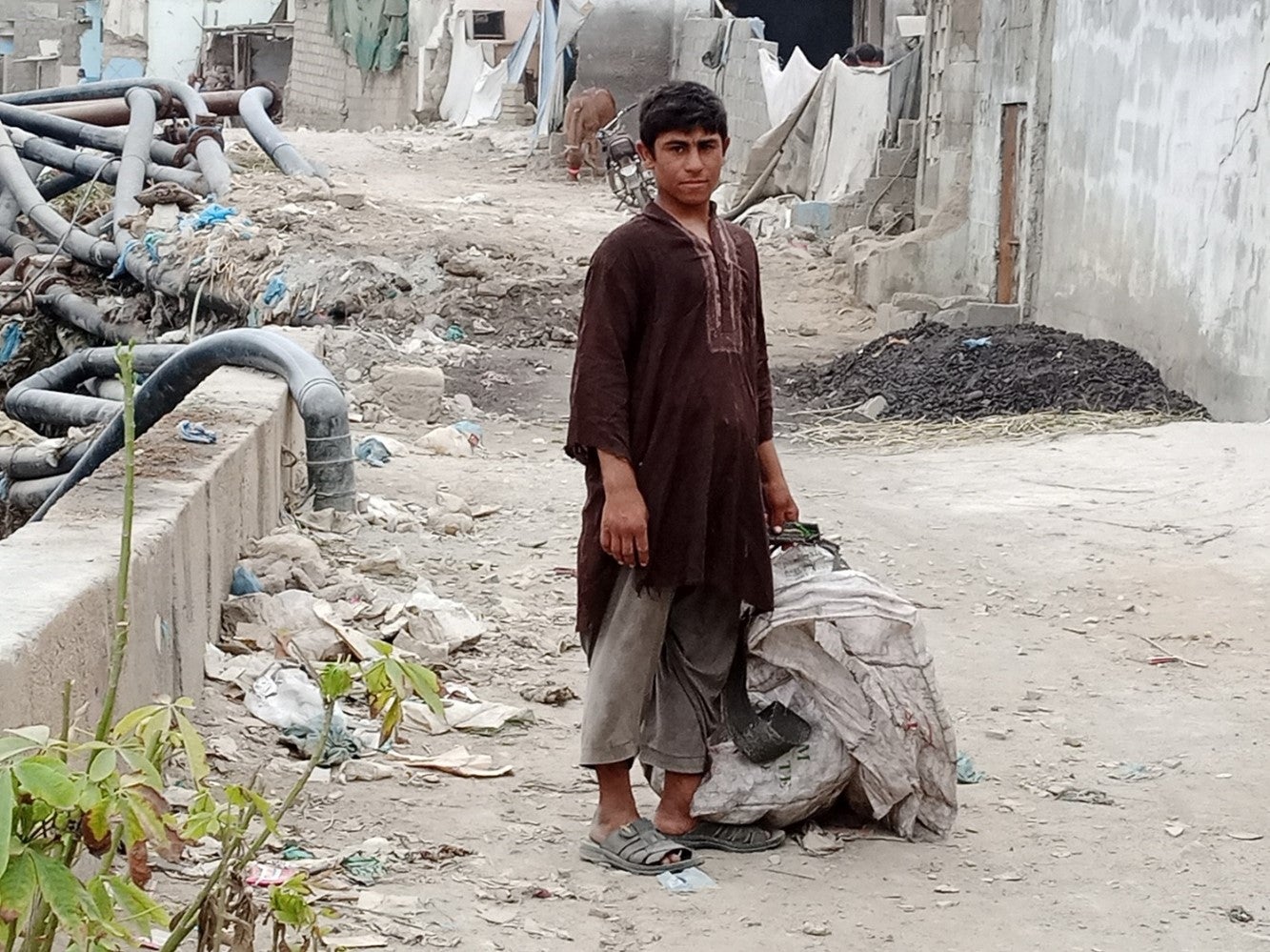 A garbage picker in Purana Goli Mar Katchi Abadhi Community of Karachi
UNHabitat/Pakistan
Further, to address climate change, the government has also launched a 10 billion tree plantation Programme to improve environmental conditions. It has encouraged the local manufacturing of electric vehicles and modernised the mass transit system, metro buses and metro trains.
The UN-Habitat project The development of enabling environment for low emission development and supporting NDC plan under the Paris Agreement focuses on environment and living condition upgrading in slum areas.
The Pakistan Habitat Country Programme 2018-2022 focuses on climate resilient and sustainable urban development and to promote socially and environmentally sustainable towns and cities with the goal of providing adequate shelter for all.
In collaboration with the Ministry of Climate Change, UN-Habitat has been working on greening of building construction sector and has worked on the preparation of the Policy Guidelines for Green Building Code and Green Building Guidelines for Prime Minister's Five Million Housing programme.
UN-Habitat has also organized a consultative workshop with provincial government officials and community leaders, experts, and stakeholders to increase awareness of the need for GHG emission reduction in urban areas and policy intervention into the revised Nationally Determined Contributions (NDCs).
"With the current environmental condition and daily degradation of the ecosystem, we are faced with the unavertable issue of climate change. If we do not act now, it will be too late for our future generation," said Saleem Jalbani, Senior Chief EPR,Planning & Development Department.
"As UN-Habitat is targeting the slums and Katchi Abadis that are the heart of a metropolitan and most effective area, the up-gradation project will greatly impact the city even on the small scale."
Barrister Murtaza Wahab, Administrator of the Karachi Metropolitan Corporation confirms the government support. "This project will not only benefit the city on the local level, but I am sure will also set an example for the entire Pakistan to fight against climate change," he says.