Nakuru, Kenya 7 October 2019 – Kenya celebrated World Habitat Day this year in Nakuru County, with a day of events focused on the theme of "Frontier Technologies as an innovative tool to transform waste to wealth".
The Opening Ceremony, also witnessed by Members of the Diplomatic Corps from 10 resident Missions in Nairobi and UN-Habitat, was held at the Briquettes Production Factory turning human waste and sludge into briquettes for cooking fuel at Nakuru Water and Sewage Company Grounds.
Kenya's Cabinet Secretary for Transport, Infrastructure, Housing, Urban Development and Public Works, Mr. James Macharia who was the Chief Guest, praised the briquette project saying it would reduce the need to cut down trees for charcoal and firewood. He called on other counties to emulate Nakuru county in embracing innovative technologies which offer solutions on sustainable development and climate change.
The Governor of Nakuru, Mr. Lee Kinyanjui, told the opening ceremony that the town's population was increasing fast.
"This means that we have increased our waste and hence the need for innovative solutions to handle this," he said. He further highlighted the need for investment and partnerships.
The Permanent Representative to UN-Habitat, Ambassador Njambi Kinyungu, commended Governor Lee Kinyanjui and the people of Nakuru County for opening its doors. "Today's event provides a unique opportunity for others to learn from Nakuru's leadership in demonstrating how change in mind-set and forward thinking towards waste is positively impacting on sustainable livelihoods and liveable communities", she said.
Kenya's Cabinet Secretary for Transport, Infrastructure, Housing, Urban Development and Public Works, Mr. James Macharia gives a speech at the national celebrations for World Habitat Day in Nakuru, Kenya
State Department of Housing and Urban Development
There were also 11 exhibitors showing various innovative ways of converting waste into organic fertilizer as well as turning plastic into baskets.
The UN-Habitat Executive Director, Ms. Maimunah Mohd Sharif, said, in a speech read by the Director of UN-Habitat's Programme Division, that properly collecting and treating waste, could create employment, promote economic growth, improve public health and combat climate change.
"We must all start by reducing our waste, reusing our existing resources and recycling as much as we can of the remainder," she said.
The Executive Director added that UN-Habitat had supported solid waste management activities in Kenya including in Thika municipality where a landfill was constructed at Kang'oki in partnership with the county, using the Japanese Fukuoka method. 
"In Kisii town, youth groups have been trained to recycle waste into useful products to sell. UN-Habitat with funding from the Government of the Republic of Kenya supported Kisii town to undertake a Solid Waste Management audit and develop a Long-Term Solid Waste Management Strategy County Solid Waste Management Policy," she stated.
UN-Habitat is also engaging Makueni, Mombasa, Nyandarua, Nairobi and Nyeri to develop effective tools and approaches for solid waste management.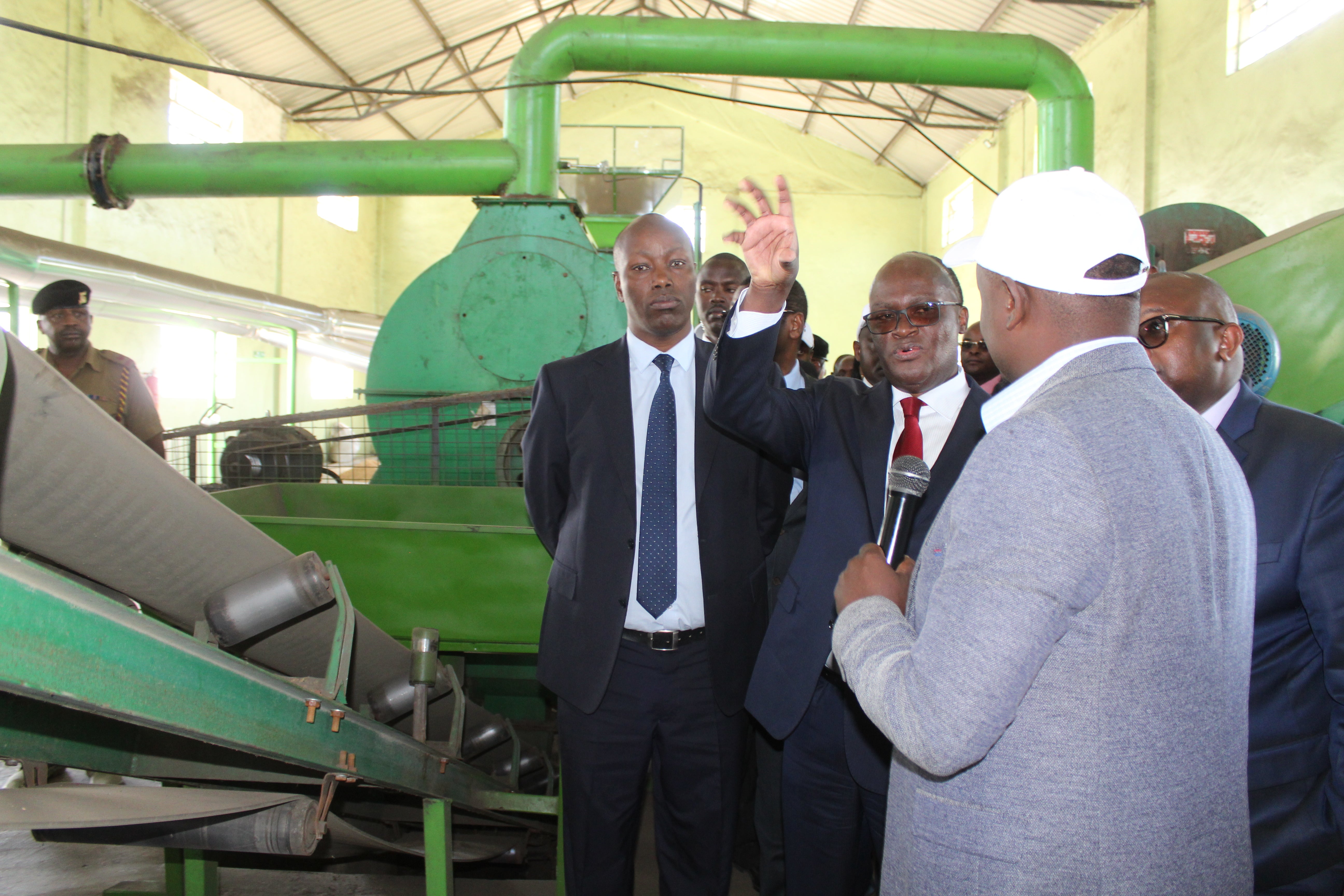 Kenyan and international dignitaries visited a factory turning human waste into fuel briquettes in Nakuru on World Habitat Day
Communication Department Nakuru County Government
In the speech, the UN-Habitat Executive Director mentioned the Waste Wise Cities Campaign run by UN-Habitat and partners, which was launched by the President of Kenya, Mr. Uhuru Kenyatta, and UN-Habitat's Executive Director, Ms. Maimunah Mohd Sharif, during the global observation of the World Habitat Day held last year in Nairobi on 1 October 2018.
The campaign encourages governments at all levels to manage waste according to twelve key principles. So far more than 80 towns and cities have signed up globally including Kajiado, Kiambu, Kirinyaga, Kisii, Mombasa, Nairobi and Nyeri Counties.
Before the official ceremony, the Chief Guest, the Governor, Diplomatic Corps and other dignitaries visited Gioto landfill, which is being turned into a green recreational park for Nakuru County residents, and planted indigenous trees there.
The Governor of Nakuru said rehabilitation of the landfill had improved the lives of those living in Nakuru town and its environs.
"Previously after a heavy downpour, the accumulated waste from the site would be washed down onto the road making it impassable and an eyesore," he said. "Now we have put up a green embankment which has really helped."
During the Friday before the World Habitat Day, there was a clean-up in two estates in Nakuru involving various stakeholders including the State Department of Housing, the Kenya Military Academy, the Kenya Permanent Mission to UN-Habitat and many local residents.