Ouagadougou, Burkina Faso  March 2021 - President Roch Marc Christian Kaboré of Burkina Faso met UN-Habitat Executive Director, Ms Maimunah Mohd Sharif, during her five day official visit to the country to discuss transparent and inclusive land management and the implementation of sustainable urban solutions.
The President and the UN-Habitat Executive Director discussed the urgent need for a land reform, the rising demand for adequate housing and the importance of strengthening the role of  intermediate cities and social cohesion among host and displaced communities.
During the meeting it was underlined that in a country where urban population growth is happening fast, the immense demand for land, housing and basic services and infrastructure in cities must be addressed in a manner that sustainably improves the living conditions of the local populations and reduces potential conflict over natural resources, especially on land.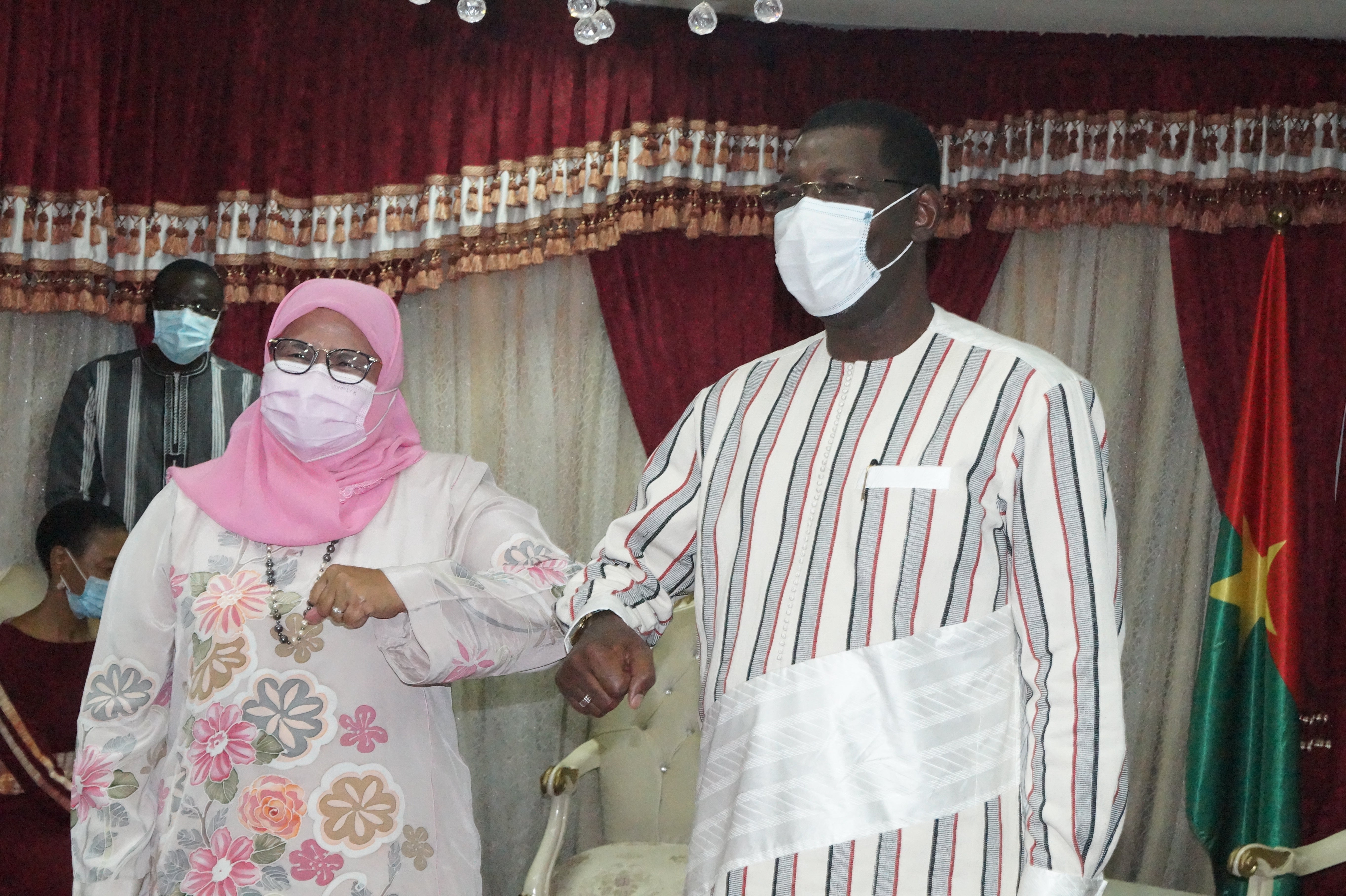 Burkina Faso's Chairman of the Parliament, Alassane Bala Sakande and UN-Habitat's Executive Director Maimunah Mohd Sharif
[UN-Habitat/Sheila Sanouidi]
It was pointed out that cities bear enormous potential for increasing social and economic opportunities, and highlighted Burkina Faso's investments in roads within cities, but also to increase the connectivity to rural areas.
UN-Habitat's Executive Director highlighted her organization's strong commitment to support Burkina Faso's urban development through its tools and technical advisory services so that urbanization will lead to improved living conditions and livelihood opportunities for all.
The UN-Habitat Executive Director was also received by the Prime Minister, Mr Christophe Joseph Marie Dabiré and the Chair of the Burkinabe Parliament, Mr Alassane Bala Sakandé.
 During her visit Ms  Sharif was accompanied by the Minister of Urban Planning, Housing and the City, Mr Benewendé Stanislas Sankara, and by the United Nations Resident and Humanitarian Coordinator, Ms Metsi Makhetha. 
UN-Habitat is currently implementing a project funded by the European Union in four municipalities in the northern part of Burkina Faso that have been impacted by rapid urban population growth because of the massive influx of Internally Displaced persons (Dori, Kaya, Kongoussi and Tougouri). With this project, UN-Habitat will support central and local governments to increase their capacity in urban and territorial planning, construct about 500 housing units for people in vulnerable situations and enhance access to basic and social services.