Penang, Malaysia 17 October 2017-- The Seventh Asia-Pacific Urban Forum (APUF-7) concluded on Wednesday with the establishment of the Penang Platform for Sustainable Urbanization - a dynamic new partnership to leverage the strengths of cities and leading urban development organizations to support local, regional and national governments in achieving the Sustainable Development Goals (SDGs) and New Urban Agenda in Asia and the Pacific. 
Over 5,000 urban stakeholders explored future-oriented solutions in the three-day Forum co-organized by the United Nations Economic and Social Commission for Asia and the Pacific (ESCAP), the United Nations Human Settlements Programme (UN-Habitat), Urbanice Malaysia, Penang Island City Council and State Government of Penang.
Speakers at the event hailed the momentous occasion and expressed optimism that the new Platform would achieve its objectives.
"Connecting cities with tailored technical assistance, generating action-oriented research and evidence on urban solutions, and enhancing access to innovative financing models are important focus areas of the Penang Platform. The Platform will support collaboration among partners to take forward the development pathways identified in The Future of Asian Pacific Cities report, which will lead to more safe, inclusive, resilient and sustainable cities across the region," said ESCAP Executive Secretary Ms. Armida Salsiah Alisjahbana.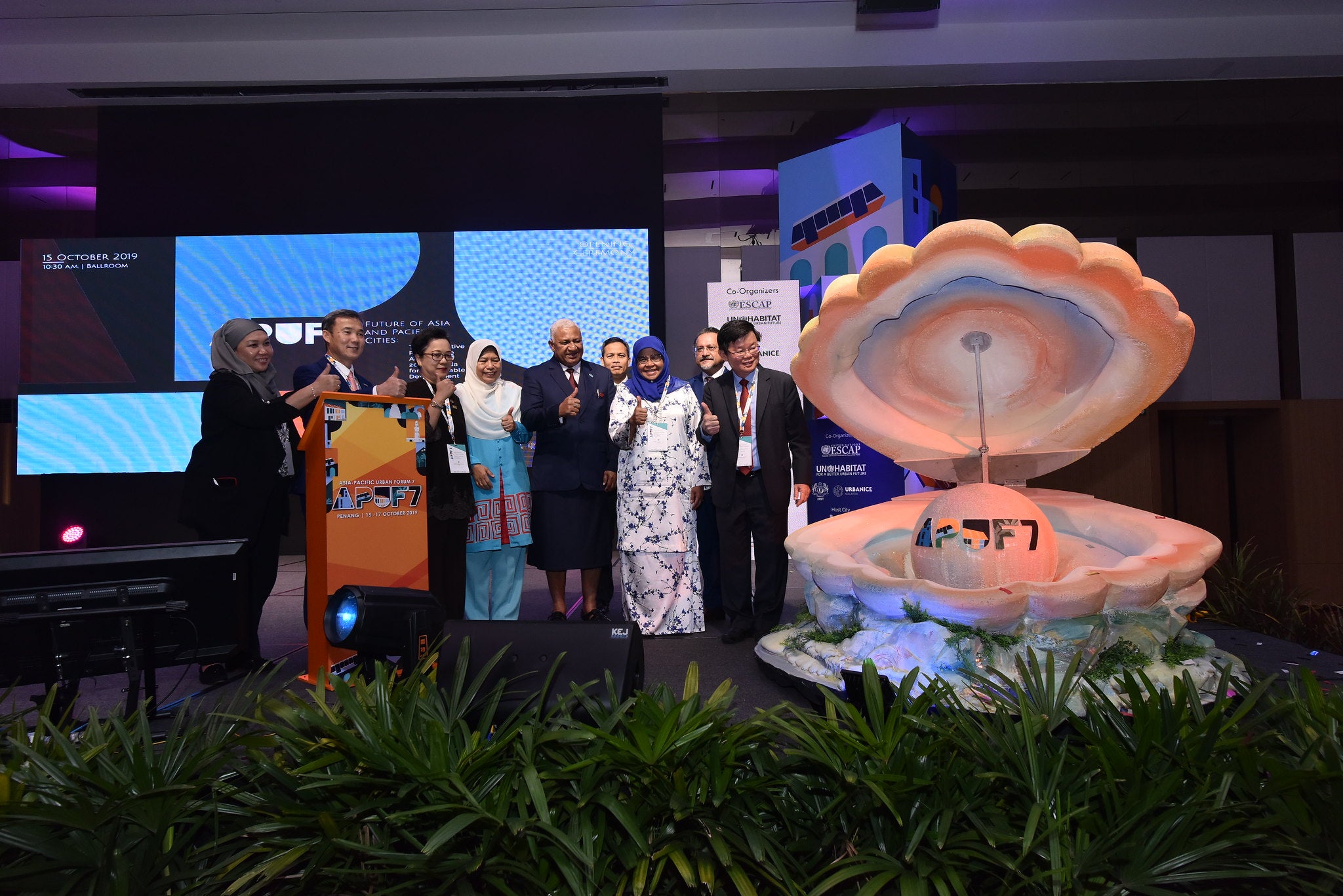 [APUF7]
The Penang Platform brings together an alliance of partners to address these multi-faceted issues through a holistic CITI pathway: Collaborate to accelerate implementation of the SDGs in cities, Integrate the use of tools, models, research and evidence of good practices, Transform access to innovative sources of urban financing through new partnerships, and Increase political commitments for sustainable urbanization.
In her closing speech, UN-Habitat Executive Director Ms. Maimunah Mohd Sharif said, "We have learnt that many good practices are emerging in countries and cities on how to take the New Urban Agenda forward and achieve the SDGs. However, in many cases, policy frameworks and an enabling environment to support such initiatives are lacking. We must build partnerships and align our systems and frameworks to accelerate implementation of sustainable urban development. Let us keep the Asia-Pacific region at the forefront of sustainable development."
The 14 founding members of the Penang Platform are 100 Resilient Cities, Penang Island City Council, CityNet, Asian Coalition for Housing Rights, Commonwealth Local Government Forum, European Union International Urban Cooperation Programme (IUC), Huairou Commission, ICLEI-Local Governments for Sustainability, Institute for Global Environmental Strategies Japan (IGES), The Rockefeller Foundation, United Nations Development Programme, UN-Habitat, ESCAP and Urbanice Malaysia.
One of the concrete actions under the first phase of the Penang Platform from 2019 to 2023 is the Asia-Pacific Mayors Academy, which supports newly appointed mayors with access to expertise, greater awareness of regional resources and a support network to assist in the acceleration of urban sustainability initiatives. Mayors at the beginning of their term are well-positioned to benefit from the Academy's resources, which include week-long intensive "boot camps" held on an annual basis coupled with ongoing peer-learning.
"Sustainability should be viewed as the goal of society. Urban areas engaging in sustainable development increase their capability and flexibility to adapt and recover when faced with changes," highlighted Ms. Hajah Zuraida Kamaruddin, Minister of Housing and Local Government, Malaysia while presenting key outcomes of the Forum on urban resilience, urban planning, smart cities and urban finance.
On his part, Mr. Chow Kon Yeow, Chief Minister of Penang said "APUF-7 was a fitting platform for various cities to share their successes in sustainable urbanization while taking cognizance of the need to include grassroots communities in the process of policy making. We believe this is the way forward for governments to work with the people in policy making so that they will take ownership of the programmes that we introduce. This is one of the ways to ensure sustainability."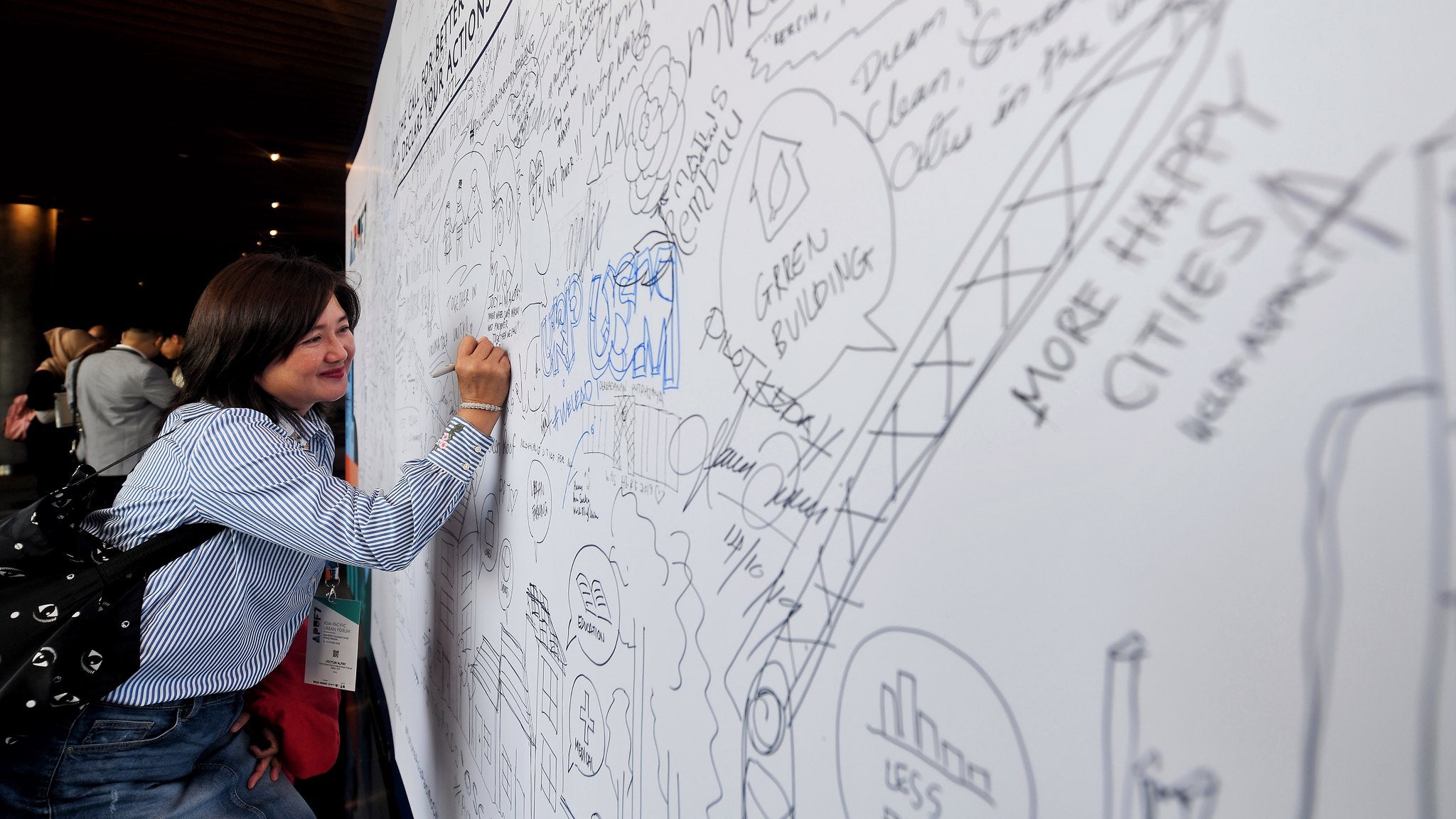 [APUF7]