Addis Ababa, Ethiopia May 2021 – Over the past decade, road traffic deaths and injuries in Ethiopia have increased every year. Most people still live in rural areas but cities and towns account for more than a third of fatal crashes and two-thirds of serious injuries. Most victims in urban areas are pedestrians and in the capital, Addis Ababa, they account for nearly 90% of road deaths.
UN-Habitat, supported by the UN Road Safety Trust Fund and in partnership with the Institute for Transportation and Development Policy (ITDP), the Ethiopian Ministry of Transport, the Addis Ababa Transport Bureau and transport authorities launched the 'Scaling Up Safe Street Designs in Ethiopia' project. The project aimed to strengthen the capacity of the Ethiopian government at the local and national level to develop and implement policies to meet the needs of pedestrians and cyclists.
Under the leadership of Ethiopia's Minister of Transport, Ms. Dagmawit Moges, the project resulted in the adoption of a non-motorised transport strategy and a five year implementation plan for 69 cities and towns with harmonised street design guidelines. These plans are now guiding investments in safer facilities for walking and cycling.
In Addis Ababa, a city-specific non-motorised transport strategy was launched in April 2019, helping the construction of some 2.8 kilometres of cycle lanes, with more than 25 kilometres under construction. The Transport Sector Ten Years Perspective Plan calls for the implementation of 3,000 kilometres of non-motorised transport infrastructure across the country, and budgetary allocations have been made for the improvement of infrastructure for non-motorised transport from 2022.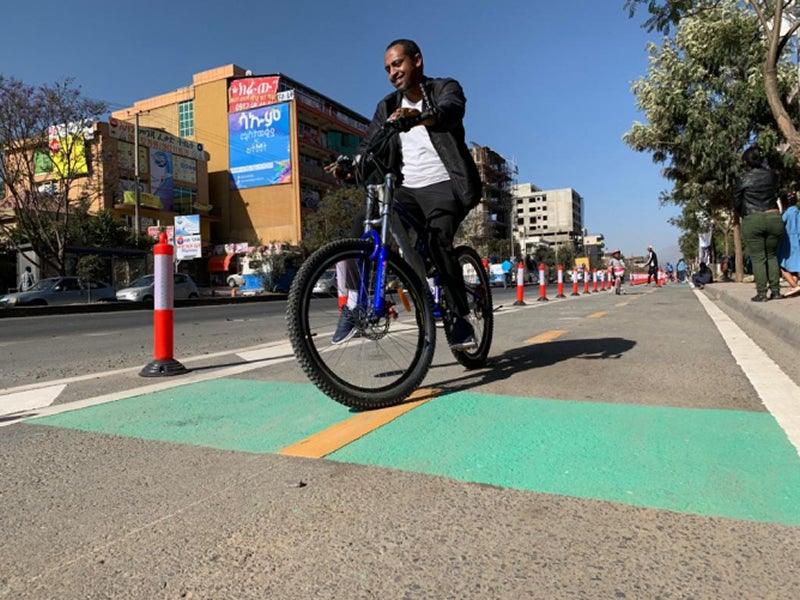 Car-free days and 'placemaking' events organised by UN-Habitat helped to build public support for better facilities for walking and cycling, and promoted a shift from a car-based approach to planning to one that looks at the needs of vulnerable road users. Cycling and walking also promote health.
The Transport Minister said: "One lesson we learned during the pandemic, is that having non-motorised transport alternatives and provision of good public transport is not only a matter of demand and supply. It is a tool to shape our health practices."
Achieving the sustained uptake of non-motorised transport requires the support of local and national government, the public, and the private sector. Ms. Moges pointed out: "Stakeholders should come together [and] bring the benefits of non-motorised transport that enhances mobility and accessibility in our cities and towns. I call upon investors and donors to collaborate with us, to support and engage with this vibrant initiative. I would like to thank UN Road Safety Fund, UN-Habitat, ITDP and all other partners for the ongoing support to make our streets safer for pedestrians and cyclists."
At the start of the UN Global Road Safety Week (17-23 May 2021), UN-Habitat's work highlights that safe, accessible and inclusive non-motorised transport allows all to reach destinations in a climate-friendly, healthy way. As Eden Zelalem, a young cyclist in Addis said: "When I cycle, I feel the most free."