Baidoa Somali March 2021- Over 21,400 properties were mapped and registered in a recently concluded mapping exercise in Baidoa district through the Joint Programme on Local Governance (JPLG) under UN-Habitat in close coordination with government counterparts and other stakeholders in South West State, Somalia.
"This GIS-based, geo-referenced property survey will be important towards urban planning, financial management at sub-national structures and making the city safer, sustainable and able to deliver social services", remarked Abdirahman Mohamoud, UN-Habitat's JPLG Program Manager.
Considering the fragility and complexity of the exercise, a roadmap for implementation was drafted, discussed and adopted to create a common and shared understanding. The roadmap provides clarity on the roles and responsibilities of all stakeholders including government entities such as the South West State Ministry of Interior and Local Governments, Ministry of Finance and Baidoa Local Government with a clear time frame.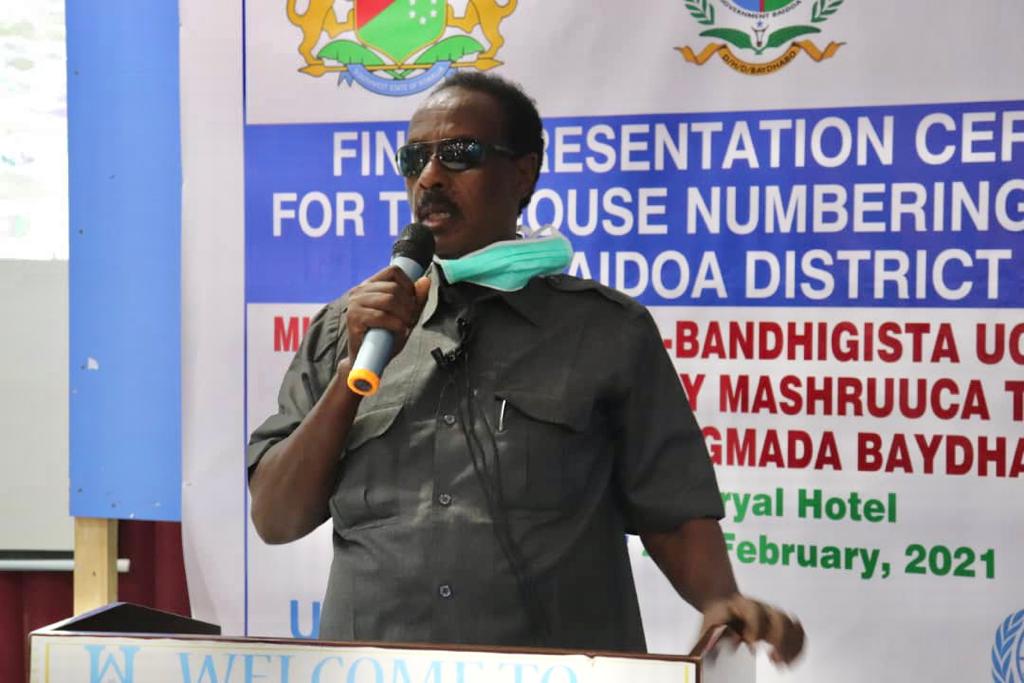 Hassan Mo'alim Ahmed, the Mayor of Baidoa gives an address during an event that marked the closing of the property registration exercise
[UN-Habitat]
An awareness raising campaign was carried out to make the exercise more inclusive and ensure engagement of the whole community equally in a bid to bring all on board and make sure local people are served better with extra revenue from their own taxes. 
The exercise also led to the demarcation of sub-zones boundaries, production of updating of district administrative maps, roads classification, road naming and road signs installation.  Following this exercise, it is projected that Baidoa district will generate an estimated half a million dollars per annum from this untapped revenue stream.
Ali Abdi Adem, the Director General of Ministry of Finance remarked that the georeferenced property will not only ease and increase property tax collections but will also enhance transparency and accountability in the revenue collection process.
Fowsi Mohamed Nuur, a representative from the local communities highlighted that the locals were keen to register their property in the hope that it will contribute to land security and provide unique identities to individual properties. Locals also expressed their willingness to pay taxes, challenging the municipality on the need to invest in social services for sustained collaboration between public authorities and local communities.
This property registration exercise was aimed at strengthening the capacity of the local government to collect revenue and enhance service delivery. This is towards the achievement of UN-Habitat's mandate which is to promote socially and environmentally sustainable towns and cities.
"I would like to appreciate UN-Habitat JPLG's support and technical guidance that saw sub-districts border delineated, maps updated, property data collected; and plate numbers fixed, said Hassan Mo'alim Ahmed (Biikole), the mayor of Baidoa. He further underlined the importance of this exercise in generating revenue and consequently providing quality services even as the district works towards self-sustaining revenue.
This initiative was funded by Denmark, Sweden, Switzerland, Norway, European Union and USAID.
Baidoa is situated approximately 240 Kilometres west of Mogadishu and south-east of the Ethiopian border and  is on one of the main Somalia trade corridors, connecting the seaport of Mogadishu and the productive region of the Lower Shabelle with Ethiopia and Kenya.
One of the road signs that was installed during the exercise which also involved roads classification, road naming and road signs installation.
[UN-Habitat]