12 August 2020 - The 20th anniversary of International Youth Day featured the Youth, COVID-19 and Informal Settlement International Summit celebrating the success of youth actions to prevent COVID-19  organized by the Government of Turkey, the Turkish Municipality of Balikesir, Habitat Norway and UN-Habitat. The Summit was endorsed by UN 75, a global dialogue launched by the UN to listen to people across the world, especially youth.
"Our youth have played very important roles in emergency interventions against the COVID-19 pandemic in our country," stated Murat Kurum, Minister of Environment and Urbanization, Government of Turkey, "Thousands of our youth, together with all our institutions, voluntarily provided all the needs of people aged 65 and over or citizens with chronic diseases who were prohibited or restricted from going out under COVID19 measures. Our youth are always the guarantee of our future, our countries."
Youth-led organizations globally have worked with local and national governments, leading efforts to stop the spread of COVID-19. In Kenya, handwashing facilities set up in informal settlements and run by the youth were popular among local residents.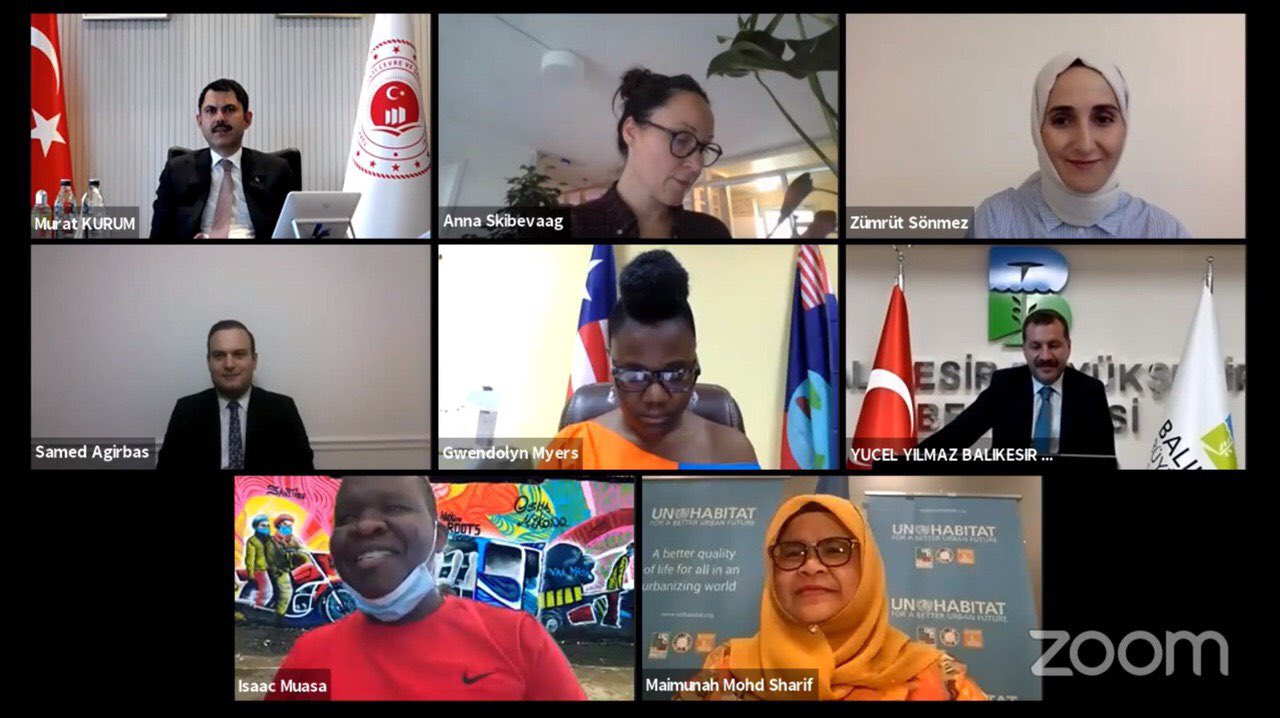 The Executive Director of UN-Habitat, Maimunah Mohd Sharif, said the facilities were set up after youth from the Mathare Environmental One Stop Centre in one of Nairobi's informal settlements approached her with an urgent call.
"The youth said something needed to be done immediately to stop COVID-19 in informal settlements, and we have an idea on what we can do," said Ms. Sharif, "Five months later we see the results. We have activated our One Stop Centres in Kenya and Somalia and taken joint action which has seen 1.5 million hands washed, slowed the spread of the virus and saved lives."
The quick action of Mathare Environmental inspired spread the youth communities in Kenya, Somalia, Liberia and Ecuador, and by April, 34 youth-led groups had set up COVID-19 prevention and hand washing stations, supported by UN-Habitat and partners from the governmental, non-profit and private sector. The stations provide a range of public health responses such as murals to promote COVID-19 prevention, the distribution of masks, and the promotion of sustainable livelihoods.
"Many young people have come to realize that COVID-19 is not only a health issue, but it effects every area of our livelihood, every aspect of our community and our social life" said Gwendolyn Myers,  Liberian National Youth Task Force, "Since the outbreak in Liberia of March 2020 we have noticed an imbalanced effect on certain groups of people, women and children and people with disabilities. Young people continue to play critical roles in information dissemination, logistics and the distribution of relief materials to these communities."
One key aspect of the meeting focused on the need to empower communities to take action, as reflected in UN-Habitat's COVID-19 Response Plan.
"One of the three focuses of our Response Plan is the support of local government and community driven solutions, especially in informal settlements," said UN-Habitat's Executive Director.
"Many youth of today have stepped up to the plate. Young people are redefining the world as we know it. Youth are demanding the change you want to see from leaders," stated Under-Secretary-General Fabrizio Hochschild Drummond, Special Adviser on the United Nations 75th Anniversary. "We are seeing it across the globe - youth are making their voices heard. You are creating movements that ripple across cultures and borders. You are taking the future into your own hands and ensuring that progress happens."                                         
One of the main sponsors of the youth-led action against the virus has been the Government of Canada, which is funding COVID-19 prevention and hand washing stations in Nairobi and Mandera in Kenya, and Kismayo in Somalia.
"Canada believes in the strength of young people and their power to create positive change. This is one of the reasons we are so proud to support initiatives that empower young men and women to play a meaningful role in community-led pandemic responses," stated Canadian High Commissioner to Kenya, Lisa Stadelbauer.
"We're proud and honoured to work with UN-Habitat to partner with youth-led Community-Based Organizations such as the Mandera Anti Drug Movement,  Mathare Environmental One Stop and YPEER-Somalia through our Canada Fund for Local Initiative programme."