Nairobi, 14 August 2020 – The end of International Youth Week was marked in Kenya by a celebration in the informal settlement of Kibera which brought together young people from over 30 youth led organizations from informal settlements across Nairobi, UN-Habitat and other partners.
Handwashing stations have been set up in Nairobi, Kilifi, Kisumu and Mombasa as well as Nyeri, Nakuru, and Mandera counties The facilities, which have been operational for almost four months, have provided information on proper handwashing and other COVID-19 prevention measures, and supported the Ministry of Health in contact tracing efforts. The stations have resulted in 1.5 million handwashes.
Local leaders praised the involvement of the youth in combating COVID-19 and operating the hand washing stations have been operating seven days a week.
The celebration marked the launch of distribution of free masks. Through funding provided by the Kenyan footballer Victor Wanyama's Foundation, UN-Habitat is working with women from the informal settlements to make the masks. This creates employment and provides masks for residents.
Cynthia Wanyama, the CEO of The Victor Wanyama Foundation stated the international footballer came from an informal settlement and wanted to be part of the efforts to combat the pandemic.
During the event, awards were presented to youth for exemplary efforts in areas such as creative ideas, hospitality, reaching out to the sick and vulnerable.  
'If we cannot appreciate ourselves, nobody will appreciate us', said Moses Omondi, coordinator of the Kibera Community Emergency Response Team, co-convener of the Youth-led COVID-19 Emergency Response Coaltion.
'I didn't know one day someone will recognize our efforts, we were going through our daily routine by sourcing sanitary towels and distributing to the girls in the slums,' said Susan Mweni, of the Making A Difference Sisters, one of the winners.
UN-Habitat's George Gachie said that working with youth was part of UN-Habitat's mandate and they were determined to make the youth voice count.
In a statement, the youth Coalition made an urgent appeal to government, the private sector, UN agencies, and the diplomatic community to continue to support and expand the hand washing stations, provide food to the needy, produce masks  made by women in the community, establish isolation centres, and expand education programmes and arts, such as murals to raise awareness of the virus. The youth said they would partner with all interested parties to make the dream of a virus free Kenya a reality.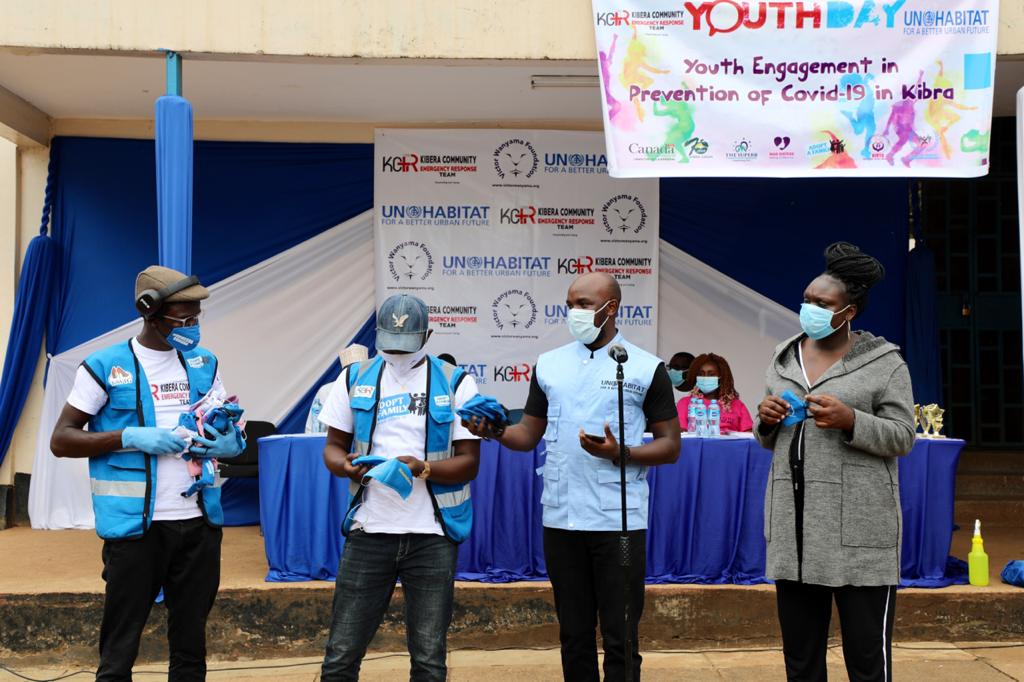 [UN-Habitat/Julius Mwelu]