Duhok, Iraq, 15 December 2020-- Saud Saad Hussein,19, has been living with his family in a rented house in Baroshke neighbourhood in Duhok Centre of northern Iraq since their displacement from Sinjar during its occupation by the militant group Islamic States of Iraq and the Levant (ISIL) in 2014. While their house is undergoing rehabilitation by UN-Habitat through an EU-funded programme, Saud was hired as a daily worker by the local contractor implementing the works in Dohuk.
"Finding a decent job in Baroshke is very difficult considering the high rate of unemployment among youth in this region", Saud said. "I feel very lucky to get a daily wage while working in my own house and in other houses in my neighbourhood as a painter to improve the living conditions of my own family and my neighbours", he added.
UN-Habitat is currently rehabilitating 947 houses resided by internally displaced persons, refugees and host community members in cities of Duhok, Sumel, Erbil, Mosul and Sinjar as part of the programme "Strengthening the Long-Term Resilience of Subnational Authorities in Countries Affected by the Syrian and Iraqi Crises-Headway", funded by the EU and implemented in partnership with UNDP. The household where Saud lives is one of the 200 houses selected in Duhok based on the socio-economic vulnerability assessment done by UN-Habitat prior to starting the rehabilitation. 
Saud is one of many local community members who were provided with job opportunities through this rehabilitation project, which created 1,140 working days so far in Duhok and this number is expected to reach 3,200 working days for both skilled and un-skilled labours by the end of the rehabilitation of the target 200 houses. Providing jobs and livelihood opportunities during the current economic crisis in conflict-affected areas is a key priority for UN-Habitat through its ongoing initiatives across Iraq, including the above-mentioned EU-funded programme in the Kurdistan Region of Iraq and Ninewa Governorate.
Abdulsatar Mahmoud Salim is another local community member who was offered a new revenue opportunity through the house rehabilitation project in Duhok. A 49-year-old carpenter and a breadwinner for a family of 7 members in Baroshke neighbourhood, Abdulsatar was engaged through the local contractor to repair wooden doors for the rehabilitated houses. "I did not have enough business to sustain my family and thanks to this rehabilitation project by UN-Habitat, I have been called upon repeatedly over the last few months to repair damaged wooden doors and also to make new doors required for the rehabilitated houses in my neighbourhood", Abdulsatar said.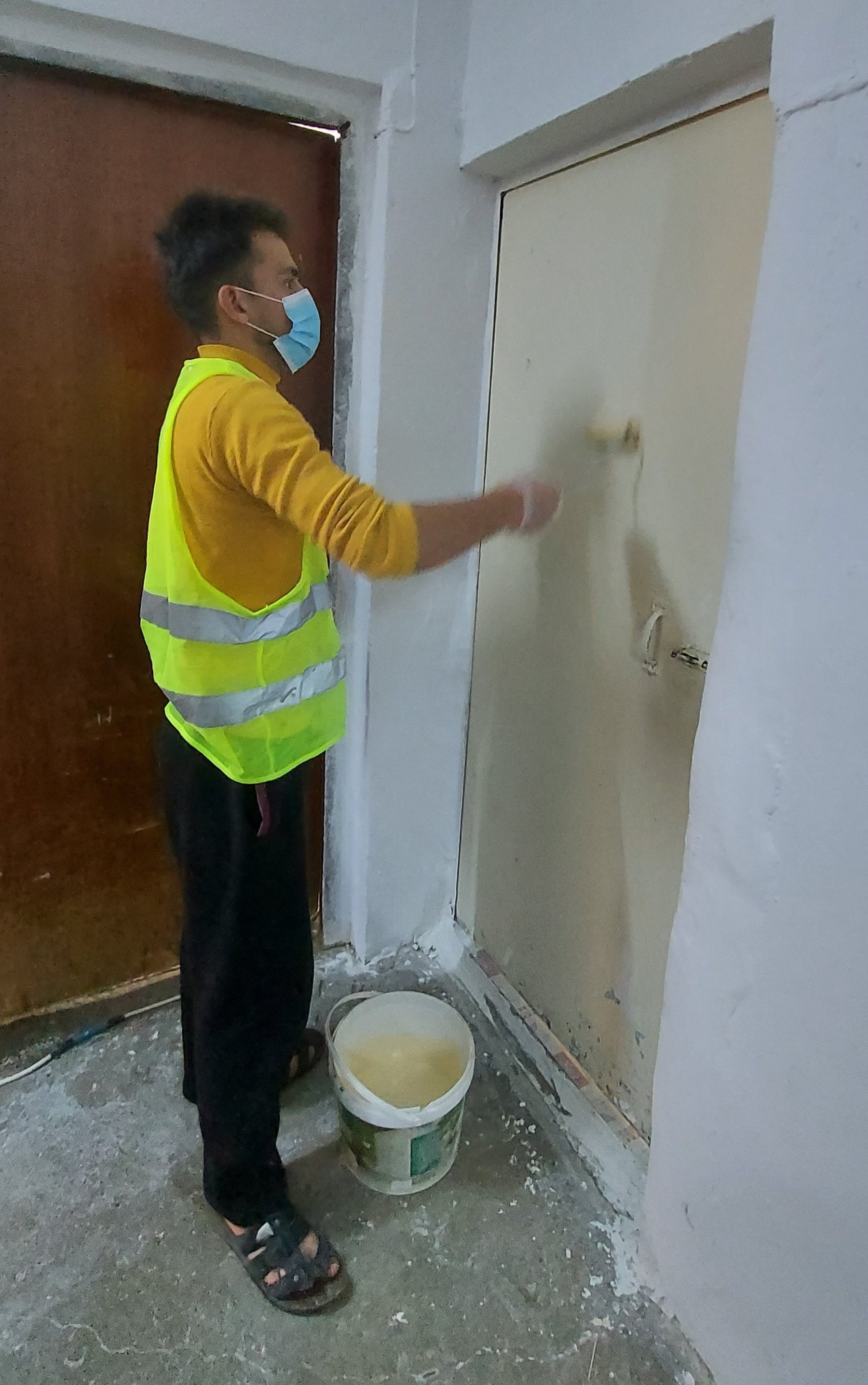 Saud Hussein works in one of the houses in Baroshke neighbourhood in Duhok, where UN-Habitat is rehabilitating 200 houses resided by IDPs and host community (3 December 2020)
[UNHabitat/Sarbast Noaman]