Nairobi, 13 August 2019 – Some 70 delegates from Korea and over 300 young delegates from Kenya converged at United Nations offices in Gigiri to celebrate the "Korea-Kenya Youth Forum: Driving Education for a Thriving Future".
The Forum was organized in a joint effort of UN-Habitat and the Korean National Committee for UN-Habitat to culminate the twentieth anniversary of the International Youth Day (IYD) as well as to accelerate efforts to make education more inclusive, accessible and relevant in light of the theme of the 2019 IYD, "Transforming education".
A samulnori performance (percussion instrumental quartet music of Korea) by Kenyan youths from Sejong Institute, Kenyatta University and a reciprocating performance 'Jambo' by Korean youths marked the inauguration of the Forum.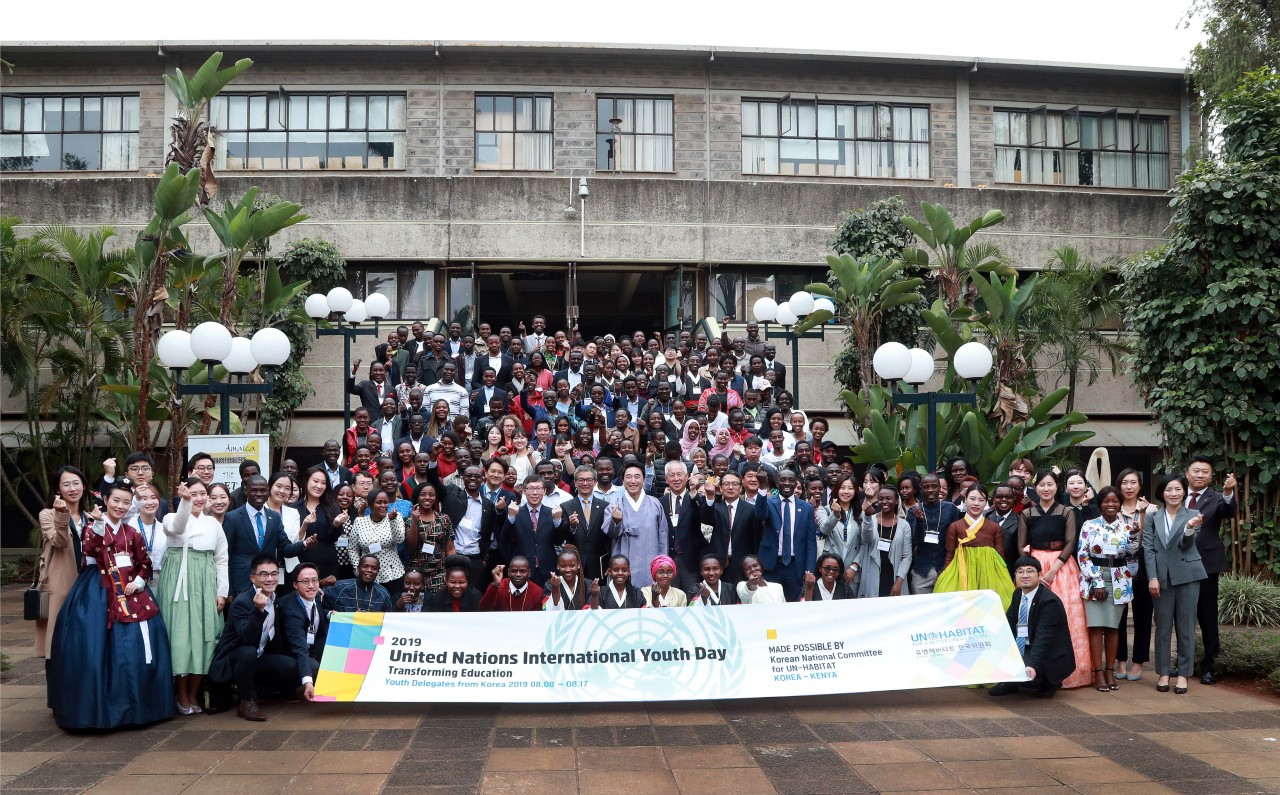 © UN-Habitat
Mr. Marco Kamiya, the Head of Urban Economy and Finance Branch of UN-Habitat opened the meeting and highlighted the importance of education as an uncontroversial human right. He also emphasized that cities and urban areas should play a key role in providing better quality of opportunities for basic service and noted "a better education can create a better urban future."
Mr. Soohyun Park, Chair of the Korean Committee, pointed out that the essence of youth employment issues lies in education, referring to three key messages for educational transformation: search for solutions based on the practical problems of current education system; develop voluntary learning motives; and create better quality of urban environment that promotes the above.
Korean Minister to Kenya, Mr. Youngjae Kim, reflecting that education was the energy that presented Korea with remarkable rapid growth, committed support from Korea to drive transformative change to reach the international goal of eradicating poverty through education.
Mr. Miho Jon, the Managing Director of Korea Trade-Investment Promotion Agency, remarked Korean-Kenyan cooperation to maximize the promotion of innovation hubs in transforming education through innovative technologies hence creating opportunities for youth.
Halima Dube, representing Kenyan private sector, spoke of the problems of unemployment of so many graduates with certificates. Two Korean youth representatives, Kyungtae Jang and Kyungjin Bae, also emphasized the importance of education opportunities and driving force to make the change.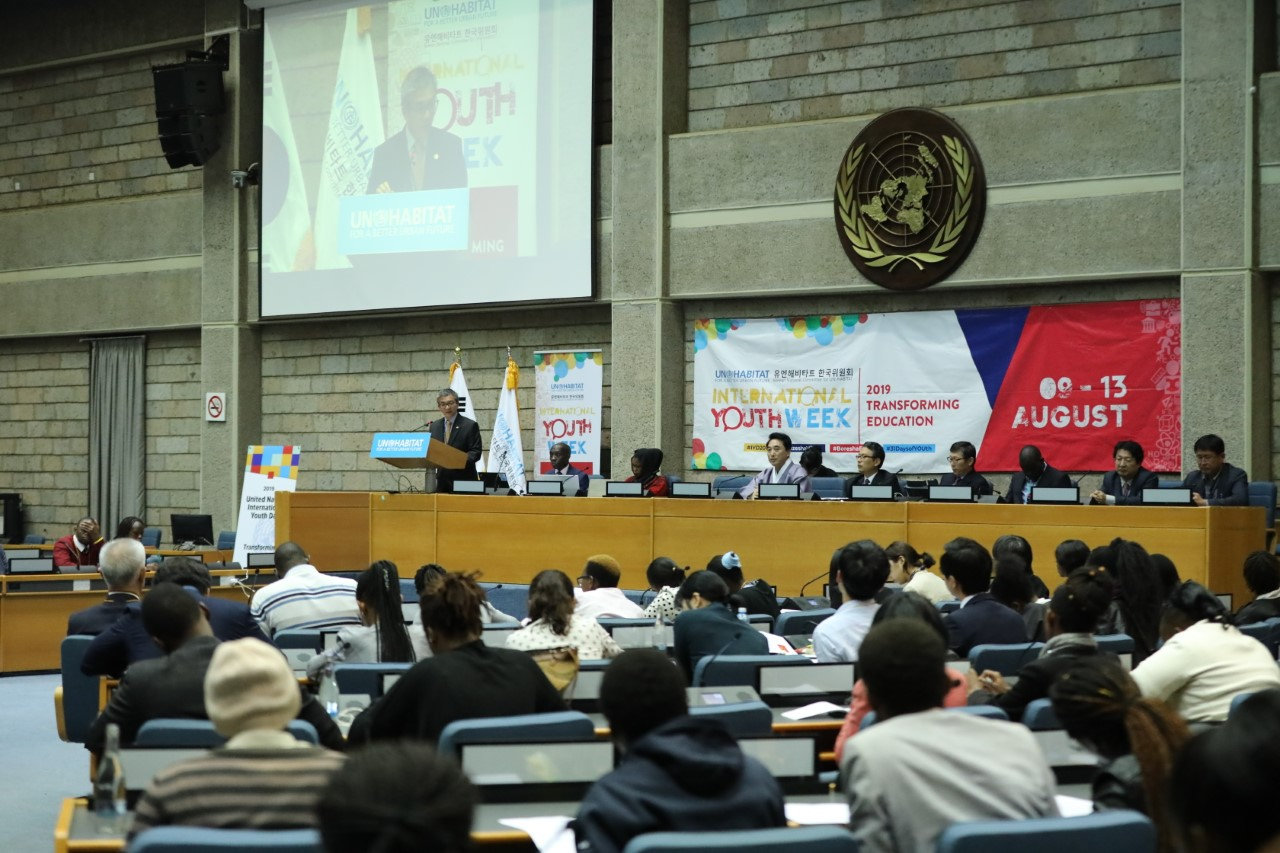 © UN-Habitat
Throughout the Forum, exchange and interaction between participants was encouraged and facilitated to reflect challenges and opportunities facing the youth. It was drawn up as a Vision Statement and Youth Declaration which will call for action plans focusing on 1) education for reduced inequality; 2) education for frontier technology and innovation; 3) education for social integration and inclusive communities; and 4) education for strengthened climate action.
In closing, Ms. Susannah Price, the Head of Communications Branch of UN-Habitat, called for forthcoming actions reflecting common views highlighted by youth participants throughout the interactive discussion: mindfully customized and people-centered education; opportunities for lifelong learning; and youth participation in the process of transformation.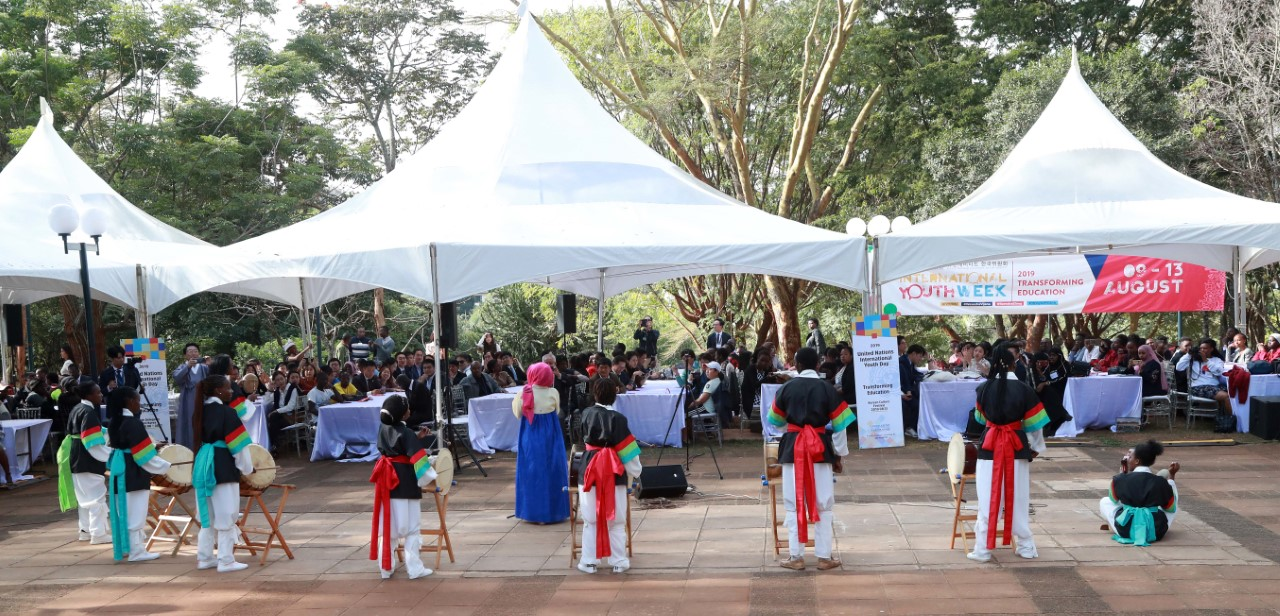 © UN-Habitat
Followed by the Forum, the "Korean Cultural Event: Wakorea Wanawakaribisha Wote" was hosted by the Korean Committee. Every participant and people of various nationalities within UNON took pleasure in Korean cuisine, refreshments among other delicacies as well as Korean traditional and pop culture performances.