Nairobi, 14 April 2021. - A virtual session on 'Rethinking Public Transport: Inclusive Urban Mobility for Female and Indigenous Youth' was hosted recently by UN-Habitat in partnership with the Major Group for Children and Youth, Friends of Cities and the Permanent Mission of the Philippines to the United Nations. Held on the sidelines of the 2021 ECOSOC Youth Forum, the event drew hundreds of participants from across the world, among them youth activists, mobility experts, social entrepreneurs and government representatives. This broad engagement demonstrates the resonance of accessible, inclusive public transport across regions and generations.
A leading organiser of the Fridays For Future movement in New York, Xiye Bastida who is of indigenous Mexican descent, highlighted the exclusion of indigenous people in various decision-making processes, while their participation could add tremendous value to urban policy and planning.
"Indigenous philosophy is about reciprocity. It is about having a relationship with mother earth, and that is what our cities should be like. They should be built for people, they should be built for us, not for cars, not for industries," said Xiye. On public transportation, Xiye emphasised the importance of universal access as an enabler of access to education, a fundamental human right.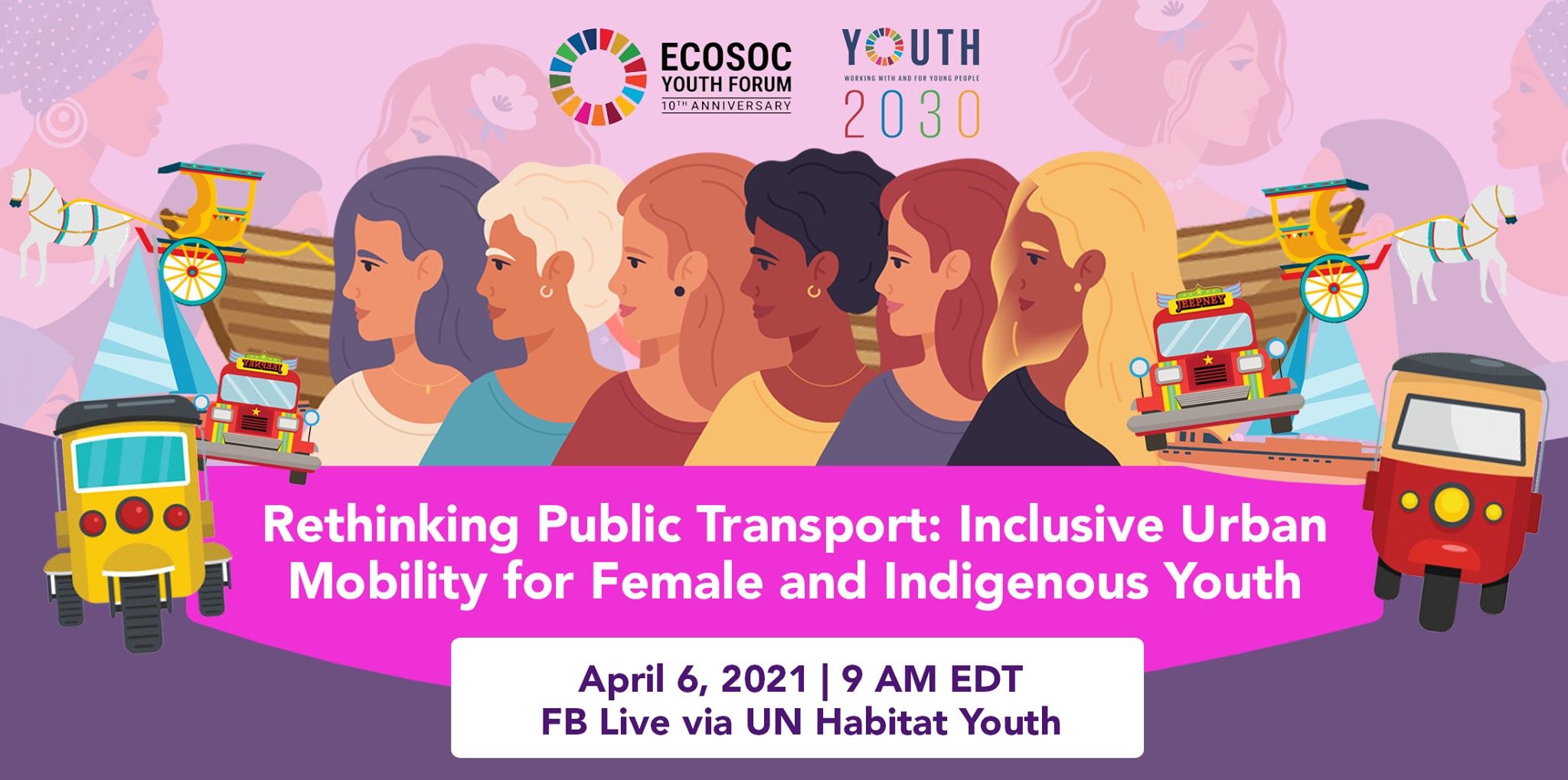 The conversation became a true intergenerational exchange as attention turned to nine-year-old Indian climate activist Licypriya Kangujam who delivered a passionate speech on the urgent need to step up urban climate action, and the place of sustainable local practices and grassroots initiatives in this regard. She began by sharing her personal story of the transition from a little girl who wanted to enjoy a worry-free life playing with her friends, to a deeply committed activist striving for the rights of younger generations to enjoy a healthy environment.
"I have a message to all the children of the world – they must tell their parents to use the bicycle if it's nearby or public transportation if it is far. To make a gift to this planet, you have to change yourself," she said.
Another young climate activist, sixteen-year-old Leah Namugerwa from Uganda, highlighted the structural inequalities exacerbating mobility challenges faced by young women and indigenous people, observing that the unequal distribution of economic opportunities affects women more, a fact that must be taken into consideration when planning mobility.
The participation of both young people and government officials at the session enriched the dialogue. Young indigenous activist Anish Shrestha from Nepal emphasised the need for recognition of the pressures faced by vulnerable populations by a broad range of stakeholders. "We need to bring them to the table to understand their issues," said Anish.
Assistant Secretary in the Department of Transportation of the Philippines, Dr Asec Sheila Napalang noted that the needs of women and men in travel are different. "The Inclusive Transport Unit within the Department of Transportation recognises   the intersectionality of concerns, such as women with limited mobility," she said.
A representative of the private sector through Safetipin, an app that identifies the safety level of public spaces for women, Shreya Basu, shared her company's success story and the lessons learned. She reflected on how the inequality of access to public transport correlates with inequality of outcomes, as well as the negative impact of COVID-19 on the safety of public spaces, particularly public transport.
One of the driving forces behind European Footprints in Belgium, Giulia Marzetti observed that despite differences in the pace of advancing gender equality in different regions of the globe, all women in the world continue to face gender-specific problems to some degree. Giulia emphasised that the perspectives of vulnerable groups in city design are essential for making cities more accessible to them.
A key outcome of the event was endorsement by participants of The Declaration on Youth, Women & Indigenous-Centred Inclusive Public Transport, which contains the event's key findings and recommendations for national and local governments. It can be viewed on UN-Habitat Youth website.
To learn more about the event, please watch the recording here.