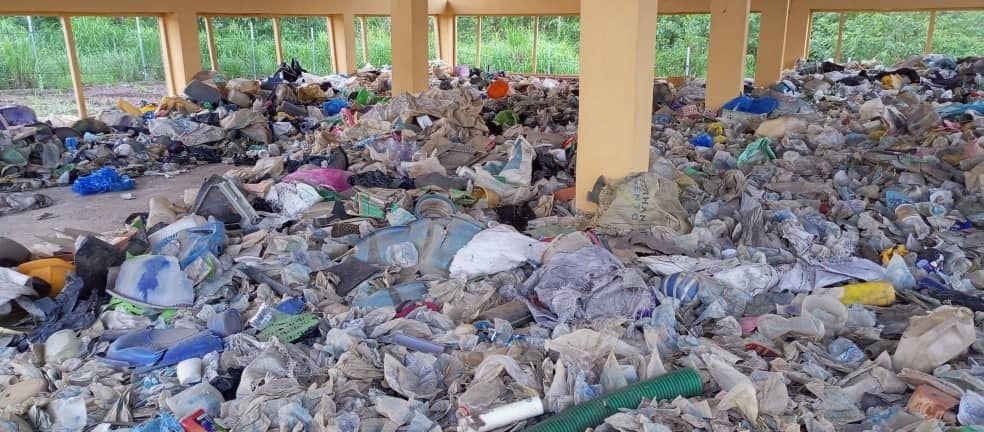 Koidu, Sierra Leone 9 September 2022-- In the bid to reduce single-use plastic in Koidu New Sembehun City Council (KNSCC), UN-Habitat and KNSCC with funds from United Nations Office for South-South Cooperation (UNOSSC) completed the Plastic for Rice Exchange campaign under the "South-South Cooperation in Sustainable Waste Management – Waste Wise Koidu" project in commemoration of this year's International Plastic Free Day celebration. The aim of the project is to enhance the capacities of KNSCC to sustainably manage waste and resources and move towards a circular economy, through public awareness, capacity building, and by fostering city-to-city South-South partnerships, mutual learning, and knowledge transfer.
The P4RE campaign exercise aimed at creating awareness about plastic pollution, and ways to re-use plastic waste for new purposes while incentivising plastic waste separation at source to boost the recycling sector.  Five cups of rice were exchanged for an equivalent of 2kg plastics waste. Moreover, the campaign intended to discourage indiscriminate littering of plastic waste in a bid to reduce plastic in oceans and diversion from the landfill, while enhance hygiene and sanitary conditions of the city's residents and environmental conservation.
Mayor Komba Mathew Sam of Koidu New Sembehun City Council (KNSCC) did the symbolic exchange of plastic waste for rice. Speaking during the official opening, the Mayor applauded UN-Habitat and the UNOSSC for the continued support. He encouraged the people of Koidu not to only focus on plastic waste but cleaning of their environment as the Campaign is for everyone. He stressed that the residents should not dump their waste indiscriminately as it could cause environmental and public health problems.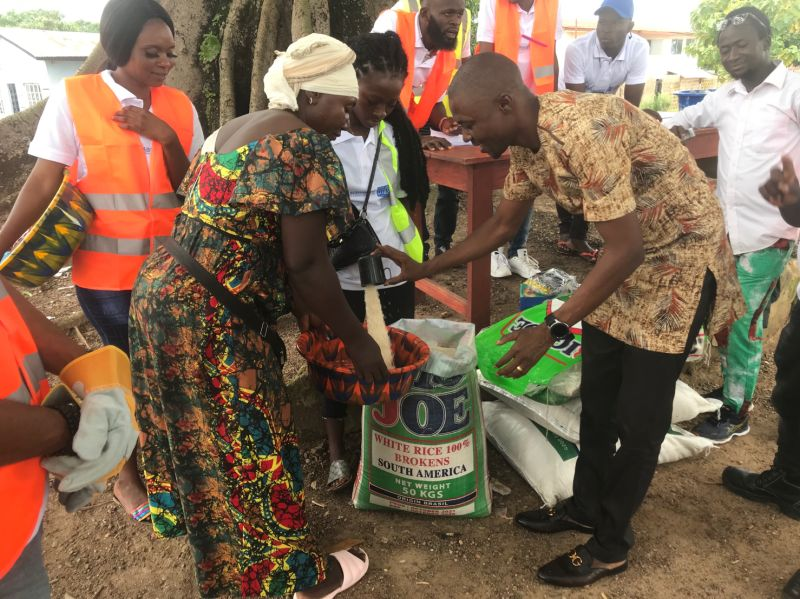 "Let us take this Plastic for Rice Exchange campaign very seriously as it helps to clean our environment and boost our local economy and support Small and Micro Enterprises (SMEs); thus, transforming Koidu City to one of the cleanest cities in the country. So please by people, as we know this campaign is not going to last forever, I encourage you all to adopt the habit of separating your household waste. Those that were separating their garbage have the opportunity today of receiving rice for plastic as a manifestation of waste being a resource"
As part of the campaign, massive awareness rising via the most listened radio stations in Koidu City for wide coverage was organised. In addition, a day street rabble-rousing/ street parade were organised with a Public Address (PA) system mounted on a vehicle as a direct awareness raising method; thus, creating huge awareness and enticing the city population to collect huge volume of plastic off the environment. During the street rabble-rousing/ parade, over 1000 young people participated.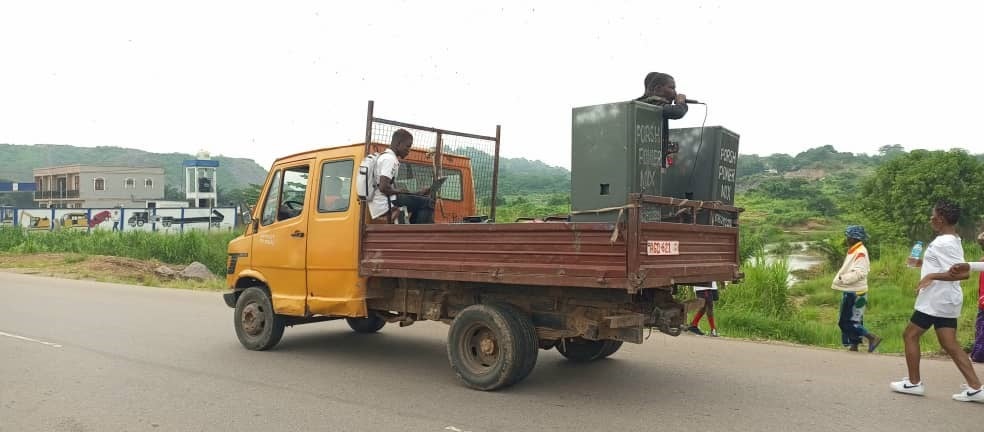 The community turnout was great in response to the call in cleaning the environment off single-use plastic waste, while diverting it from the landfill. Notable amongst the community members was Mamie Fatmata Sesay, a 76-year-old woman who brought 93kgs of plastic to the collection centre at the KNSCC centre and was given 1 bag of rice as an incentive for her efforts to support waste management in Koidu.
As a way to boost the local SMEs in plastic recycling, the aspect of marketing their products to capture customer buy-in has been and is a critical barrier for production at scale. The city was zoned into five (5) plastic collection points (Lebanon Junction Center 1 KNSCC Center 2, Kania Junction Centre 3, Small Market Centre 4 and Hill Station Centre 5) to ensure effective plastics collection process across the city of Koidu.
The entire exercise achieved the collection of 4,500 kgs (4.5 tons) plastic waste from the environment. The collected waste was handed over to the SMEs in plastic waste recycling to recycle. 140 kgs (0.14 tons) of the collected plastics were converted to produce 700-piece pavement tiles/bricks, which were used to pave Koidu New Sembehun City Council frontage as a way of demonstration. The remaining 4,360kgs (4.36 tons) of plastic waste in stock while the SMEs in Koidu keep on recycling gradually and engaging potential buyers of their products.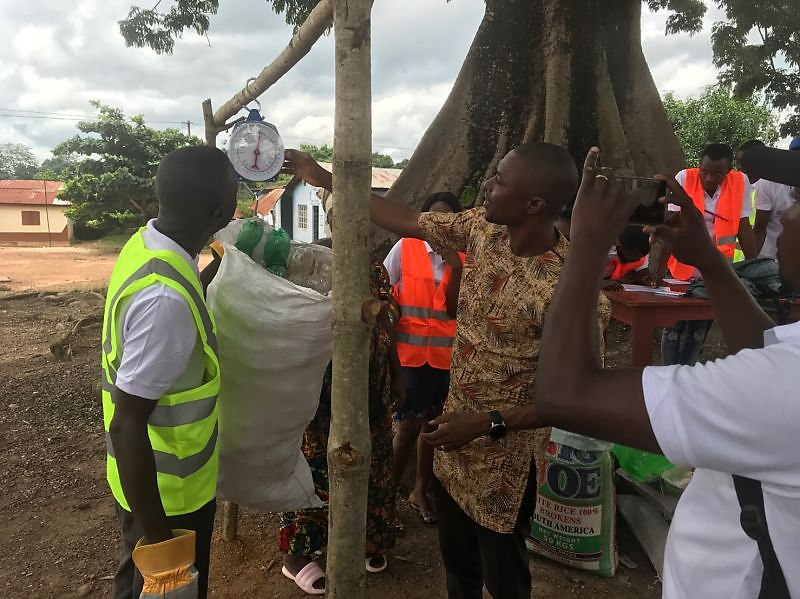 "I am thrilled to be part of this process. This is what we have been looking out for. Someone or organization who can support us to exhibit our talent and business. Many thanks to UN-Habitat and UNOSSC through KNSCC for supporting us in removing plastic waste from the environment in the ongoing P4RC. We now have enough plastic waste as raw material to do our recycling business for the next few months. Team and I will continue to work together and harder to ensure plastic waste recycling becomes sustainable. On behalf of my team in Koidu, I want to use this opportunity to thank our SME colleagues from Makeni, Bo and Kenema who came to support us in this process. The connection and networking will remain enforced", stated by Ibrahim Bullie, Head of SMEs, Koidu