Collingwood, Canada, September 2020 - The inaugural Habitat in Towns: Collingwood World Summit, a collaborative effort between the Urban Economy Forum, UN-Habitat, and the Town of Collingwood, Canada was held virtually over two days attracing more than 200 participants...
The Premier from Ontario, Doug Ford expressed the Province's support for the  Habitat in Towns: Collingwood World Summit which discussed important role towns and small cities can play in moving towards sustainability in a Decade of Action.  Participants agreed to establish the Town Leaders Global Network as part of the final resolution outcome.
In his opening statement the Mayor of the Town of Collingwood, Brian Saunderson, stated that municipal leaders from towns have the capacity to influence national policies and constitute strong advocacy and global networks.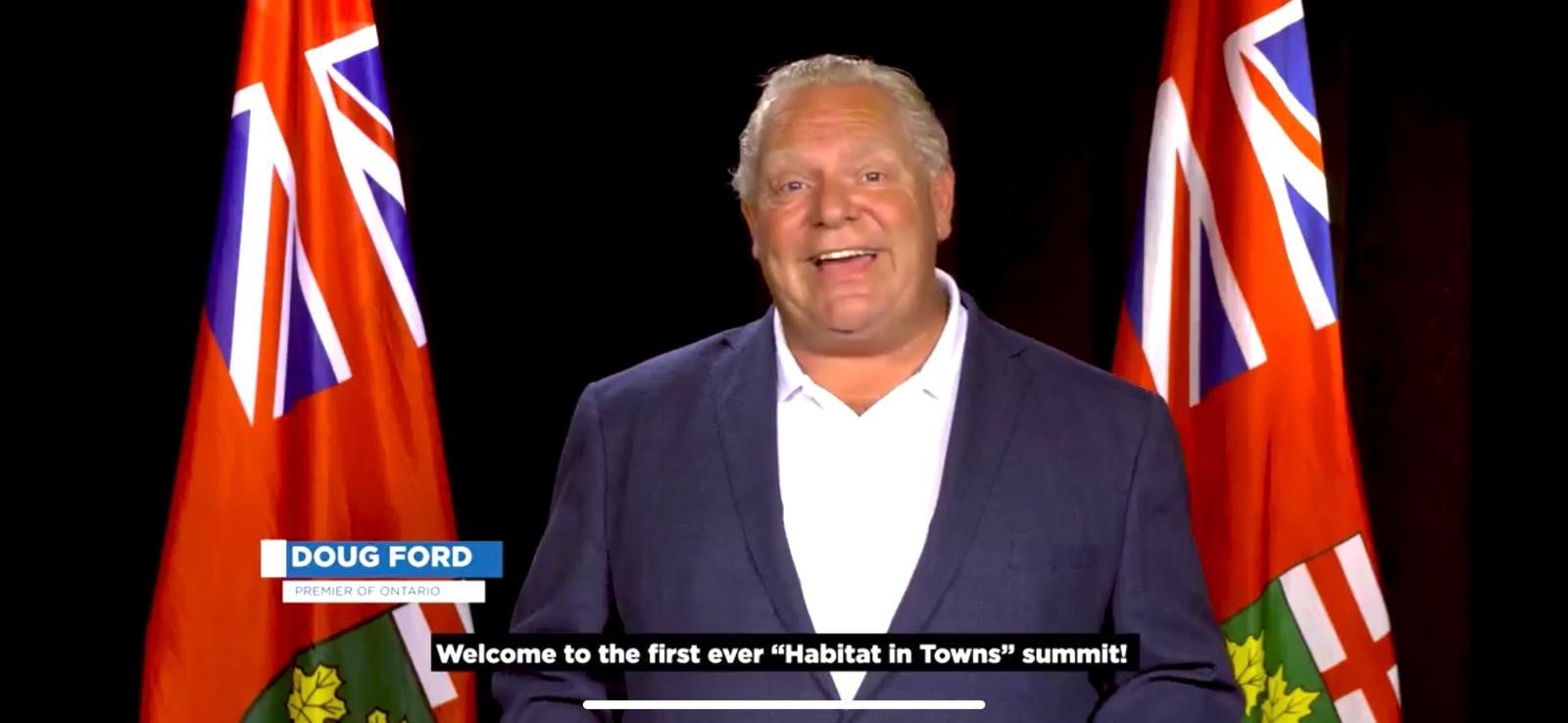 Doug Ford, Premier of Ontario, welcomes participates to the inaugural Habitat in Towns: Collingwood World Summit
The Lieutenant Governor of Ontario, Elizabeth Dowdeswell, stated that towns and local governments can be effective laboratories of sustainability and resilience, particularly in a COVID-19 world.
Adam Vaughan, a Member of the Canadian Parliament and Parliamentary Secretary to the Minister of Families, Children and Social Development, pointed out that towns are fragile and exposed to several vulnerabilities, but they also have the capacity to fight poverty and accelerate shared prosperity in today's world.
UN-Habitat, Head of Knowledge and Innovation, Eduardo Moreno, delivered a keynote speech in which he referred to the importance of urban data and information for policy making, presenting the City Prosperity Initiative and the SDG Cities Programme as a framework for towns and cities to advance in the prosperity and sustainability path.
All sessions were recorded and will be available online at www.ueforum.org