Ouagadougou, Burkina Faso, 13 March 2021 -  UN-Habitat's Executive Director, Maimunah Mohd Sharif, visited an informal settlement of Djikofé in Saaba Municipality on the eastern outskirts of the capital.
Accompanied by the Minister of Urban Planning, Housing and the City, Mr. Stanislas Bénéwendé Sankara and the UN Resident Coordinator, Ms. Metsi Makhetha, the Executive Director went to the unplanned area of ​​Djikofé, which has been chosen as a pilot area to start implementing the National Slum Upgrading Strategy.The urban renovation project will include concrete actions to regularise land tenure
The UN-Habitat Executive Director met the Mayor of Saaba Municipality, Mr. Joseph Dipama,  chatted with women at a community borehole and visited a vulnerable family.  
"The needs of the residents in Djikofé are enormous as basic social services are absent, there is high criminality at night due to lack of street lighting and accessibility is very difficult, especially during the rainy season, which also causes waterborne diseases such as malaria," said Mr. Moussa Ouedraogo told the Executive Director.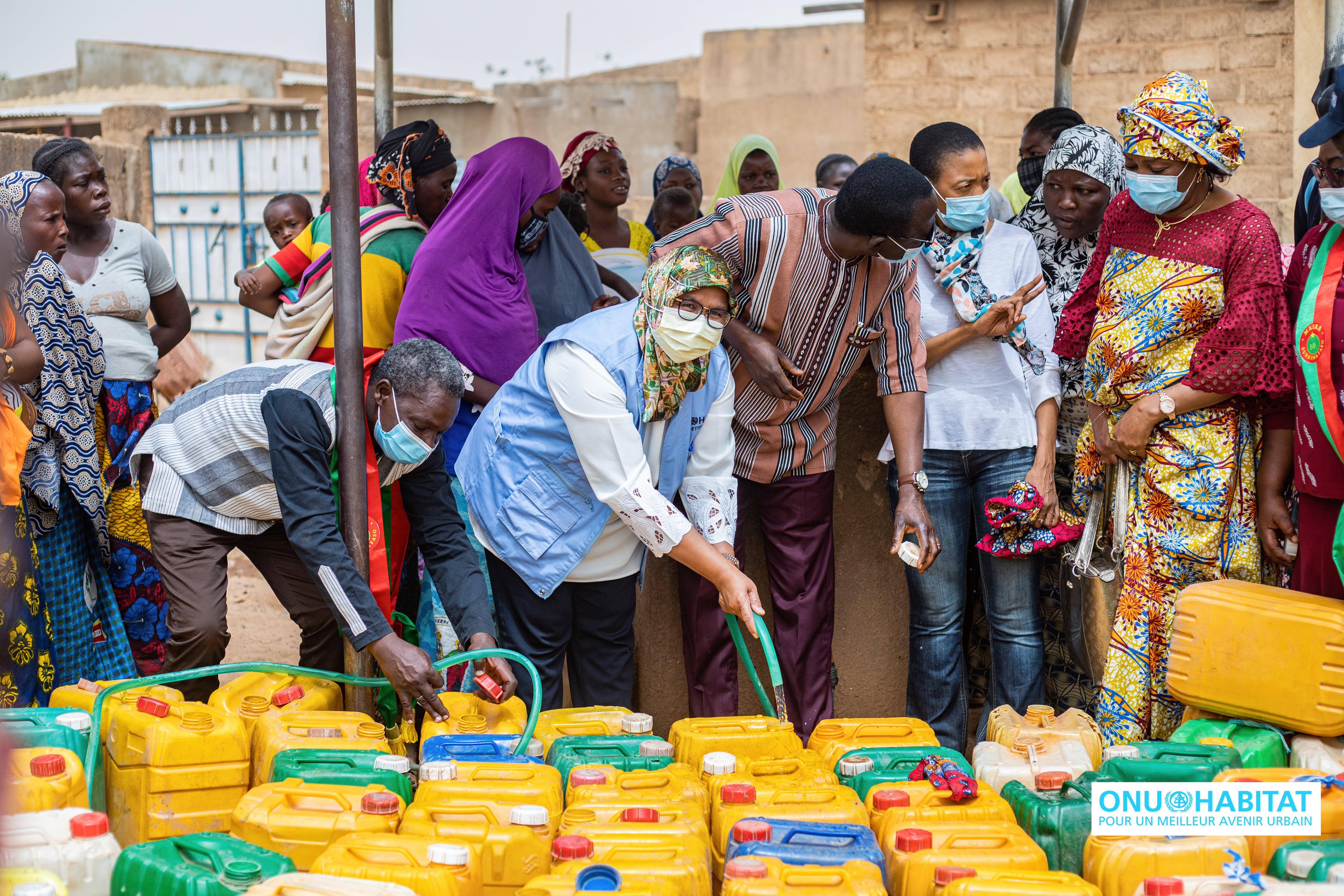 The Executive Director made a stop at a water point with women of Djikofe.
The design of the flagship project was strongly influenced by UN-Habitat's Participatory Slum Upgrading Programme (PSUP) which was implemented in Bissighin neighbourhood in Ouagadougou. It also included urban profiles for the cities of Banfora, Koudougou and Bobo-Dioulasso and informed the review of the National Urban Policy, leading to the National Slum Upgrading Strategy in 2020. The Strategy targets 13 regional capitals and Pouytenga and aims to increase access to adequate housing and services for all in informal urban areas.
Saaba has a population of around 150,000 people, three quarters of whom live in the fast expanding informal settlements.