Berbera, Somaliland, 15 June 2022- In line with its mandate to generate vibrant and dynamic public spaces, inclusion and livelihood creation, UN-Habitat is working on a multi-phased urban development project that will provide this community with more social inclusion and females-specific solutions.
This first phase of the Berbera Urban Development (BUD) project, designed in partnership with the Berbera municipality, comprises a recycling area, drop off area, a market and pedestrian walkways. Six kilometres of raised sidewalks on the beach road that connects Batalaale beach with the city centre of Berbera, the capital of the Sahil region of Somaliland, have already been constructed.
Built with concrete blocks and spanning 1.2 metres on each side of the three-kilometre stretch of road, the sidewalks will allow equal accessibility and social inclusion, including the use of wheelchairs and strollers to the beach.
"Having completed the pedestrian walkways fitted with ramps, and the pocket space shading structure which will be partitioned to give room for street vendors, it is exciting to see the project taking shape to achieve its purpose," said Idiris Mohamoud, BUD Project Engineer.
Other spaces built include a bus stop at the drop off area, five shading structures, roofed with the traditional grass to ensure a cooling effect from the extremely hot Berbera weather. Three safeguard towers have also been erected to promote security around the beachfront.  Few temporary stations for street vendors are marked on the pavement with painting, to improve livability of the space, ensuring social distancing and adequate distribution of the space.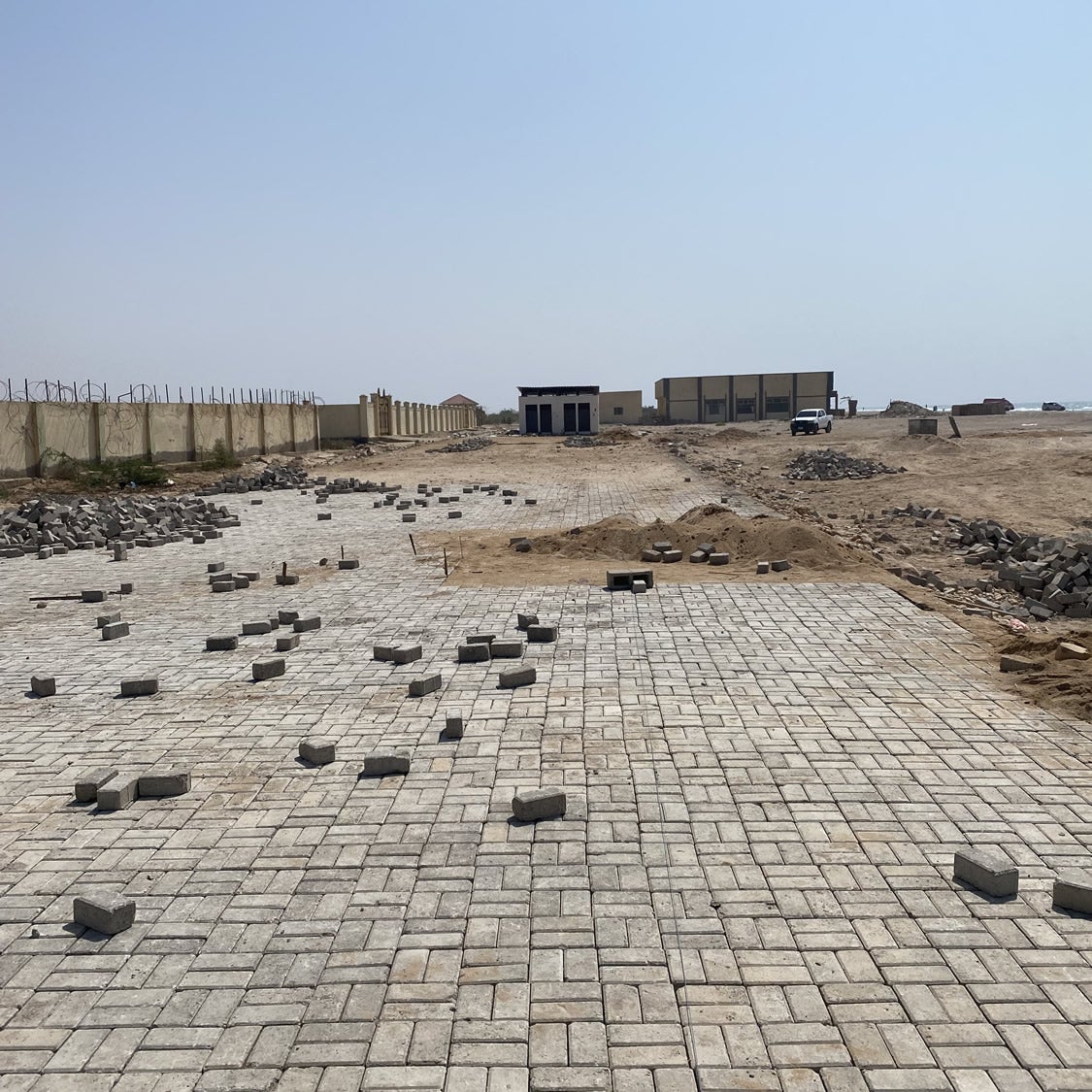 [UN-Habitat/Hamza_Sulub]
The second phase of the project will see the construction of a carriable street, youth & sports area, family area, and Her Space - a public space meant for women and girls only.
Upon completion of both phases, the beachfront development will include four-metre wide pedestrian walkways, 41 benches, 10 gazebos, 36 sunbeds, 3 swings, 35 recycling trash bins, 324 trees, 203 solar powered streetlights along the cycling and pedestrian walkways.
The development project is part of the European Union-funded Berbera Urban Development Project (BUDP) which will contribute to a linear network of public spaces along the beach road. The project will promote the accessibility of the Batalaale beach from Berbera city, equal access to public spaces and livelihood opportunities for the most vulnerable groups.