Yaoundé, Cameroon, 11 February 2021 – UN-Habitat's Deputy Executive Director, Victor Kisob, led a senior delegation from the agency on a two-day official mission to Cameroon's capital this week.
Mr. Kisob met United Nations and Government representatives including the Prime Minister, Dr. Dion Ngute, who called on UN-Habitat to work closely with national institutions to develop urbanization and housing models and support work on improving compliance with construction and urban management regulations.
 "We would like express our appreciation to the Government for its supportive role in UN-Habitat's Executive Board and I would like to particularly thank the Minister of Housing and Urban Development for her engagement in making this partnership a strategic one. I am confident that by strengthening the ongoing cooperation, both parties will be able to harness the power of urbanization and housing provision to provide economic opportunities for all and to speed up progress towards the Sustainable Development Goals," said Mr. Kisob.
Over the past 20 years UN-Habitat's country portfolio has expanded to 11 programmes and interventions in areas including policy formulation, urban governance and regeneration, green energy, safer cities, urban-rural linkages and resilience building at the municipal level.
"The construction of cities and town should integrate local culture and the proper use of local materials," said Mr. Lejeune Bella Bella, Cameroon's Minister of External Relations.
The national authorities renewed their commitments to increase UN-Habitat's technical assistance and advisory services to support the implementation and evaluation of the National Development Strategy and the achievement of the Sustainable Development Goals (SDGs).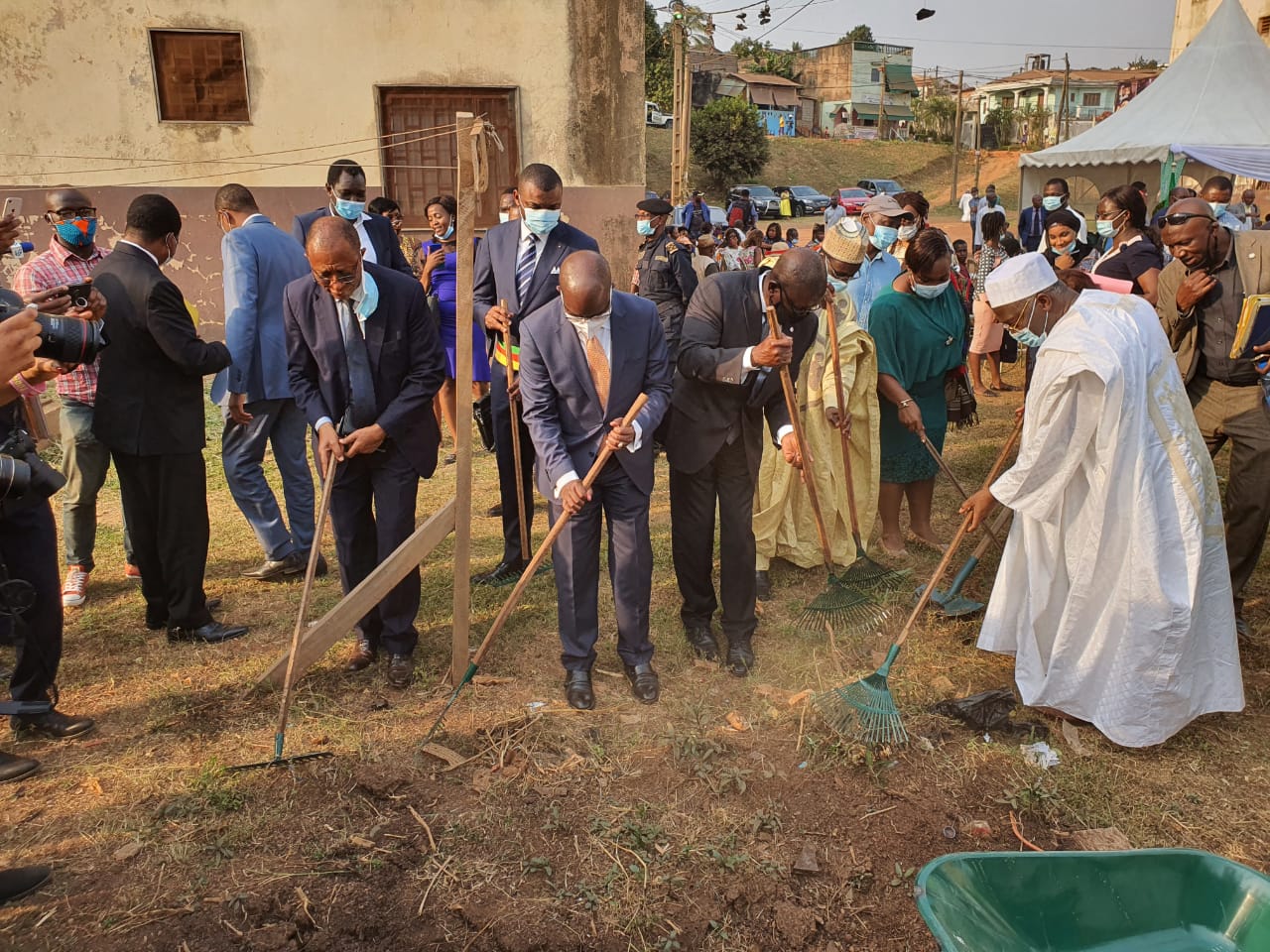 UN-Habitat Deputy Executive Director Victor Kisob launches a clean up exercise at Cité Verte, Yaoundé during his two day visit in February 2021
[SIC]
The Minister of Housing and Urban Development, Ms. Célestine Ketcha-Courtès, in her welcome address said "we are very delighted with this partnership and UN-Habitat can no longer delay its establishment in Cameroon as its expertise is greatly needed to attain SDG 11."
The Ministers in charge of Housing and Urban Development, Posts and Telecommunications, and Land Affairs, reiterated the Government's determination to ensure the success of the initiatives drawn up and implemented with UN-Habitat. Two task forces will advance the joint review of land governances and smart cities challenges and key entry points for UN-Habitat, leading to specific agreements.
At Cité Verte, a neighbourhood in Yaoundé, Mr. Victor Kisob and the Director General of the Cameroon Real Estate Corporation, Mr. Ahmadou Sardaouna, launched the operationalization of the three-year Agreement of Cooperation with the Cameroon Real Estate Corporation (SIC) on institutional development, resource mobilization and renovation of social housing units.
UN-Habitat and FEICOM renewed the three-year Action Plan (2021-2023) with the document being signed by the Director General of the Special Council Support Fund for Mutual Assistance (FEICOM), Mr. Phillipe Akoa, and UN-Habitat Regional Director for Africa, Mr. Oumar Sylla.
The Deputy Executive Director made a field visit to social housing estates at Messa and Olembe, to look at housing design, management and maintenance. He also co-chaired an interactive dialogue with the Director and senior managers of the International Relations Institute of Cameroon (IRIC) on multilateralism and urban diplomacy in the context of COVID-19.