Kathmandu, 13 July 2020 – UN-Habitat has installed touch-free handwashing facilities in some slum settlements, vegetable markets and temple areas to prevent the spread of COVID-19 in Nepal's capital.
The facilities at the four vegetable markets are visited by over 10,000 customers and vendors daily. The market management groups of the small scale vegetable vendors are promoting social distancing, mask wearing and handwashing for the safety of the visitors.
"We had never heard of COVID-19 but now it is living with us. Handwashing facilities not only keep us safer but help stop the stigma against slum dwellers," said Bhagwati Adhikari, Secretary, Nepal Mahila Ekta Samaj, a women's association for those living in the informal settlements.
The 'Water for Life Project' is supported mainly by the people of Fukuoka, Japan. Communities were in the forefront in selecting sites, deciding the management plan, managing the water, refilling the liquid soap regularly and ensuring the safe discharge of wastewater.
Communities, mainly women, came together to form a management committee that takes care of the hand washing facility and sanitation provisions for their communities.
"Returning home from outside we never know what we bring with us. This facility helps to keep our neighbourhood safe as we do not have running water in each house," said Bimala Lama, Chairperson, Nepal Mahila Ekta Samaj.
UN-Habitat has been promoting hand washing from more than a decade in support of Nepal's  national sanitation campaign.  UN-Habitat is also installing handwashing facilities in 64 rural municipalities targeting 1.4 million people.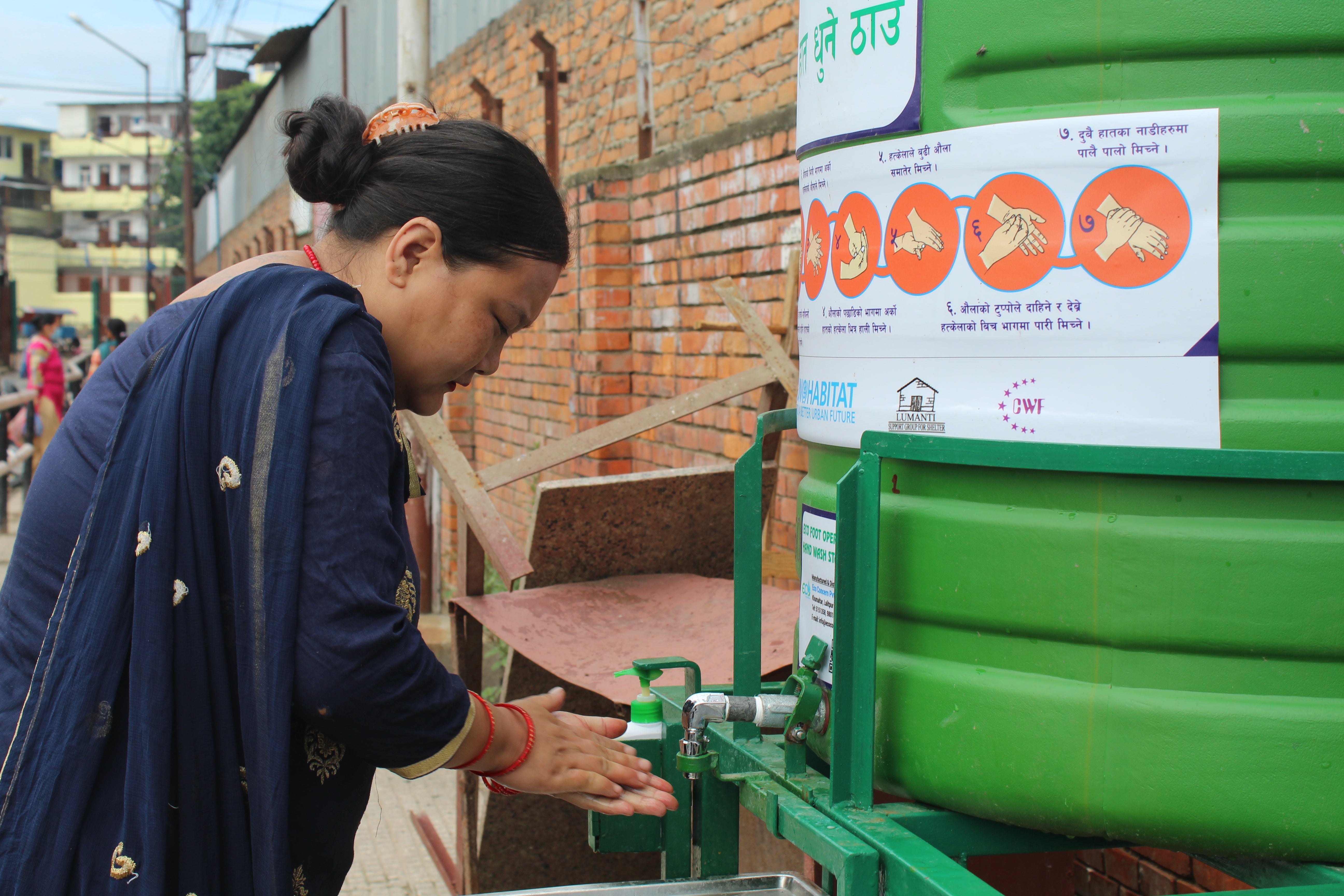 A newly installed touchless handwashing facility by UN-Habitat aims to prevent the spread of COVID-19 in Kalimati Vegetable Market in Kathmandu, Nepal
[UN-Habitat Nepal]