Damascus, Syria, 13 May 2022 – Eleven years since the start of the Syrian crisis that has left more than 13 million people still in need of humanitarian assistance, UN-Habitat, among numerous entities, continue to respond to humanitarian needs and support returnees rebuild their lives in Syria through contributing to the country's urban recovery.
"My family has owned this building since 1924," says a returnee who identified himself only by his first name, Osama. He decided to return and work on the rehabilitation of his house in AlHadaeq neighbourhood, Harasta city, one of the areas in Rural Damascus that were severely impacted by the crisis.
In Rural Damascus, UN-Habitat, supported by the Syria Humanitarian Fund, is working toward enabling more than 1,000 displaced families to return to their houses. Under a project aiming at supporting the restoration of basic service functionality, UN-Habitat ensures safer access to buildings through removal of debris and filling in tunnels and cavities that had been dug under buildings during conflict and now pose a threat to the stability of the buildings.
"I had been displaced from my neighbourhood in Harasta city since 2011, and I returned to my house as soon as restoration of the area started," Osama adds. He is among more than 1,000 families who are displaced in nearby locations in Damascus and Rural Damascus and expected to return after ensuring their houses are accessible again.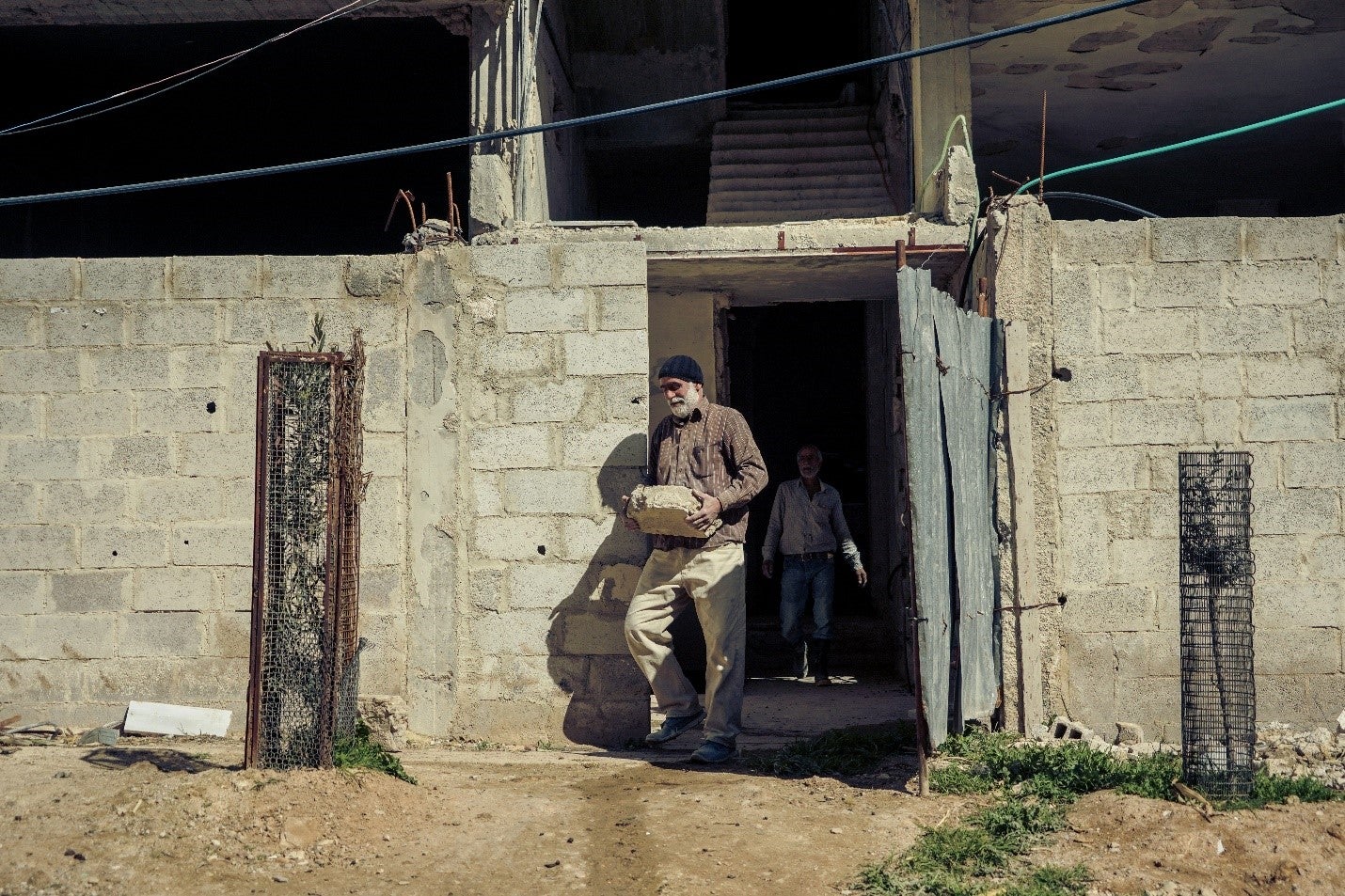 [UN-Habitat Syria/Samer Abo Alway]
Through the Urban Recovery Framework, an enabling institutional and policy framework developed by UN-Habitat and a multi-stakeholder consortium under the Urban Recovery Framework project funded by the European Union, UN-Habitat aims to enhance response to urban crises. UN-Habitat also builds on area-based approaches. For instance, restoring livelihoods to secure vulnerable families' income requires a complimentary focus on livelihoods creation and recovery at local levels including enabling business environment and functionality of infrastructure.
Highlights from the implementation of the Framework in Syria were discussed in a panel on the sidelines of the Brussels VI Conference on Syria and the Region. Ryan Knox, Head of UN-Habitat Syria Programme, shed light on the importance of area-based approaches in producing more holistic recovery gains and participatory processes that focus on the inclusion of different community stakeholders to foster trust and accountability. Knox also stressed the need to integrate environmental sustainability, climate resilience and preservation of urban heritage into local recovery priorities.
The sixth Brussels Conference, co-chaired by the European Union and the United Nations, is an opportunity to reassert the international community's continued support to mitigate the impact of the conflict in Syria.
"Syrians live in a continuous state of fragility and insecurity," Maimunah Mohd Sharif, UN-Habitat Executive Director, said in her message to the Brussels Conference for Syria and The Region. "For the past three years, we have stressed the importance of adopting conflict-sensitive and area-based approaches."
The Conference mobilised aid to Syrians inside the country and in the neighbouring countries, through pledges reaching 6.4 billion euros for 2022 and beyond.