Mosul, Iraq. March 2021. After struggling to support her family for the past six years, Nafla Mohammad Ali is now a gardener at Al Yarmouk Park currently being transformed as part of the EU-funded area-based urban recovery programme.
Nafla and her family used to live on a chickpea plantation in the town of Batnaya, north of the  Mosul but during heavy fighting in 2014 they fled to Mosul and settled near Al Yarmouk Park.
When her husband lost his job due to spinal issues, Nafla was forced to support both of them and five children.
"If I did not work for one day, my family would have nothing to eat for lunch," she remembers." I was stressed and completely desperate for an opportunity."
She came across UN-Habitat's horticulture training programme which was recruiting female gardeners as one of the initiatives under the EU-funded urban recovery programme. She says her financial situation has improved drastically.
Nafla is one of the 30 vulnerable women selected from the 410 women who applied to UN-Habitat's "Horticulture Training Programme for Women." Many of the candidates enrolled in this programme are destitute widows whose families survive on charity and food provided by the local mosques.
The initiative provided Nafla and her colleagues with an intensive 10-day long vocational training comprising core lessons in horticulture, including soil composition, plant species, planting, pruning and general maintenance. The training was held in close consultation with Agriculture Department in Mosul University, Ninewa Agriculture Department and Mosul Municipality.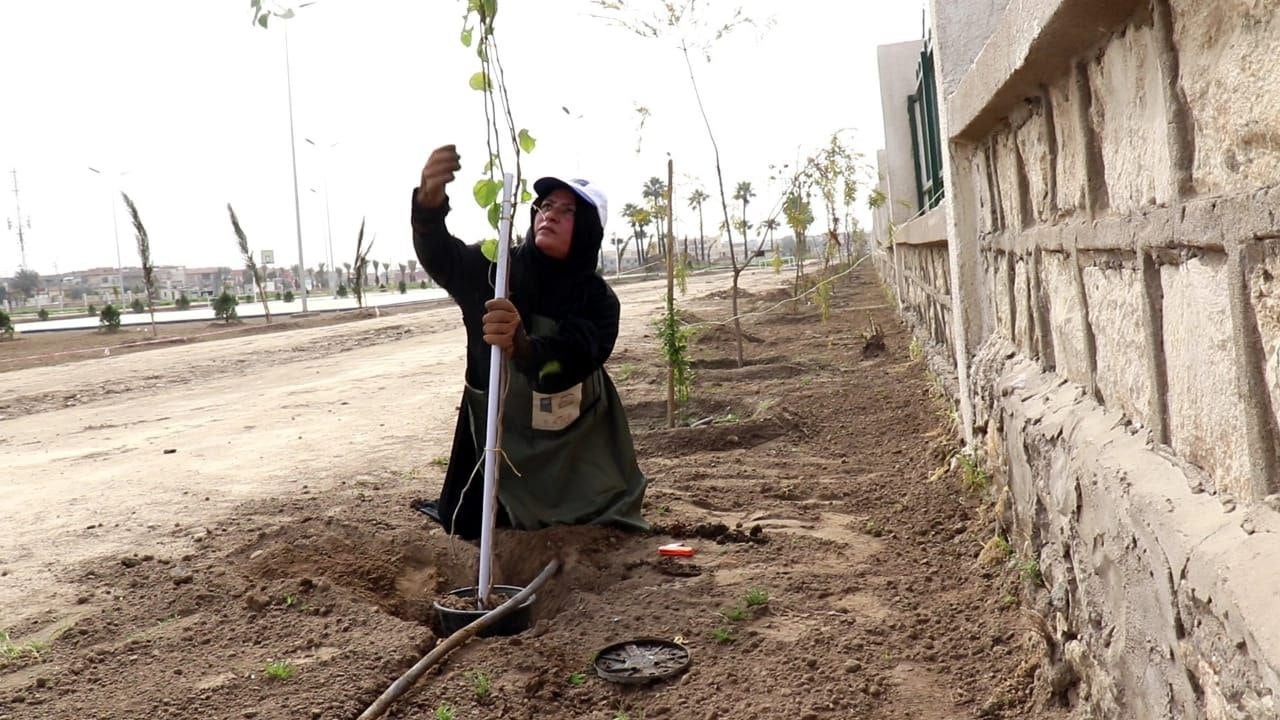 [UN-Habitat/Ms Shehla Alhialy]
"You might see me smiling now, but I have suffered much adversity in life. I have five kids, and my only dream right now is for them to have a good education and a better life than I have ever had. I don't want them to suffer like me," Nafla said.
Nafla and other female gardeners from her batch are expected to continue working on this programme for the next year. UN-Habitat is negotiating with Al Rabee Sector Municipality to hire five of the best trainees from their programme as full-time employees to help maintain Al Yarmouk Park. Other trainees will be enrolled on an entrepreneurship training course running in parallel to this initiative.
Once the project is completed, and the park is open to the public, Nafla intends to take her kids there.
"I feel so proud at the trees that I have planted and took care of with so much love. There is something maternal about the way I feel about them. I feel alive when I am out there working with plants," she says.
At a macro level, such public space rehabilitation initiatives contribute to social cohesion within war-torn communities. Free accessibility to public spaces play an integral role in the physical and social inclusion of the population, especially in Mosul's case, where the many green areas have been built over in the late 1980s and many parks are leased to recreational enterprises. Through this initiative, UN-Habitat will restore public access for over half a million people living in west Mosul to the park. The shade of the trees planted by Nafla and her colleagues will provided welcome shade during the blistering heat of Mosul's summer.