Manaus (Amazônias) Brazil, 06 September 2019 — Mayors, officials and experts met in the "Heart of the Amazon" city, Manaus, to share a new vision of the development and protection of the Amazon region in Brazil.
The event was hosted by the city of Manaus on 5 and 6 of September, and co-organized by ICLEI, the Foundation Konrad Adenauer, and the National Front of Mayors (Frente Nacional de Prefeitos).  This First Forum on Amazonian Cities aimed to promote the exchange of experiences between Amazonian cities and connections with relevant institutions and initiatives. 
UN-Habitat took an active in presenting to authorities and expert panel its vision of the "Urban Amazonia" in connection with the New Urban Agenda and its key principles.
The Mayor of Manaus, Arthur Virgílio Neto, mentioned in his speech that "Amazonia is a natural and human environment of enormous wealth, which must be protected and should be seen as a model for the harmonic relationship between different peoples on the basis of respect for diversity".
Manaus is known as "Heart of the Amazon" and "City of the Forest".  Located in the centre of the world's largest rainforest, Manaus is the seventh-largest city in Brazil, with an estimated population of 2,18 million distributed over a land area of about 11,400 km2.  The city is the centre of the Manaus metropolitan area and the largest metropolitan area in the by urban landmass.
This First Forum on Amazonian Cities was the occasion to discuss over territorial and leadership coordination in order to confront the current and long-term challenges that are specific to human settlements located in Amazonia.  The participants expressed the need to expand and consolidate interaction among municipalities in Amazonia and called up to international partners to receiving external support as more important now than ever.
Alain Grimard, Senior Officer of UN-Habitat in Latin America, pointed out during the event that local, regional, and national governments must work together in a joint vision of an Urban Amazonia.  "Too often, this region is being seen by many just as natural ecosystem. We must recognize that Amazonia is home to hundreds of municipalities.  There are more than 30 cities with more than 100,000 inhabitants in the Amazon," added Alain Grimard.  "All leaders and decision-makers must recognize this fact and understand that cities as part of the solution to the challenges of the Amazon."
The event culminated in the adoption of a Manifesto signed by all present cities, about "the paths to sustainable development in the Amazon region" in order to guide the theme during COP25 in Chile.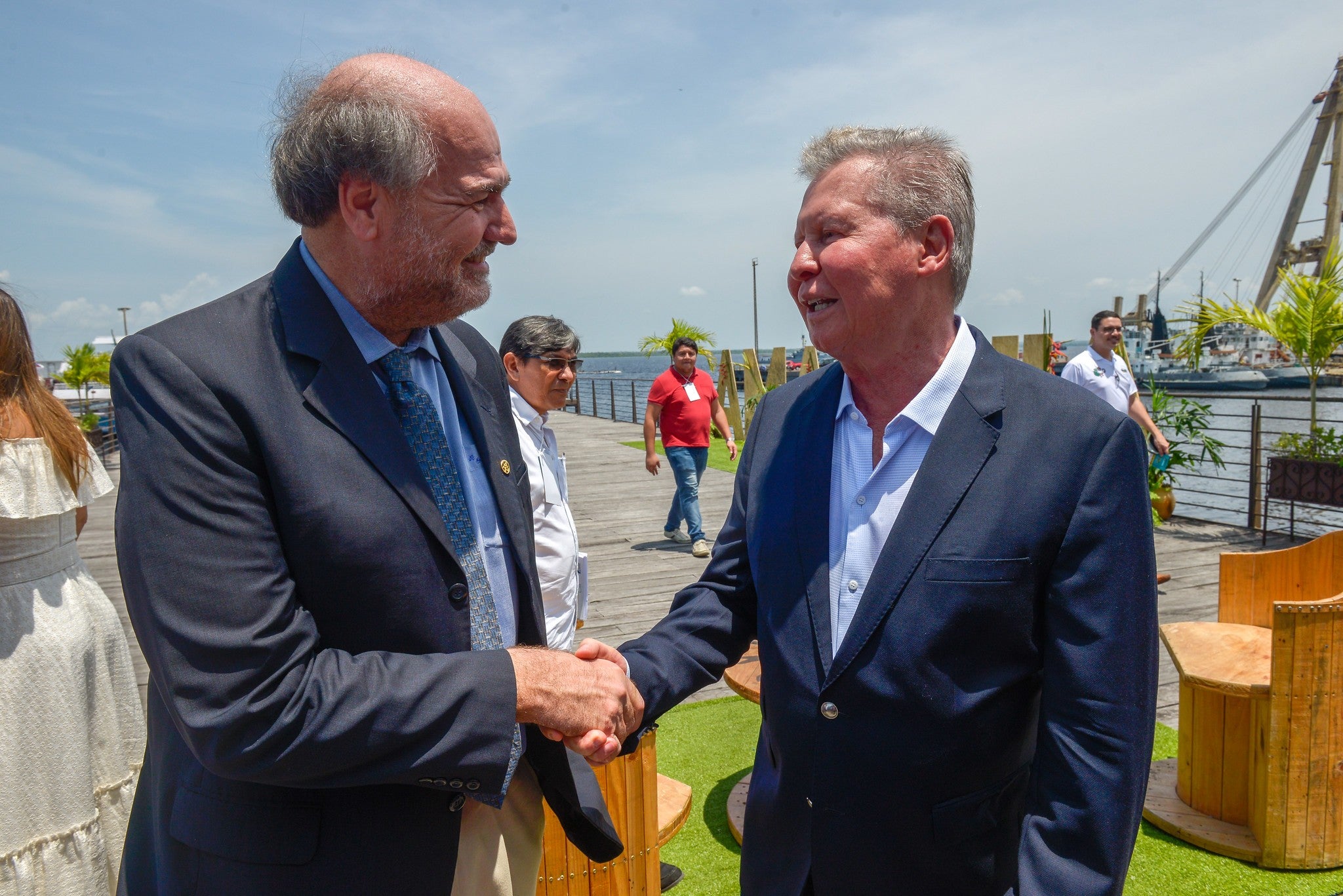 Arthur Virgílio Neto (R), the Mayor of Manaus, with Alain Grimard from UN-Habitat