Kabul, Afghanistan, 10 May 2022 -- In face of continuing humanitarian crisis in Afghanistan, UN-Habitat continues to implement projects that provide relief to the Afghan people – pushing ahead with pre-Taliban projects and establishing new ones.
With support from donors and international partners, UN-Habitat has strengthened its programmes in Afghanistan to prevent socio-economic system from collapsing, to provide livelihoods for men, youth, and women, and to decrease urban poverty.
In particular, UN-Habitat has been implementing the Area-Based Approach for Development Emergency Initiatives (ABADEI) programme, a joint initiative of 17 United Nations agencies, funded by the Special Trust Fund for Afghanistan (STFA), since January.
The programme's main objectives are to provide sustainable energy solutions for essential services, such as health and education; provide training, assets, and tools within communities to improve productivity and management capacity for sustainable and resilient livelihoods; improve the public spaces in cities through cash for work opportunities; provide training to farmers/herders and community members on early warning and preparedness mechanisms and techniques for climate-resilient agro-based livelihoods; and support capacity-building for community resilience and development
"A key feature of UN-Habitat's contribution (under ABADEI) is to deliver assistance through community-based councils by supporting their participation and ideas to meet their basic needs. UN-Habitat will also enhance social inclusion by providing opportunities for livelihoods for women and youth through cash for work, business grants for female-owned micro businesses, and training," said Sayed Sadullah Wahab, UN-Habitat's Programme Manager for ABADEI.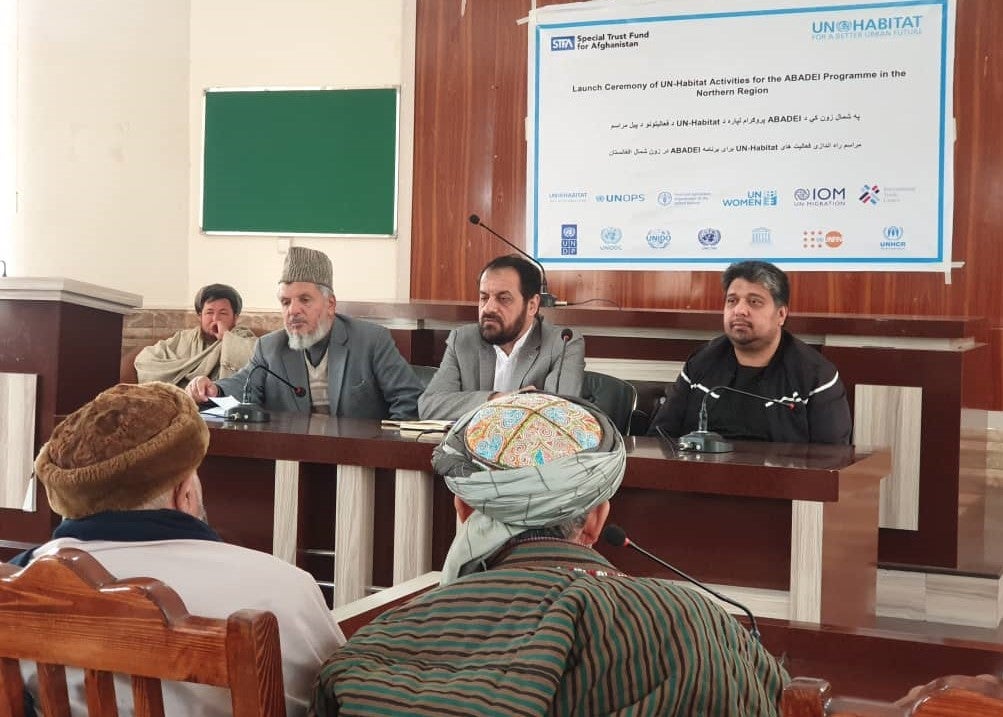 ABADEI programme Launching ceremony in Mazar city of Balkh province.
[UN-Habitat]
"We believe that these interventions will help improve socio-economic recovery and community resilience. For UN-Habitat and our UN partners, ABADEI is not only a programme but a commitment to support Afghan communities that are most in need," he added.
Recipients agree.
"In the current situation in which the economy is in freefall and job opportunities are waning in Afghanistan, I am thankful to UN-Habitat and ABADEI program for providing me a job opportunity. Now, I am able to pay my house rent and buy meals for my family," says Abdul Rauf, one of the beneficiaries in Mazar City.
Additionally, UN-Habitat and the UN High Commissioner for Refugees (UNHCR) have embarked on a joint programme, for the duration of 2022 to provide durable solutions to the large number of internally displaced persons (IDPs) and returnees and to pursue common community-based protection goals for the IDPs, returnees and affected host communities in the priority areas of return and reintegration. The programme will be implemented in Kabul and Jalalabad provinces.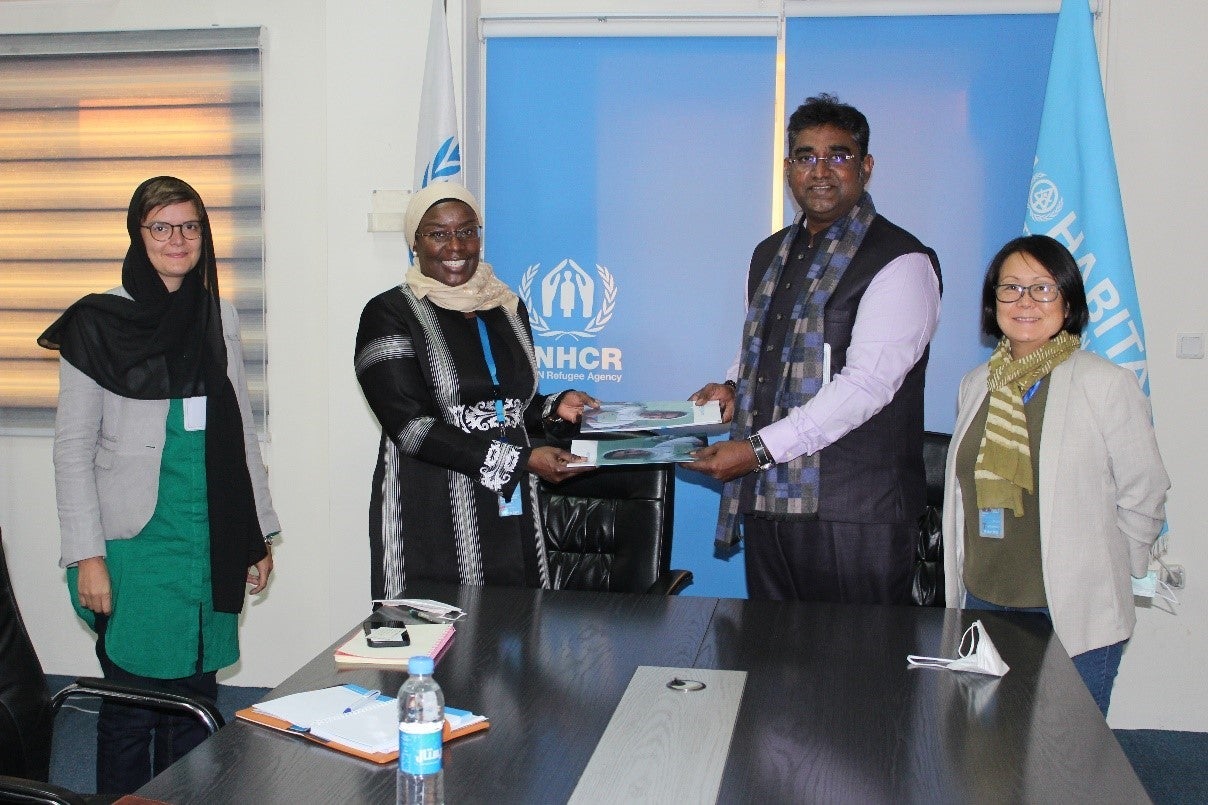 Signing agreement of joint project between UN-Habitat and UNHCR.
[UN-Habitat]
Moreover, under the Housing, Land and Property (HLP) rights pillar, UN-Habitat continues to implement two programmes in urban informal settlements which use a community-centred approach to strengthen HLP rights and provide gender-safe humanitarian infrastructure. The projects map and record communal land claims of 50,000 people living in informal settlements in Kabul and Herat provinces, identify priority gender-safe humanitarian investments to upgrade communal infrastructure through participatory processes, and action the investment plan through community-based organizations.
Present in Afghanistan since 1992, UN-Habitat has already completed a number of high-profile projects that have helped millions in the country:  
City for All Programme (CFA):
The six-year programme, which ended last year, improved stability and stimulated local economic development through enhancing local governance and strengthening the social contract between citizens and the state. CFA achieved this through improved tenure security and effective land management; increased municipal revenues and strengthened urban management; and improved strategic and participatory urban planning and service delivery.
Afghanistan Urban Safety and Security Programme (AUSSP):
Until its completion last July, AUSSP improved state-society relations and advanced safety and security in the urban areas by addressing the needs of the communities, especially women, youth, IDPs, returnees and the most vulnerable populations. AUSSP´s primary focus was building safer and more secure living environment in urban areas to increase social and economic benefits to communities, particularly excluded and under-represented groups; improve municipal governance and delivery of safety services; and enhance the national framework towards accountable municipal governance in the areas of safety and security.
Sustainable Human Settlements in Urban Areas for Reintegration in Afghanistan (SHURA):
The programme, completed in December 2021, enabled reintegration and HLP rights to vulnerable families through land allocation, incremental and affordable housing in Kabul and Herat provinces, Afghanistan.