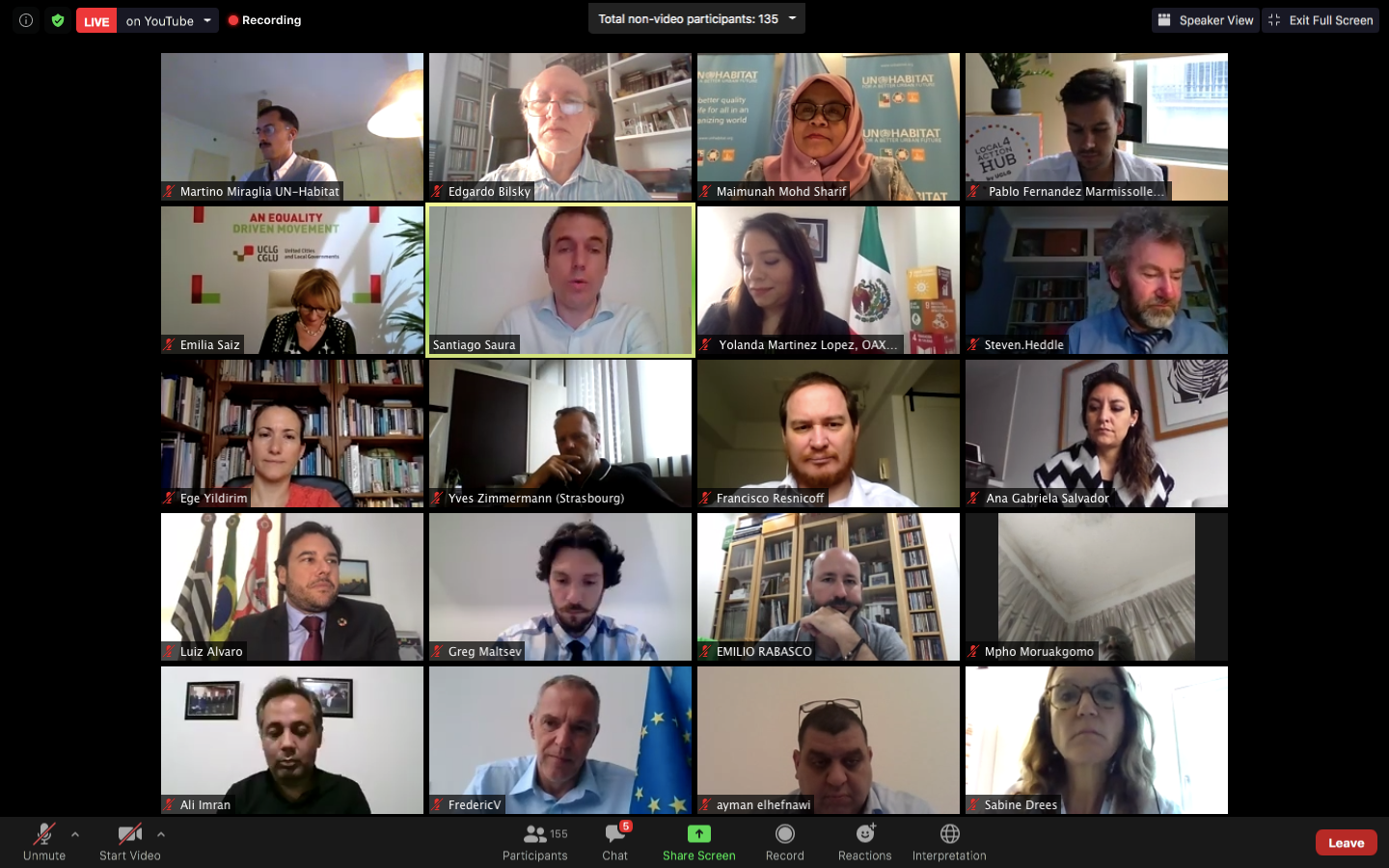 8 July 2020 – UN-Habitat and the United Cities and Local Governments (UCLG) launched the first volume of 'Guidelines for Voluntary Local Reviews (VLRs)' of the VLR Series on the sidelines of the 2020 High-level Political Forum on Sustainable Development (HLPF).
During the launch event, UN-Habitat Executive Director Maimunah Mohd Sharif, emphasized the need to empower cities and local governments through spatially-disaggregated data and sufficient resources. She called for integrating VLRs into the Voluntary National Review process.
Representatives from communities that have developed VLRs including New York City, Madrid, Moscow, Oaxaca, São Paulo, Buenos Aires, and Barcelona presented their experiences.
The VLR Series seeks to provide guidance, definitions, and technical support for local and regional governments to engage in the VLR process. During the VLR process, local governments confirm their commitment to the SDGs and voluntarily assess progress toward specific targets.
The report is at https://unhabitat.org/guidance-for-voluntary-local-reviews-vol1-a-comparative-analysis-of-existing-vlrs and the launch event is here.
UN-Habitat and the United Nations Department of Economic and Social Affairs (UN-DESA) also hosted a side event, VNR Lab: "Multi-Level Governance and Subnational Reporting on the VNRs and VLRs" which aimed to advance understanding of how national and subnational governance work together towards a more sustainable future.
The Lab also discussed effective modalities of engaging the cities in implementing Agenda 2030 by comparing various subnational roles in different types of national urban and territorial policy and governance frameworks.
Representatives from UN-DESA and the European Commission and partner agencies gave remarks during the event.
The UN-Habitat Executive Director expressed her support of the VLR process, calling the VLRs "a useful monitoring instrument for the cities to monitor the implementation of Agenda 2030 and the New Urban Agenda." She also encouraged national governments "to consider putting policy into practice by using the VLRs to prepare for their VNRs".
For more about the VNR Lab series go to https://sustainabledevelopment.un.org/hlpf/2020#labs