Chengdu, China, 9 November 2021 -- Mayors, scholars, experts and representatives from the Chinese Government, international institutions and private sector discussed ideas on how to cooperate on zero-carbon development projects.
The Forum was organised by UN-Habitat, the China Center for Urban Development (CCUD), and the Chengdu Municipal Government. The yearly event – hosted five times since 2017 – was this year co-hosted with Liverpool, Seoul, and Vienna.
In his keynote address, Ning Jizhe, Vice Chairman of the National Development and Reform Commission of China, said zero-carbon development projects should be implemented with localised sustainability goals and focus on concrete actions in support of sustainable development pathways.
Cities are vital to the implementation of climate action. UN-Habitat supports the Cities Race to Zero and the Cities Race to Resilience, two global campaigns towards carbon-neutrality and adaptation. In China, Chengdu has taken the lead in the implementation of carbon-neutrality and innovation. Chengdu's "Park Cities" strategy emphasizes green corridors and belts, which act as carbon sinks and strengthen resilience.
Three reports were also launched during the plenary session. The Belt and Road Cities Connectivity Index Report was presented by Gou Zhengli, Executive Vice Mayor of Chengdu Municipal Government. The Energy Foundation (China) released The Green Urbanization Consensus of the Belt and Road Sustainable Cities Alliance. Meanwhile, UN-Habitat China and Chengdu's HighTech District introduced The Sustainable Planning Guidelines for Chengdu Future Science and Technology City.
The Forum also held a Roundtable on green urban transition and carbon neutrality and three parallel sub-sessions. Vienna co-hosted a session on Switching to Green Manufacturing and Value Chains and Seoul co-convened one on Promoting Green Lifestyles for Quality City. The session on Greening Urban Regeneration for Sustainable Development was co-led by Liverpool.
The International High-Level Forum on Sustainable Urban Development is convened each year under an Action Plan on Jointly Promoting the Construction of the Belt and Road Initiative agreed in 2019 between the Government of the People's Republic of China and UN-Habitat. The conferences have so far reached out to 40 city mayors from China and abroad, as well as to over 30 international organizations and 110 major companies.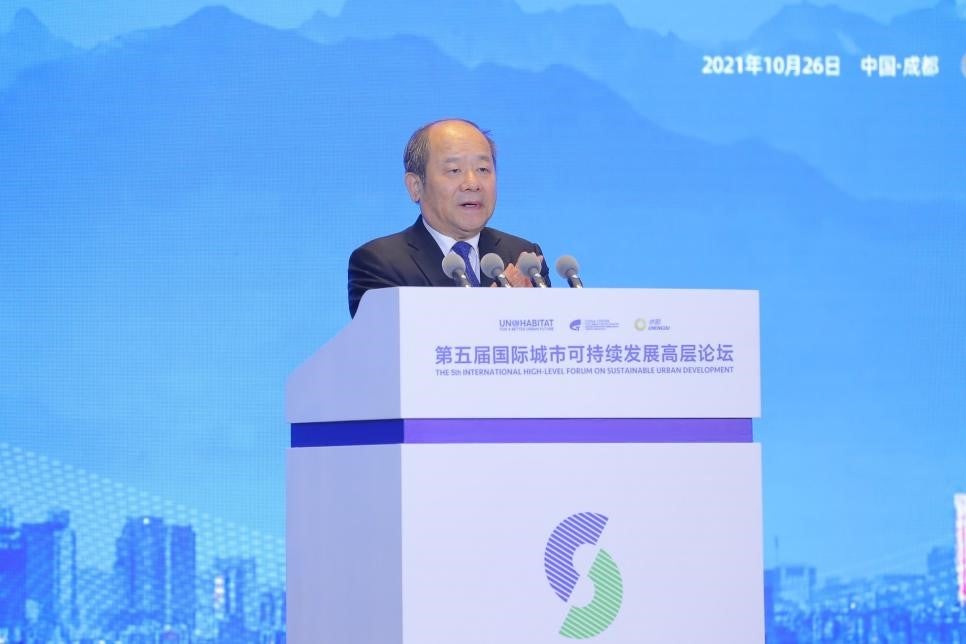 Mr. Ning Jizhe, Vice Chairman of National Development and reform Commission of China, delivering his welcoming speech