New York, 30 October – To mark  World Cities Day 2020, the New York Liaison office of UN-Habitat hosted an event entitled Local Innovations, SDGs and COVID-19, with the New York Mayor's Office for International Affairs, Rethink Food, the Mansueto Institute for Urban Innovation at the University of Chicago, the Resilient Cities Network, the NGO Committee on Sustainable Development-NY, and others.
The event, attended by over 60 particpants, began with welcome remarks by the Executive Director of UN-Habitat, Maimunah Mohd Sharif on the impact of the COVID-19 pandemic on cities and communities and  importance of implementing the New Urban Agenda and realizing the SDGs.
Aissata Camara, Deputy Commissioner for Operations and Strategic Partnerships outlined the innovative Voluntary Local Review movement, spearheaded in 2018 by the City of New York who spoke about how city partners aligned their community and city-wide strategies with the SDGs.
An activist for Strike for Future/Fridays for Future,  Luna Abu-Yunis,urged attendees to continue counting on the voices of youth to push for sustainable practices to combat climate change. Also advocating for young people,  James Arinaitwe, Chief Executive and Co-Founder of Teach for Uganda spoke to attendees about the importance of creating young leaders through education and leadership training.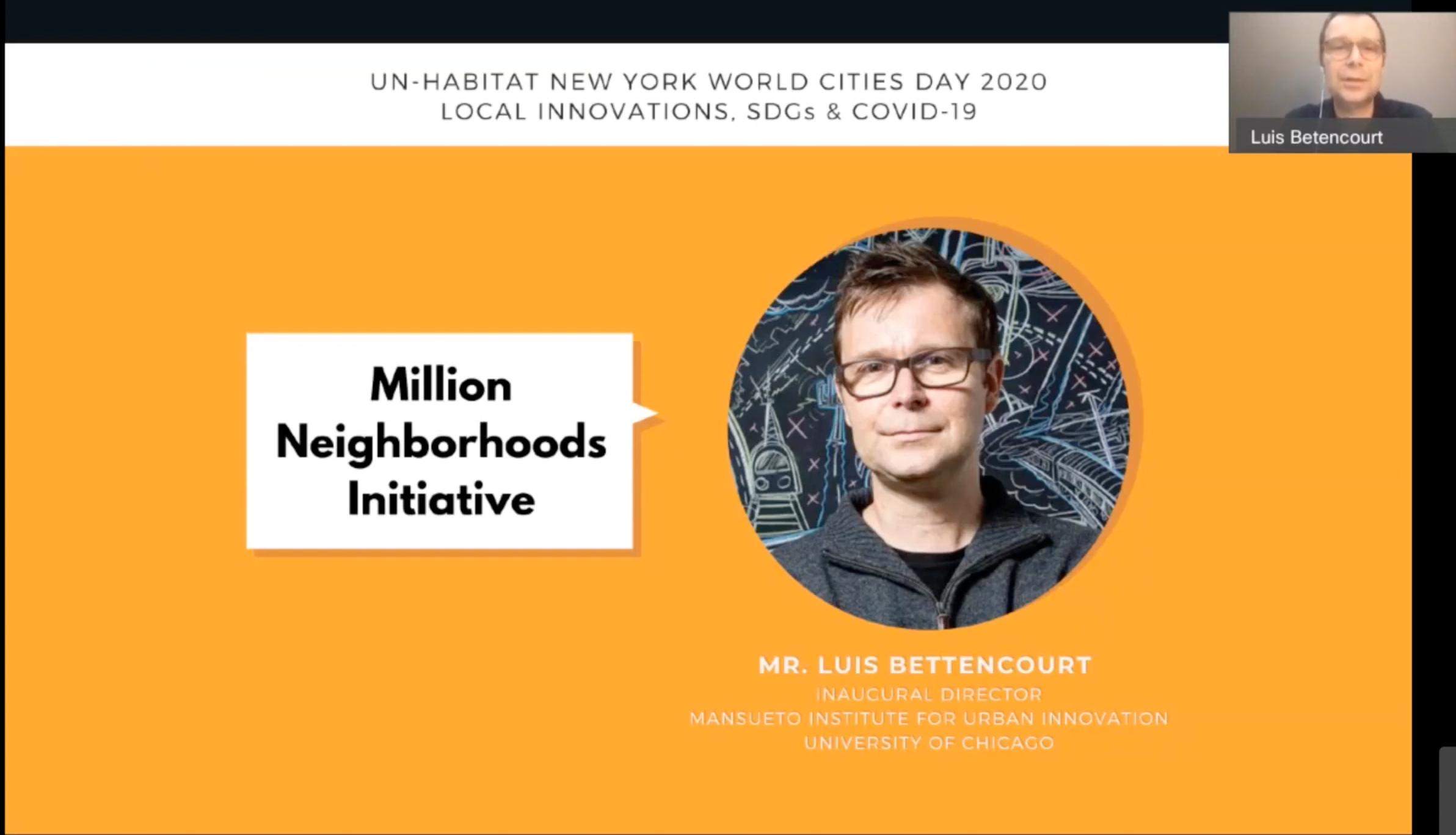 On issues of sustainability in urban areas, Luis Bettencourt, Inaugural Director of the Mansueto Institute at the University of Chicago (United States) gave overview of the Million Neighborhoods Map Initiative and how data has been used to track the COVID-19 pandemic.
From the Resilient Cities Network (Mexico), Eugene Zapata, Global Director, Partnerships, Latin America & the Caribbean, offered a "Toolkit for Resilient Recovery" that can be used by any city to view best practices and lessons learned, including an 8-week training for city officials called "Resilience Fundamentals". Policy and Research Associate for Rethink Food (United States), Ms. Saada Amadou outlined the SDGs that Rethink Food is contributing to  and how they will continue to adapt to meet the needs of the community.
The event, moderated by Christopher Williams, Director of the UN-Habitat New York Liaison Office is available here.