Brazil, October 2020 - To promote discussions about the Urban October themes in Brazil, in 2018 UN-Habitat's country office created the Urban Circuit: an initiative to support, promote and give visibility to events organized by various actors during the month. Due to the pandemic this year, the third edition of the Urban Circuit went completely virtual with live or recorded online events.
The 2020 Urban Circuit was held in partnership with UN-Habitat offices in Lusophone African countries (Angola, Cabo Verde, Guinea-Bissau, Mozambique and São Tomé and Príncipe). The main theme was "Post-COVID-19 Cities: Dialogues between Brazil and Lusophone Africa" and subthemes were aligned to the themes of World Habitat Day, "Housing for all: A Better Urban Future", and World Cities Day, "Valuing our communities and cities".
The Urban Circuit involved 186 events and more than 1,000 speakers from the six countries and 18 others  (Argentina, Benin, Chile, Colombia, Costa Rica, Denmark, Germany, Italy, Malaysia, Mexico, Netherlands, Paraguay, Peru, Portugal, Senegal, Spain, United States of America and Venezuela). The events can be seen on UN-Habitat's youtube channel and have been viewed 49,000 times.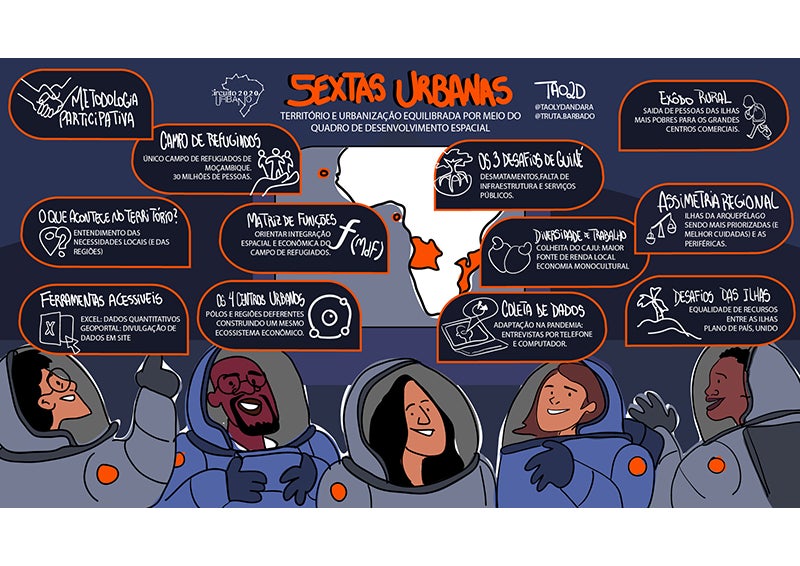 The Urban Circuit was supported by 60 UN volunteers selected through the UN Online Volunteering platform working on communication, social media, video editing, graphic design, translation, broadcasting and graphic facilitation. All the art pieces created by the artists are on the virtual Arts Gallery of the Urban Circuit website: www.circuitourbano.org. 
The Opening ceremony (link to watch) on 1 October was attended by the Regional Representatives for Latin America and the Caribbean and for Africa, and representatives of the UN-Habitat offices in Angola, Brazil, Cabo Verde, Guinea-Bissau, Mozambique and São Tomé and Príncipe and included a video speech by the Executive Director of UN-Habitat, Maimunah Mohd Sharif.
World Habitat Day (link to watch) on 5 October presented the housing scenario in the developing Lusophone world, its main challenges, and concepts on inclusive, accessible and adequate housing, with experts from the six organizers countries;
A series of five Urban Fridays (link to watch playlist) aimed at sharing UN-Habitat's methodologies on the topics of mapping and data production, urban resilience, urban policy and financing, spatial development frameworks and Development Plans for 2030;
World Cities Day (link to watch) on 31 October gathered experiences and perspectives that highlight the innovative, active and strategic aspect of local communities for post-COVID-19 resilience and recovery. The speakers shared their experiences on valuing local action in the construction of more inclusive and sustainable cities, based on the economic, social, environmental and innovation values;
The main people involved in the conception, planning and realization of the 2020 Urban Circuit participated in the Closing ceremony (link to watch) 3 November 2020.
Even virtually, the Urban Circuit used a variety of formats: from roundtables and seminars to slam poetry, meditation, as well as a cleaning up of cities' championship. The themes included public spaces, urban planning, public security, gender, LGBTQIA+, racism, education, the environment, climate change, the 2030 Agenda, SDGs, and especially housing and the importance of local actors and communities.
The Urban Circuit 2020 has shown that Brazil and Lusophone Africa countries and cities share not only a common language, but also many challenges and potential solutions. The exchange between experts and actors from these countries has paved the way to a wider South-South Cooperation platform between these countries and UN-Habitat.