New York, 9 May 2022 - Small Island Developing States (SIDS) are highly exposed and vulnerable to disasters and climate risks, accounting for two-thirds of the countries with the highest relative annual disaster losses. With a narrow revenue base, SIDS cities face unprecedented and mounting environmental, economic, and social challenges as climate emergencies grow in severity. 
Communities are at risk of being displaced by rising sea levels, economies risk becoming more precarious and social development risk being undermined and reversed by severe hydro-metrological disasters coupled with periodic seismic events. This is evidenced by the reported loss of nearly 131 per cent of its gross domestic product (GDP) in Vanuatu by Cyclone Nigel in 1985, to the loss of almost 3.5 times of GDP in the British Virgin Islands and nearly 200 per cent of GDP in Dominica during the 2017 Hurricanes Irma and Maria in the Caribbean. 
COVID-19 pandemic exacerbated the existential crisis faced by SIDS by shrinking the economies and disrupting social networks. For example, in 2019, SIDS attracted approximately 44 million visitors earning USD 55 billion in revenues but saw a decline of 47 per cent in the first four months of 2020, while the Caribbean destinations saw a 67 per cent fall in international arrivals in 2020. This has huge implications considering that nearly 54 per cent of the workforce in the sector globally are women. Lower tax receipts and reduced resources could jeopardise crucial urban infrastructure investments, lead to cuts in public services, and undermine broader sustainable urban development efforts.
On April 26, within the framework of the High-Level Meeting of the General Assembly on the implementation of the New Urban Agenda, UN-Habitat, together with the United Nations Development Programme (UNDP), organised the roundtable on building Urban Resilience in SIDS, and presented the UNDP / UN-Habitat's upcoming joint initiative 'Integrated Urban Resilience in SIDS and Coastal Cities'. 
The roundtable convened high representatives from UN-Habitat, UNDP, UN Disaster Risk Reduction (UNDRR), Office of High Representative for Least Developed Countries (OHRLLS), High-level representatives of SIDS governments, the Regional Government of Catalonia (Spain), Mayors of Miami-Dade (US) and Bujumbura (Burundi), and other cooperation agencies and financial institutions.
Mr. Abdulla Shahid, President of the UN General Assembly, delivered the welcoming remarks with a call to the international community to step up the finance for SIDS. He highlighted the increasing need to address the gaps in unsustainable urban planning, stating that "implementing the New Urban Agenda in SIDS means recognising the different characteristics of urban centres and introducing targeted and context-specific interventions."
Ms. Maimunah Mohd Sharif, UN-Habitat's Executive Director, opened the roundtable by highlighting the centrality of advancing action on building urban resilience to achieve the Sustainable Development Goals, encouraging the attendees to take bold action now.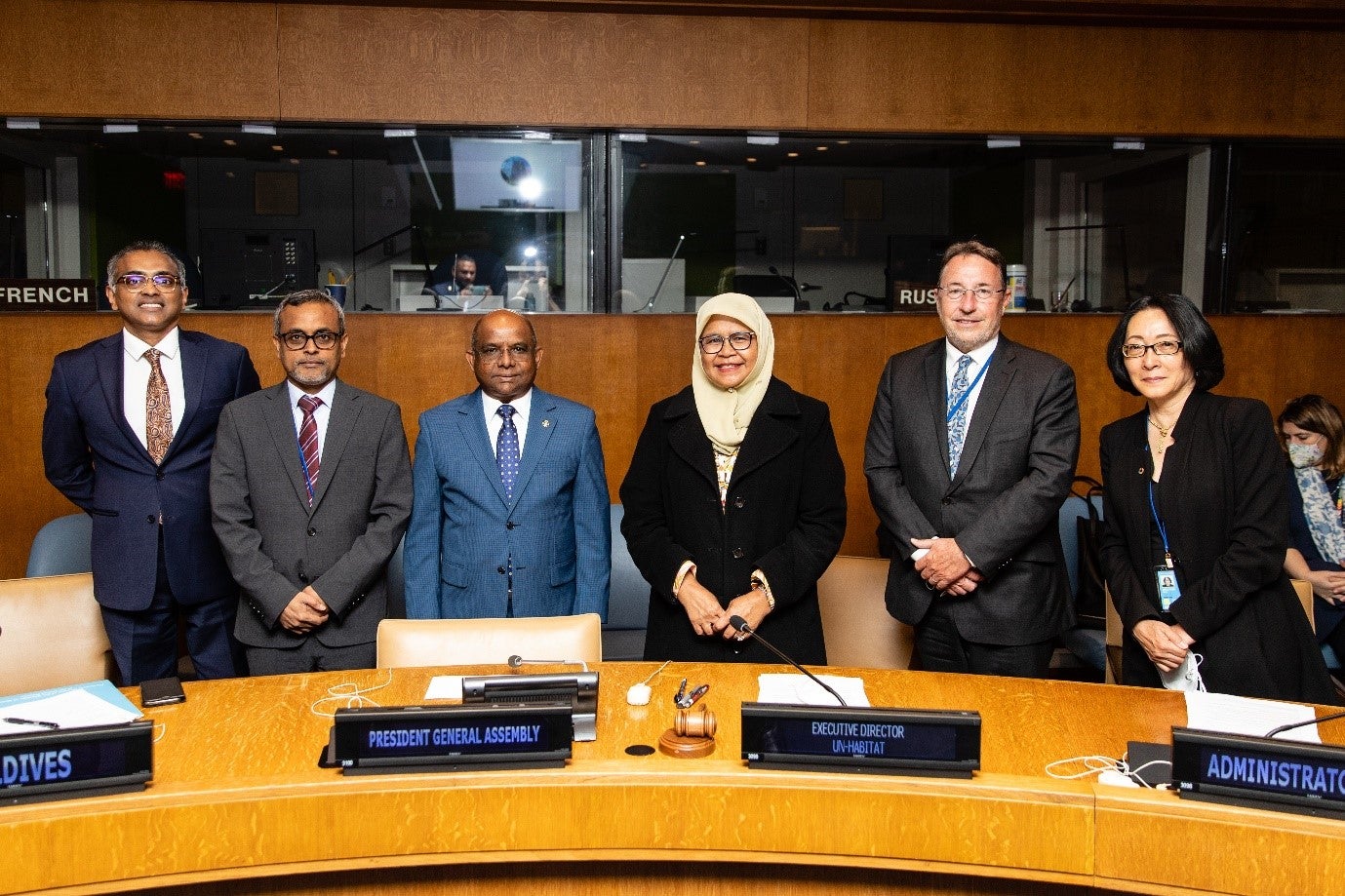 She pointed out that: "Strong risk and resilience analysis is the first step to develop a robust framework needed for the type of evidence-based decision making for city planners and managers to design and implement effective and efficient policies and strategies," she said.
SIDS are already taking action to address the challenges posed by disasters and climate risks, emphasised Mr. Achim Steiner, UNDP Administrator. He called for an initiative along the lines of 'Friends of SIDS' to complement their endeavours for building resilience, as "SIDS need the support of a community of solidarity to co-invest."
Mr. Steiner called for a paradigm shift to review and re-configure the international funding instruments and the international funding mechanisms -tied to the income level of countries. He added that vulnerability indices could enable the "access of SIDS to funding and resources that help them meet their resilience-building needs." 
Ibrahim Zuhuree, the Deputy Permanent Representative of the Republic of Maldives to the United Nations. "We lack the financial resources and technical capabilities to fully address the increasing risk of climate change. We rely on our partners to identify innovative solutions for the multiple challenges that we face," he said.  
The intervention from Mr Ronald Jackson, Head of the UNDP's Disaster Risk Reduction and Recovery for Building Resilience Team (DRT), and Mr. Esteban Leon, Head of UN-Habitat's City Resilience Global Programme, highlighted the technical knowledge, experience and commitment of both agencies to support SIDS on building resilience.
Together, they introduced the UNDP / UN-Habitat's upcoming joint initiative 'Integrated Urban Resilience in SIDS and Coastal Cities' that will focus on advancing collaborative action for building urban resilience with contextualised data. It aims to augment local capacities and technical resources, strengthen urban governance for resilience, risk-informed national and city urban development planning and cross-learning for resilience benchmarking and evaluation of progress.
The video recording of the Roundtable on Urban Resilience in SIDS is available on United Nations TV: https://media.un.org/en/asset/k13/k13j6q4cvg