UN-Habitat's Executive Director, Maimunah Mohd Sharif opened the Moscow Urban Forum, congratulating the Mayor of Moscow, Mr. Sergei Sobyanin and the city of Moscow for recognizing sustainable urbanization as a key tool for achieving transformation across the city. She reaffirmed UN-Habitat as a proud global partner with the Moscow Urban Forum, supporting the critical global discourse required to advance progress of our cities.
In addressing priorities for cities, in line with the theme of the Forum "Quality of life. Projects for a better city", Ms. Sharif expressed that cities can be massive agents of positive change, if they are well planned, well-built and well governed. She stressed that cities can be catalysts for inclusion and set trends for equitable economic growth, linking social, economic and environmental aspects. She also underlined that mega-cities, such as Moscow, have a distinctive role. They have their own gravity, pulling resources, talent and capital together. They set the pace and define global trends for urbanization itself.
UN-Habitat Executive Director opens the Moscow Urban Forum 2019
[TASS/Stoyan Vassev]
Highlighting global trends, Ms. Sharif underlined the prevalence of urban concentration and agglomeration into super-cities, as clusters of mega-cities, while noting a counter and challenging trend of shrinking cities within less successful and more remote regions.
During her first visit to the Russian Federation as Executive Director, enhanced collaboration was agreed between Russia and UN-Habitat. UN-Habitat and the Ministry of Construction and Housing and Communal Services of Russia agreed to a new level of cooperation. It was also agreed to establish a Task Force with the Executive Committee of the Commonwealth of Independent States for urban project activities in the sub-region. UN-Habitat and the Higher School of Economics also signed a Letter of Intent to solidify joint research on urbanization.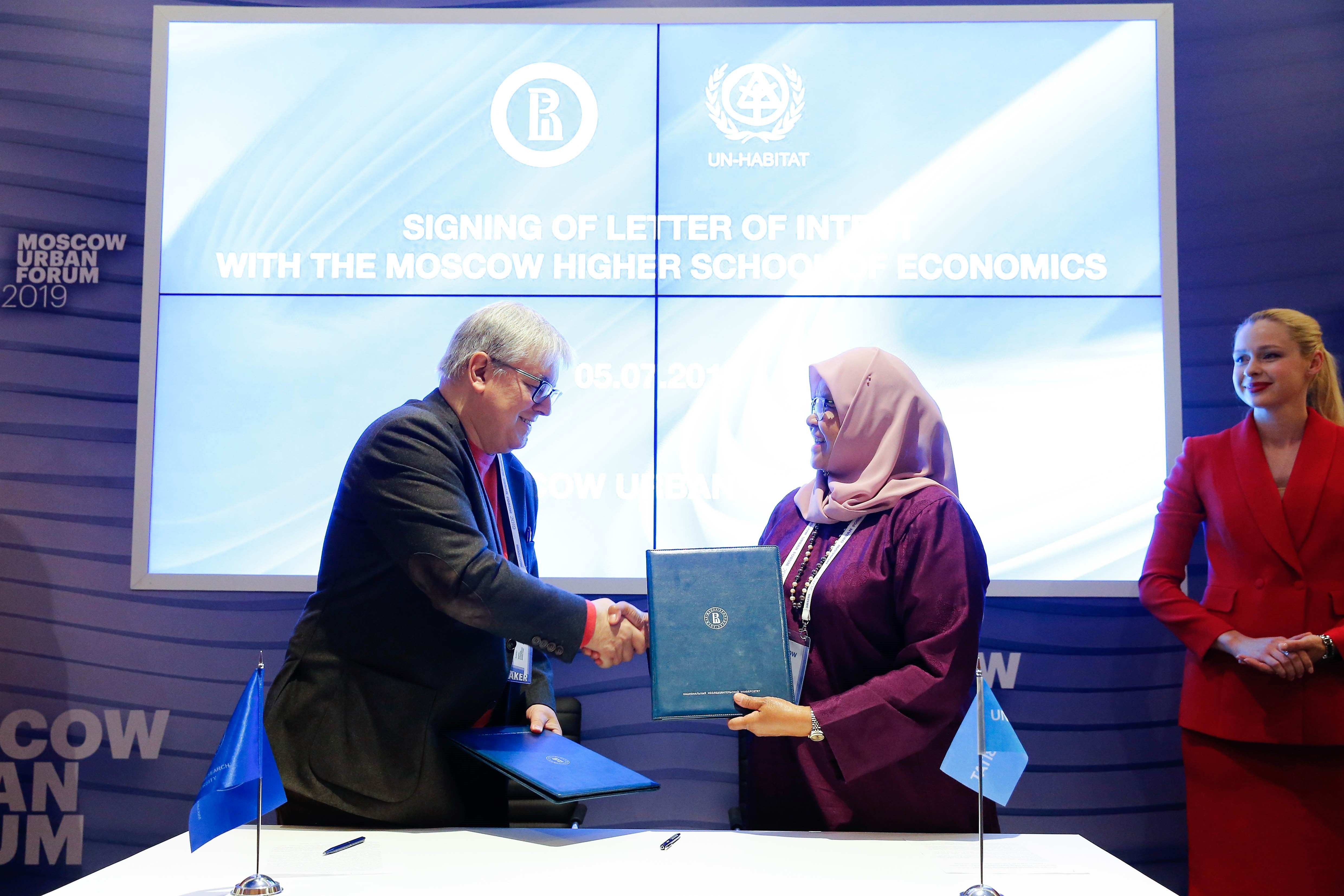 UN-Habitat Executive Director & Moscow Higher School of Economics
[TASS]
It was decided to launch with the city of Moscow an exchange network on the implementation of the Sustainable Development Goals, to elaborate new formats of mega city collaboration. Ms. Sharif encouraged cities to prepare Voluntary National Reviews, measuring progress on implementing the Agenda 2030 for Sustainable Development, underlining that such global discourse between mega-cities would be extremely valuable next step.
At the Forum, Moscow showcased a wide range of urban best practices in its efforts to accelerate sustainable urbanization and an inclusive living environment. The Zaryadye Park, also venue to the event, represents impressive ambitions of the local government to increase public spaces in the city as a lever for sustainable and prosperous urbanization. Zaryadye Park was inaugurated in 2017 and is the first public park built in Moscow in the last 50 years. It has been recognized internationally by a major international competition of real estate and investment projects (MIPIM) and was shortlisted as a nominee for "The Best Project for the Restoration of the Urban Environment".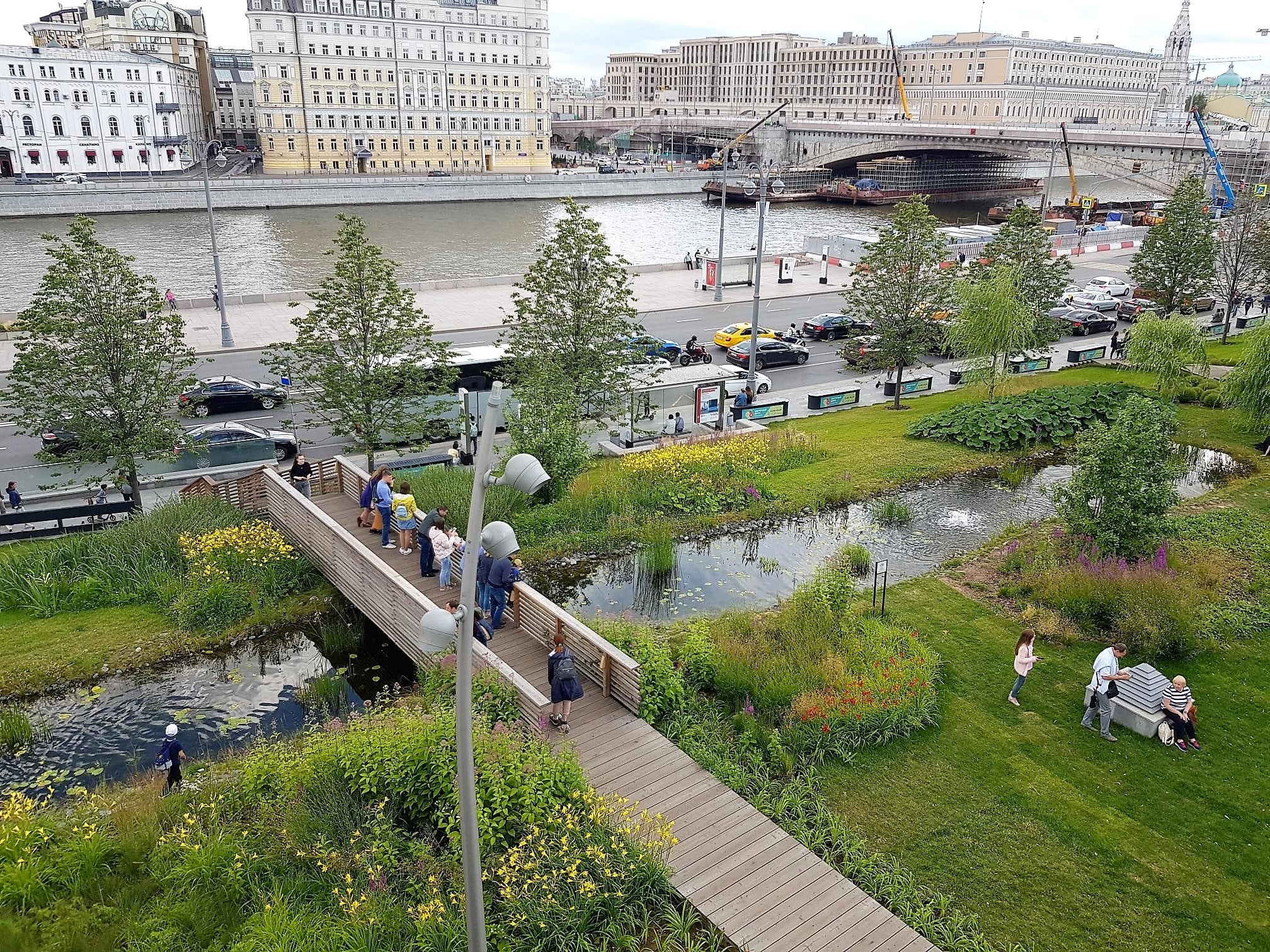 Zaryadye Park in the historic city center of Moscow, a new type of public space where the concept of nature, technology, education and entertainment, complement each other
[UN-Habitat/Javier Torner]
UN-Habitat will document best practices from the development of the Zaryadye Park, to promote knowledge and the exchange of best practices from the Russia and Commonwealth of Independent States. These will be showcased during the global observance of World Cities Day, hosted for the first time in the region, in the Russian city of Ekaterinburg on 31 October 2019, and at the tenth session of the World Urban Forum.