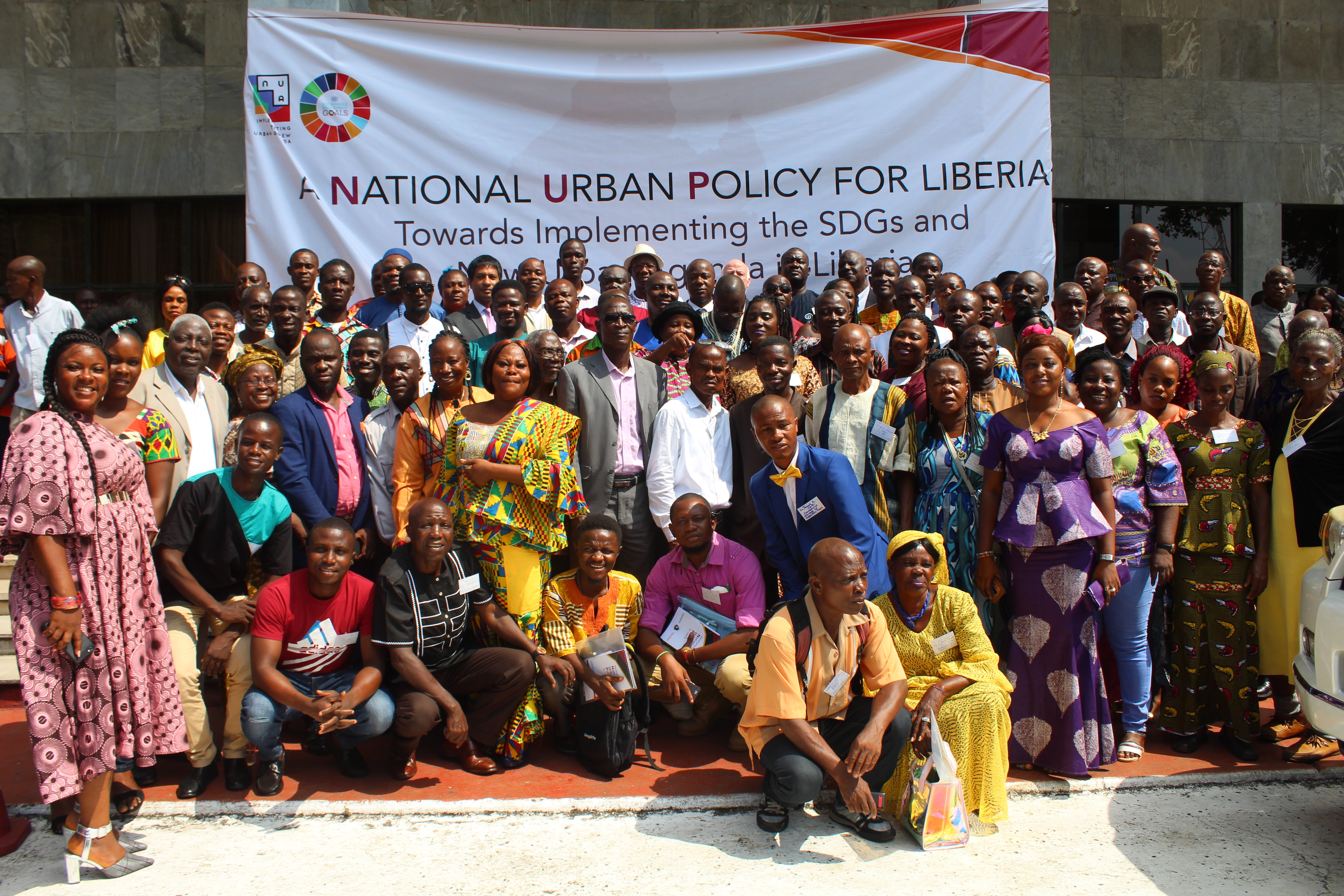 Participants of the National Urban Forum from different parts of Liberia pose for a photo outside Monrovia City Hall, Monrovia.
Monrovia, December 2019 - The Third National Urban Forum for Liberia jointly convened by the Ministry of Internal Affairs of Liberia, UN-Habitat and The Cities Alliance was held in Monrovia, Liberia attracted over 240 participants.
Those attending the Forum which took place on 26th November, included representatives from youth organizations, women groups, persons with disabilities, city mayors and superintendents, township commissioners, community leaders, civil society, the private sector, the Cities Alliance, UNDP, FAO, UN-Habitat and other development partners working in Liberia.
Delivering the keynote address on behalf of President George Manneh Weah, Deputy Minister for Administration in the Ministry of Internal Affairs Mr. Momolu Johnson stressed the importance of developing a National Urban Policy for Liberia.
"We need to urgently engage in strategic planning to progress the country's urban agenda. This National Urban Policy is timely and will assist us in putting in place necessary measures to move the country in a positive direction," he said, noting that collaboration with Cities Alliance and UN-Habitat remains a great partnership to help Liberia achieve this.
"It is upon us to use the partnership to turn things around for the good of everyone," he added.
The Deputy Minister for Urban Affairs, Ms. Famater Roesler urged participants to "come up with a policy that would promote urbanization in all Liberian cities, not just Greater Monrovia."
The Director of Cities Alliance Mr. William Cobbett observed that the urbanization phenomenon in Liberia was comparable to that in Asia, Latin America and other countries in Africa. He urged all stakeholders to make sustainable urbanization a priority for all Liberia and not just Monrovia, so that solutions emerging from the National Urban Policy can be implemented throughout the country.
UN-Habitat representative Mr. Remy Sietchiping called on participants to "own the process and focus on bringing solutions to the table that work for all stakeholders in Liberia." He reiterated UN-Habitat's continued support for the National Urban Policy process in Liberia.
The first phases in developing a National Urban Policy, the Feasibility phase was completed in Liberia in 2017 and the second, the Diagnostic phase which began in 2018 and builds on the first phase is expected to run up to mid-2020. This will be followed by the Formulation, Implementation, and Monitoring and Evaluation phases
Liberia's first National Urban Forum took place in 2015  to initiate National Urban Policy activities, and the second was held in 2017 to validate the first feasibility phase outputs.
Noting that significant progress had been made in developing the National Urban Policy for Liberia, participants at the Forum issued a joint communique renewing their commitment to and ownership of the National Urban Policy process and its outcomes. The Forum communique and participating institutions can be accessed here: http://urbanpolicyplatform.org/wp-content/uploads/2019/12/Liberia-NUF-Thank-you-note.pdf
The 10th Session of the World Urban Forum to be held in Abu Dhabi from 8-13 February 2020 will provide a platform for peer exchange of experiences, lessons learnt and best practices in developing National Urban Policies that foster inclusive, safe, resilient and sustainable cities and human settlements, ensuring no one and no place is left behind.  
For more information on the NUP process in Liberia visit: https://www.facebook.com/A-National-Urban-Policy-for-Liberia-301829020419558/