Nairobi, 9 August 2019 - From early morning, over 1,000 young delegates from around Kenya streamed into the United Nations Office in Nairobi (UNON) to participate in the International Youth Day event. This is the twentieth year the world is marking Youth Day, and the theme this year is "Transforming Education" to make it more inclusive, accessible and relevant to today's world.
The acting head of UNON and Executive Director of UN-Habitat, Ms. Maimunah Mohd Sharif, said she was pleased to see so many young people. She noted the theme is rooted in Sustainable Development Goal 4 to ensure inclusive and equitable quality education and life long learning opportunities for the youth.
Addressing the young delegates she said, "Take advantage of this opportunity, ventilate your issues and solutions to ensure that for those of you who go school, after your formal education, you aren't job seekers but job creators."
She also reflected that youth face "complex and gigantic" challenges saying this meant working together as one UN, in partnership with other stakeholders.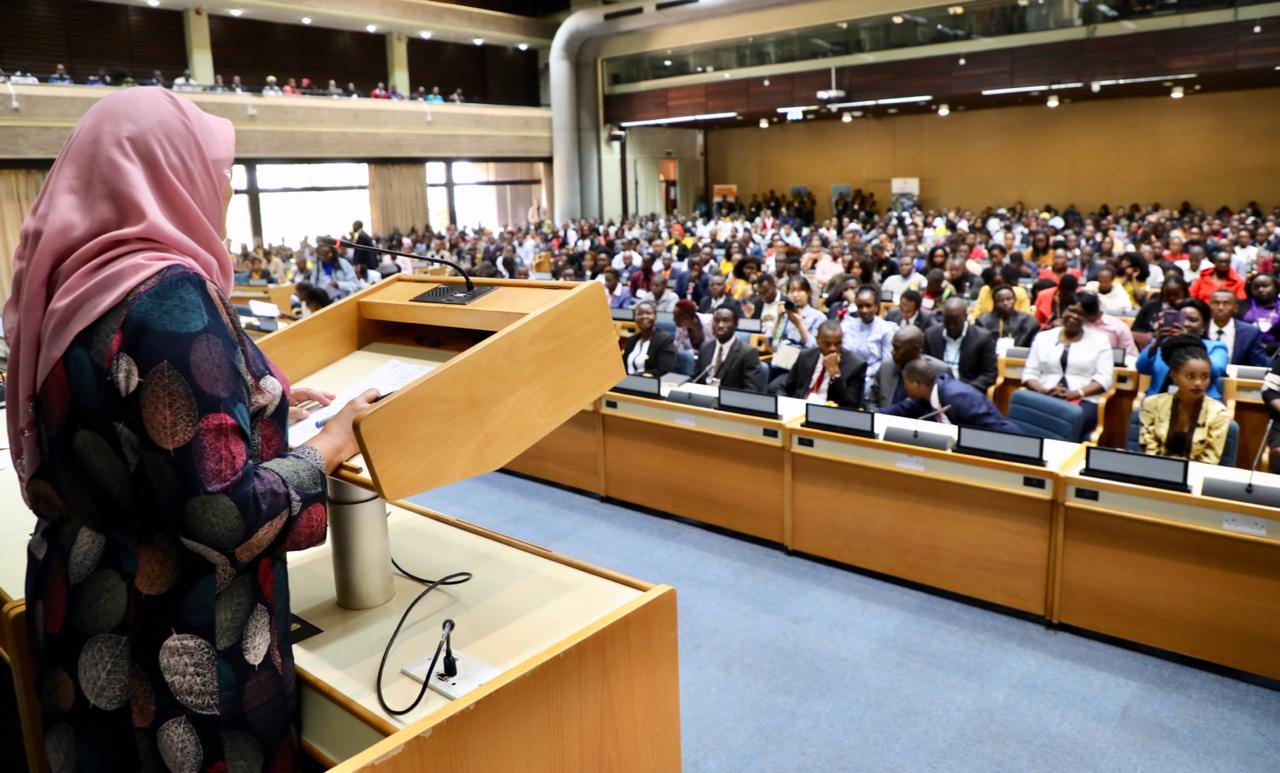 The acting head of UNON and Executive Director of UN-Habitat, Ms. Maimunah Mohd Sharif, addresses the crowd.
[UN-Habitat/Julius Mwelu]
In a video message, UN Secretary-General, António Guterres, cautioned that the world was facing a learning crisis.
"Too often, schools are not equipping young people with the skills they need to navigate the technological revolution. Students need not just to learn, but to learn how to learn," he said.
"Education today should combine knowledge, life skills and critical thinking. It should include information on sustainability and climate change. And it should advance gender equality, human rights and a culture of peace," he added.
Faith Opiyo, a youth representative who chairs the United Nations Population Fund Youth Advisory Panel, emphasized: "Education should close the doors of poverty, and education should close the doors of crime. Education should unlock potential and creativity. But I feel we still need to lock those doors to poverty and crime." She reflected that 70 per cent of young people in Kenya are unemployed, and called for change.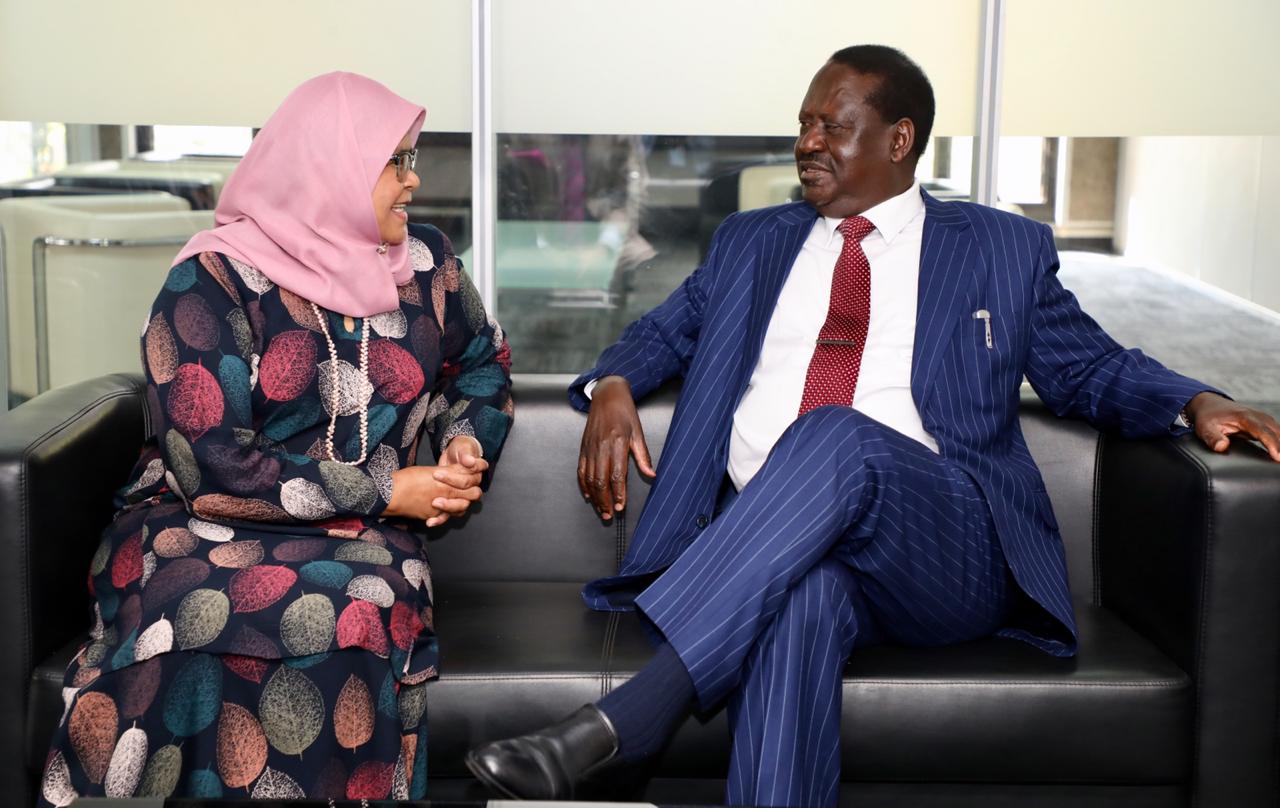 The acting head of UNON and Executive Director of UN-Habitat, Ms. Maimunah Mohd Sharif, chats with Kenya's former Prime Minister, Raila Amolo Odinga, the keynote speaker.
[UN-Habitat/Julius Mwelu]
Kenya's former Prime Minister, Raila Amolo Odinga, the keynote speaker, emphasized that: "Africa's problem has never been the quality of education but access to it." While Prof. Margaret Kobia, Kenya's Cabinet Secretary, Ministry of Public Service, Youth and Gender, noted: "if you don't invest in the youth then we miss out. No nation will develop without that."
The UN Resident Coordinator to Kenya, Siddharth Chatterjee, received huge applause when he acknowledged the guest of honour of the event - the youth. He noted Kenya's leadership in unlocking the potential of the youth and referred to Kenya's President Uhuru Kenyatta, as a "youth champion".
Mr. Chatterjee emphasized that: "We need countries to drive transformative change, like Kenya," and noted the relevance of education, and how it needs to enhance the skillset of the youth for employability.
"Kenya is a beacon of hope for the rest of Africa and the world. The opportunities that Kenya provides are enormous, and we are with you on this journey," he said.
Jennifer Gido, of Nairobi University, spoke of the problems of unemployment, underlining "When you are talking about unemployment, it means you have no food on the table or no roof over your head." She also stressed that: "young people know they have a role to play in the development of this continent. … We've seen what other countries are doing and we understand that you can change the world, and we are asking for an opportunity to do that."
The Chair of the South Korean National Commission for UN Habitat, Soohyun Park, remarked that: "We have come up with Sustainable Development, a common blueprint for the future. In order to fulfill this, education plays a big role. It will make a tangible shift in people's attitude and in the way people live."
In closing UN-Habitat's Executive Director called for everyone to come together to make a difference.
"There is an African saying: If you want to go fast walk alone, if you want to go far, walk with others," she said. "The top priority is that we work together."

Article: Aoibheann O'Sullivan
Photos: UN-Habitat/Julius Mwelu
Video camera: Benedict Otieno
Video edit: Aoibheann O'Sullivan