La Paz, Bolivia, 8 September 2021 – UN-Habitat has published a report that will help Bolivian decision-makers to identify opportunities and challenges as they define a strategic vision and design evidence-based public policies for developing their cities.
"This State of Prosperity of the Cities of Bolivia. report reflects the results of the calculation of the Prosperous Cities Index (CPI), which was measured for 26 urban municipalities, including metropolitan areas," said the Coordinator of the UN-Habitat Program in Bolivia, Sergio Blanco Ania.
The application of the CPI methodology - to study the factors, trends and patterns of urban development - was given within the framework of technical assistance for the formulation of the National Policy for Integral Development of Cities (PNDIC), provided by UN-Habitat to Bolivia, with the support of the Swedish International Development Agency (Sida).
In its basic and extended versions, the CPI, designed by UN-Habitat, was calculated in six dimensions - Productivity, Infrastructure Development, Quality of Life, Equity and Social Inclusion, Environmental Sustainability, and Governance and Legislation - for 26 urban units, which have a greater population and territorial representation at the national level.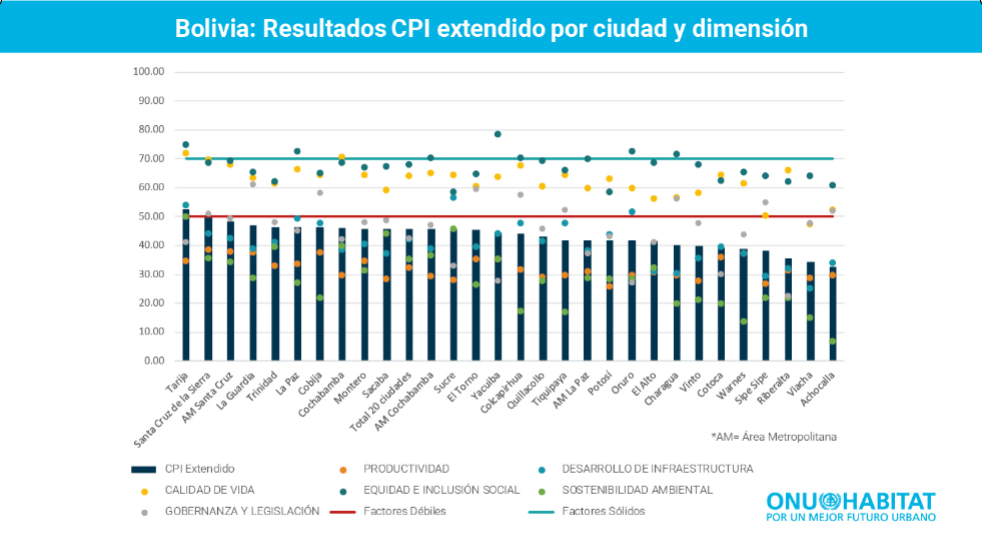 According to the results obtained, the prosperity scale of Bolivian cities is in the moderately weak, weak and very weak ranges; In other words, cities are located in a spectrum that goes from the lowest extreme located at 33.2 to the highest with 58.5 points out of 100. In addition, the average prosperity index is 45.7 in its extended calculation.
To access more information on the 26 municipal governments studied, you can download the document from the following link: https://bit.ly/3z78Lhv .