Yaounde, Cameroon, 7 October 2019 - The Government of Cameroon, with the support of UN-Habitat, did more than celebrating World Habitat Day. They designated the first week of October as Habitat Week focusing on the problem of waste.
The Habitat Week activities included round table talks, sessions with expert panels as well as community activities such as a clean ups competition in all the seven municipalities in Yaoundé focusing on roads, clogged drainage ditches and rivers. One area turned a former roadside dumpsite into a mini–park. On 3 October the Habitat Village was inaugurated, this brings together exhibitors from across the continent to showcase their innovative solutions in waste management. Many initiatives showcased at the Village showed how to up-cycle waste including using recycled plastic bottles to make outdoor furniture.
"I am deeply moved and I hope that this campaign lasts longer so that we may be able to improve our environment and for the promotion of safer cities," said Wilfred Zebaze, a resident  who took part in the clean up. The Waste Wise Cities campaign is a call to action for cities to fully consider waste generation and treatment, to improve the sustainability of cities, towns and communities.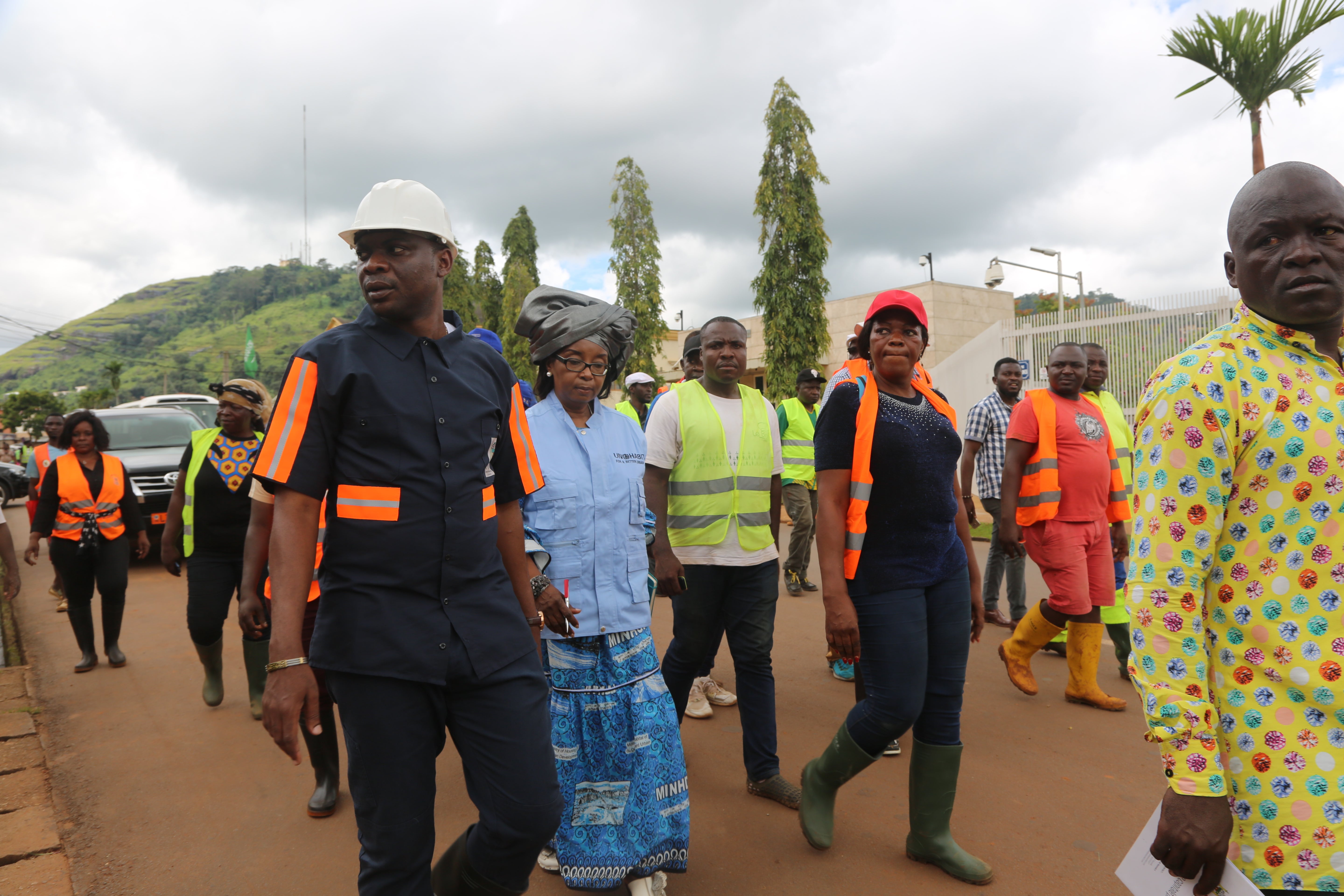 Members of the community that participated in the clean up excercise come out in numbers to meet the World Habitat Day jury.
[UN-Habitat/Ivy Mutisya]
The theme for the 2019 World Habitat Day is Frontier Technologies as an innovative tool to transform Waste to Wealth. The subjects discussed in Cameroon included innovative solutions to the waste in camps for refugees and the displaced.
"We have decided to use all the recommendations to prepare a roadmap for the drafting and implementation of a national program on sustainable waste management not only to manage waste, but to transform it to wealth while improving the health and well being of our population," said Ms. Celestine Ketcha Courtes, Minister of Housing and Urban Development.
"We still need much more to improve waste management," said Ms. Allegra Baiocchi the United Nations Resident Coordinator in Cameroon speaking at the Habitat Village on the ceremony to mark World Habitat Day on 7 October.
The World Habitat Day ceremony closed with the reading of the Yaounde Declaration which highlighted the strong participation in the celebrations in particular by women mayors of the Network of Locally Elected Women Of Africa. The Declaration called on the Government of Cameroon and other African States to improve the way that institutions involved in sustainable development and waste management work together.
Opening of the Habitat Village in Cameroon by Ms. Celestine Ketcha Courtes, Minister of Housing and Urban Development.
[UN-Habitat/Ivy Mutisya]