Mosul, Iraq, June 2021 – Oumar and his family are among nearly one thousand households who saw their homes rehabilitated by UN-Habitat with funds from the European Union.
Oumar inherited his house from his father and the family there during the conflict and occupation by Islamic militants until it was severely damaged by an airplane missile in June 2017. Four members of Omar's extended family were killed and two injured in the incident.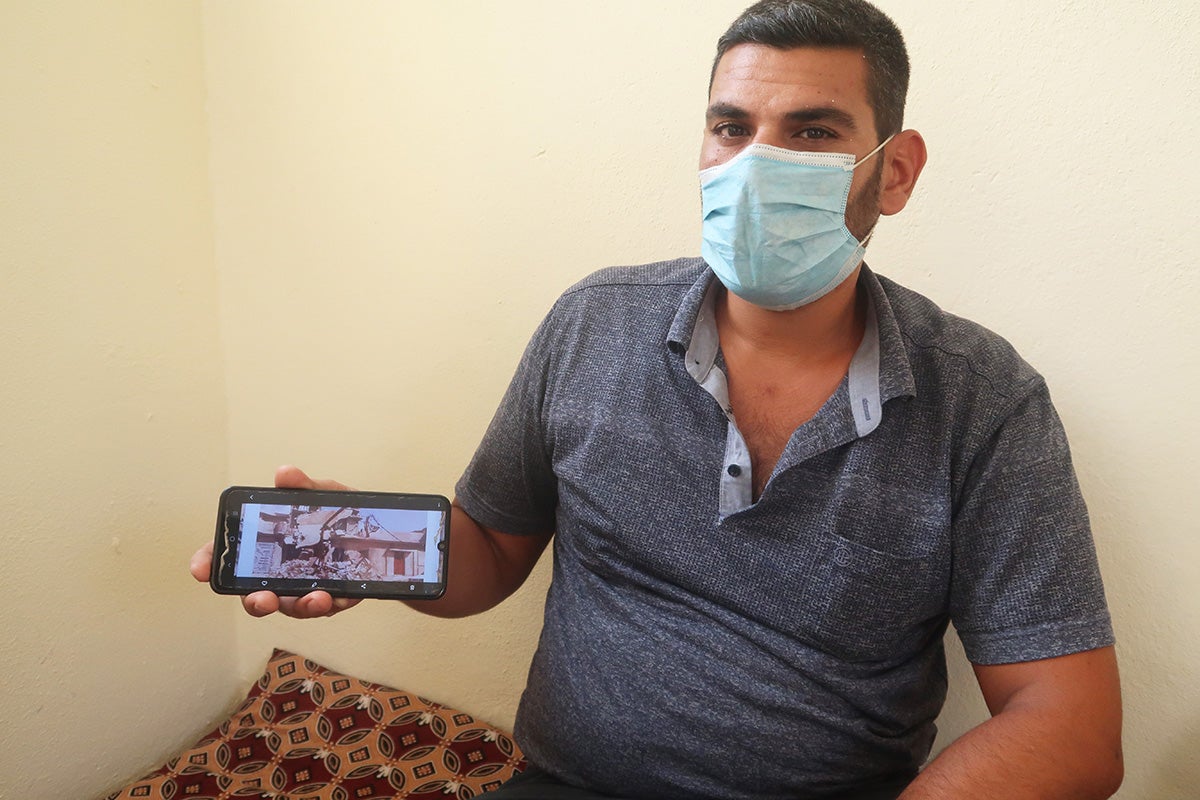 Omar showing a photo of his house damaged during the occupation of the militant group ISIL of Mosul City, Iraq in 2014
[UN-Habitat Iraq/Qusay Mustafa]
After the attack on their house, Oumar and his wife Israa rented a small apartment on the eastern side of the river, in a safer area of Mosul and their two children Fawaz and Yousif were born.
"Those times away from the house were also difficult," Oumar recounted. "It was a period of depression and sadness and I had to work to pay the rent and cover monthly expenses of living, which led to great pressure and greater difficulties. But I hope all that is over now, thanks to UN-Habitat and the European Union."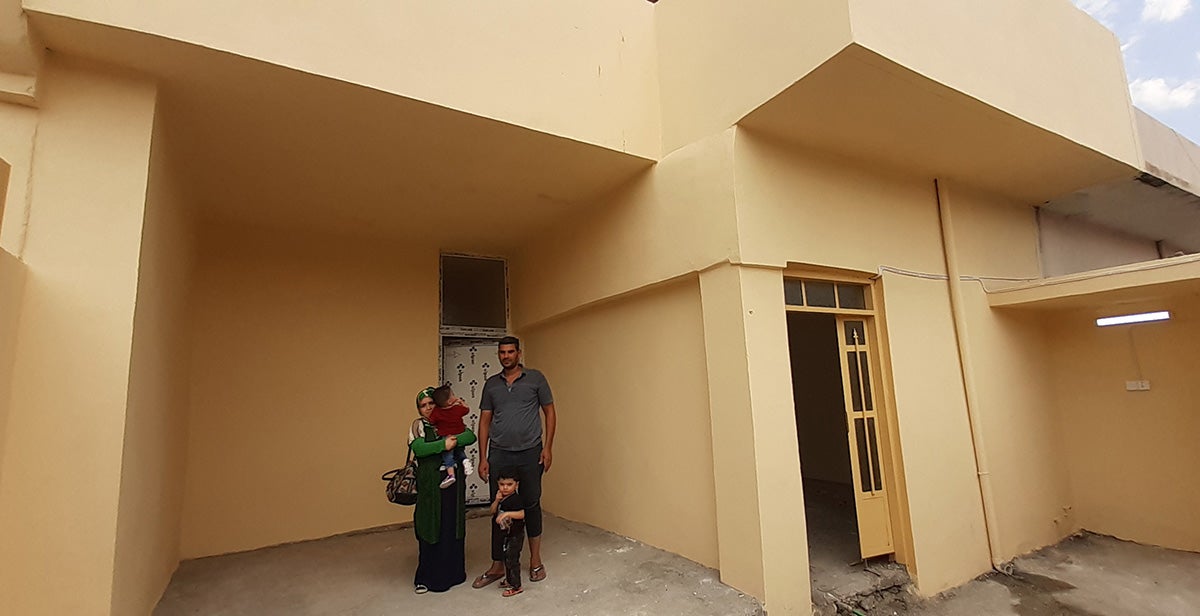 Omar and his family proudly standing in front of their newly rehabilitated house in Al-Shifaa neighbourhood of Mosul, Iraq as part of an EU-funded Programme
[UN-Habitat Iraq/Fathy Mohammad]
In total 976 homes were rehabilitated by UN-Habitat as part of the Headway Programme "Strengthening the Long-Term Resilience of Subnational Authorities in countries affected by the Syrian and Iraqi Crises" which has just ended.
The initiative, funded by the EU and managed in partnership with the United Nations Development Programme (UNDP), is being carried out in five cities in northern Iraq – Erbil, Duhok, Sumel, Mosul, and Sinjar. It includes components on training local governments, improving service delivery, and facilitating local economic development.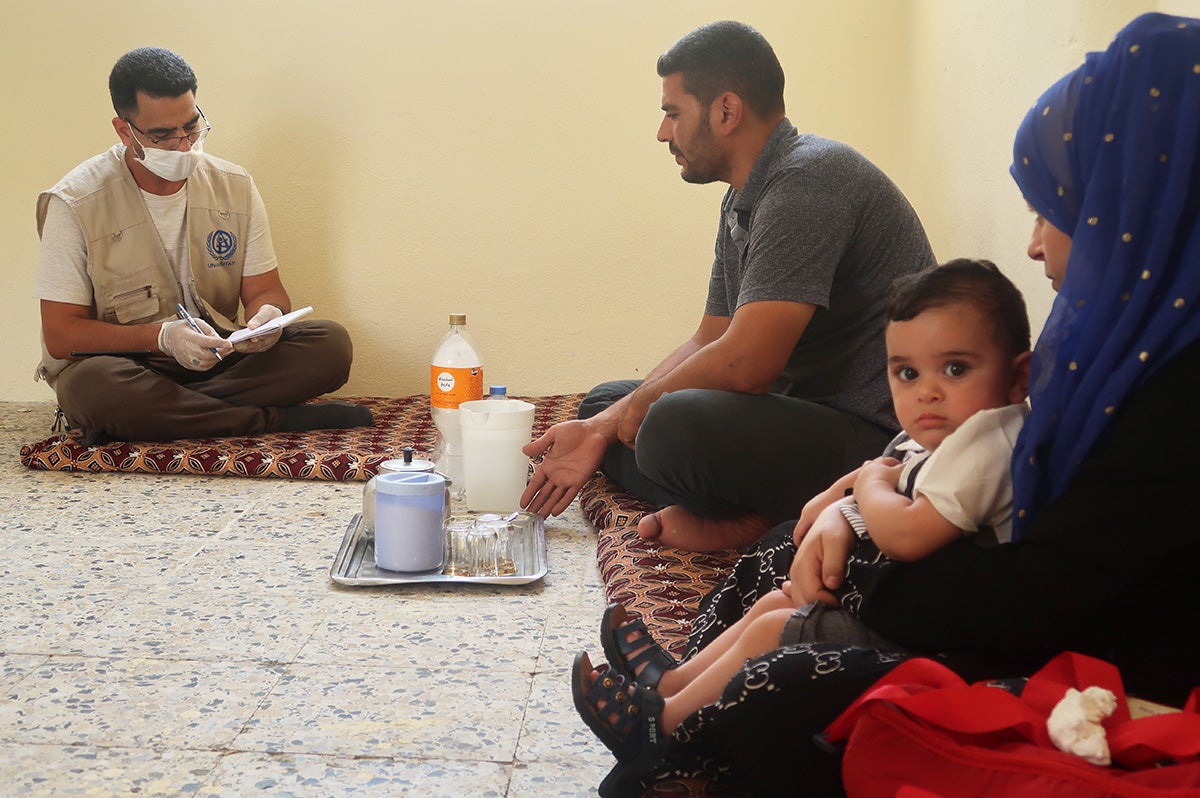 Omar and his family inside their newly rehabilitated house talk with UN-Habitat field engineer, Fathy Mohammed, on their appreciation of UN-Habitat's work
[UN-Habitat Iraq/Qusay Mustafa]
UN-Habitat worked closely with local communities and authorities to select houses for rehabilitation. Surveys of 1,835 households were conducted using the Socio-Economic Vulnerability Assessment Tool (SEVAT) developed by the Cash Working Group of Iraq to ensure a uniform approach to identifying vulnerable households and selecting beneficiaries.
Despite the restrictions due to the COVID-19 pandemic, UN-Habitat completed two phases of rehabilitations between 2020 and 2021. Local field engineers, contractors, and labourers all contributed with almost 26,000 working days for skilled and unskilled workers created in supported of local economies. The rehabilitated houses, with efficient plumbing and electrical systems are now home to   over 5,500 men, women, and children.