Nampula, Mozambique, June  2021 – Before UN-Habitat began building resilient local school buildings in Muchaleque, in the northern Nampula province, children were force to leave school or study standing up every time it rained.
"Before the construction of this school, my children used to suffer a lot. There were no conditions to study at school. They came back with their clothes completely dirty from the mud," said Paula Ronda, the mother of three who lives behind the primary school which her children attend.
The Emergency Resilient Recovery Project (ERRP) implemented by Mozambique's Ministry of Education with UN-Habitat's technical assistance, rehabilitated and rebuilt resilient schools in Niassa, Zambezia and Nampula provinces with funding from the World Bank. These areas have been affected by floods, heavy rains, and strong winds. Mozambique is one of the African countries most vulnerable to climate change and is increasingly experiencing cyclones and floods which damage or destroy school infrastructure, preventing continuous access to education.
[UN-Habitat/Veridiana Mathieu]
Some of the schools have been rebuilt using traditional skills and local materials as mud, rocks, bamboo combined with tested conventional materials. This innovative approach was created by UN-Habitat with the Department of Infrastructures of the Ministry of Education, the local authorities, communities involved in the project and local contractors.
The mixed material method builds on a participative approach  using local skills and materials while providing training in the community on resilient construction techniques and employment, so residents can also use the improved resilient method to build their own homes and other infrastructure.
"We are all very pleased with the methods used to build the classrooms as they will be more resistant. Many people from the community are now trained and learned the construction method used," said Martinho Nikuava, Muchaleque community leader.
Paula was the water carrier for the resilient school construction project in her community. She played an essential role together with other community members in the new resilient classrooms' construction.
"I really liked working in this project, I would do it again anytime," she said.
The new resilient classrooms  increased student enrolment and ensured that children study in better conditions, without interruptions due to the weather.
"We used to suffer a lot and had to frequently fix the previous classrooms made of mud. When these new classrooms were built, the whole community was very happy, especially the children,"  said Martinho.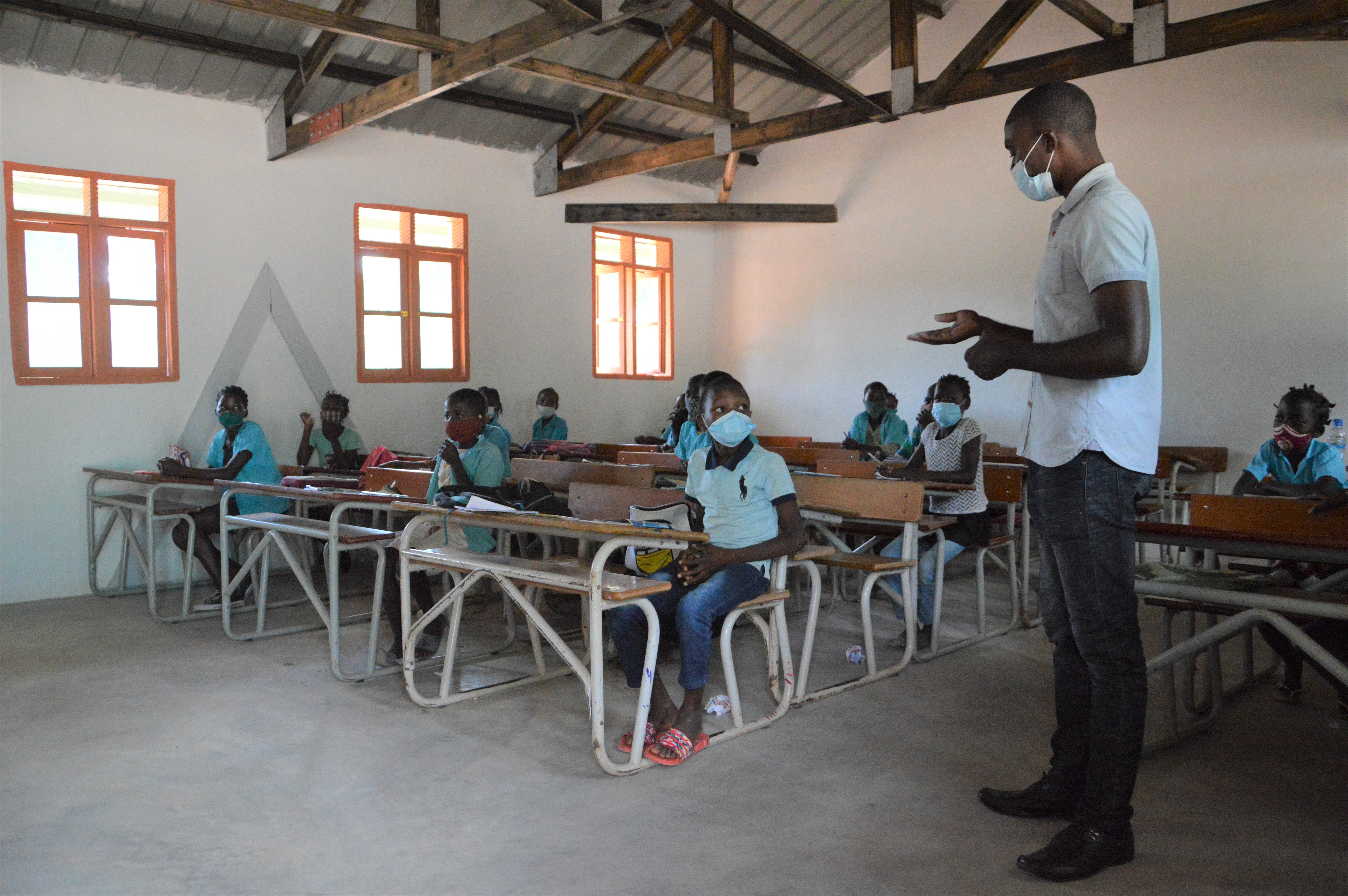 [UN-Habitat/Veridiana Mathieu]
The project which was implemented in partnership with the NGOs OIKOS-cooperação e desenvolvimento and World Vision Mozambique has rehabilitated, and built more than 600 classrooms since it was launched in 2017. It allowed over 100,000 children to have proper access to education. The success of the project has led the World Bank to support its reproduction at national level, targeting the reconstruction of 3,000 classrooms.
This project has built on UN-Habitat's almost two decades of experience in Mozambique, in the scope of resilient infrastructures and disaster risk reduction.  UN-Habitat is today one of the government's main partner for the reconstruction and rehabilitation of resilient schools in areas affected by cyclones or disasters.