Abidjan, Ivory Coast, 8 December 2021 – A multi-year UN-Habitat project launched last month is expected to expand opportunities for migrant workers and host communities living in vulnerable conditions to integrate into the Greater Abidjan area.
The four-year Improving integration opportunities for migrant workers and local communities in vulnerable situations in Greater Abidjan is in line with UN-Habitat's goal of creating more inclusive, sustainable, and safe migrants integration plan, thereby strengthening social cohesion and reducing environmental impact.  
The USD 3 million project, co-financed by the Swiss Development Cooperation, has an innovative approach that will be implemented in two phases. The first phase will focus on primary and secondary data collection with an Spatial Development Framework methodology and a second phase that will aim to develop pilot initiatives with identified projects.
Greater Abidjan, which includes the autonomous district of Abidjan's thirteen communes and six peripheral communes, is expected to have an estimated population of eight million in 2030, compared to five million in 2016. The area is a crossroads for thousands of migrants, coming not only from the interior of the country, but also from neighbouring countries. Such a strong migration accelerates urbanization and the proliferation of informal settlements.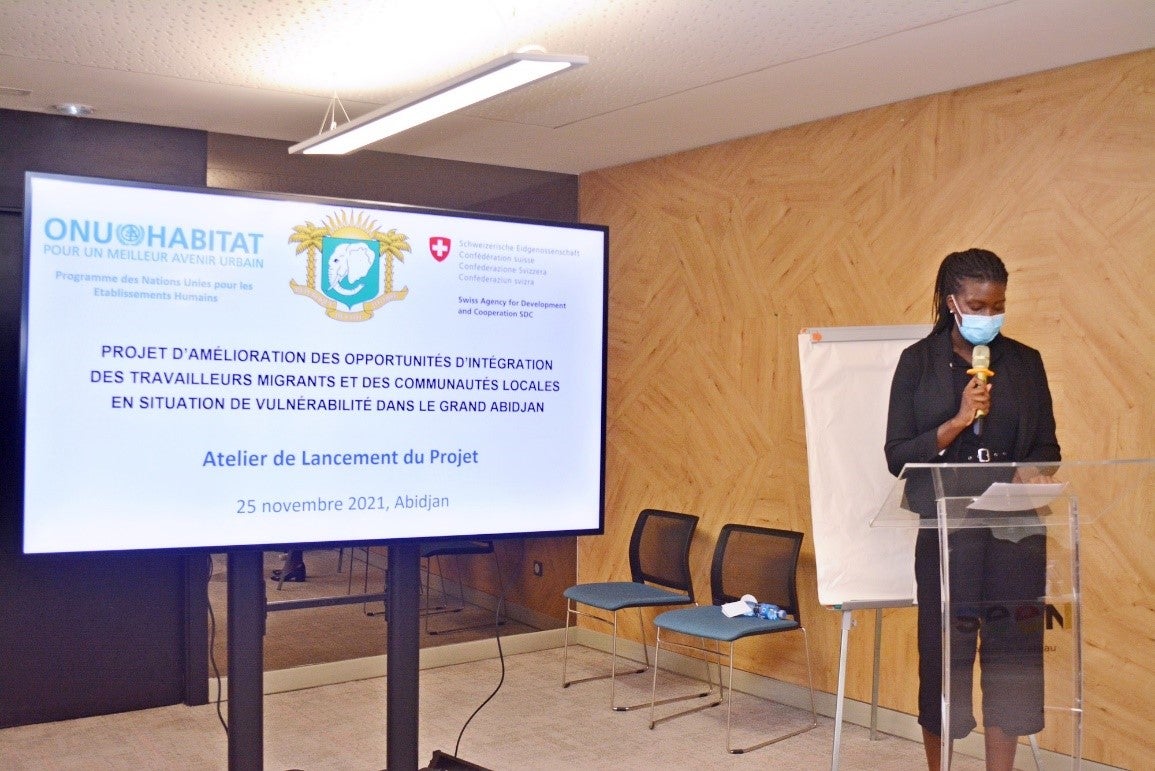 Ms. Hawa Dainkok, political attache of the Swiss embassy giving a presentation during the workshop
The project was officially launched on November 25th during a technical workshop chaired by the Ministry of Planning and Development, represented by Henri Ouattara, Chief of Cabinet of the Minister Nialé KABA.
The launch of the workshop, which brought together about 50 participants, aimed to present the project components to the national authorities and stakeholders and for UN-Habitat to involve the stakeholders in the methodological discussions related to the different components of the project.
"The optimal operationalisation of the UN-Habitat office in Côte d'Ivoire will strengthen collaboration and contribute to the implementation of various programs that contribute to the realization of the National Development Plan (NDP)," Ouattara said.
This project allows UN-Habitat to develop other initiatives and to bring its support to the Ivorian Government, committed to better urbanization and an improvement of the housing conditions for the benefit of the population.