Tangshan, China, 7 November 2019 - The 2019 China Observance of World Cities Day was held in Tangshan City, Hebei Province, China co-organized by the Ministry of Housing and Urban-Rural Development (MoHURD), the Government of Hebei Province and UN-Habitat. 
More than 400 participants, including mayors, officials, experts and scholars from nearly 20 countries, over 30 Chinese cities and provinces and various international organizations were gathered to share their opinions on innovations and better life for future generations.
The Deputy Executive Director of UN-Habitat, Mr. Victor Kisob delivered remarks at the opening ceremony. He noted that that 2019 marked the 70th anniversary of the People's Republic of China adding that during that period China's towns and cities had been transformed.
"Since 2008, the Chinese government has helped to improve the living conditions for more than 200 million people. I wish to compliment the Government of China for placing the focus on improving people's livelihoods and allowing sharing the prosperity brought by rapid economic and urbanizing growth.
UN-Habitat works closely with the Government of China and all Chinese partners to share innovative ideas, experiences and best practices on sustainable housing and urban development, especially focusing on implementation of Sustainable Development Goal 11 and the New Urban Agenda.  We wish to continue developing broader cooperation with China and other developing countries through the Belt and Road Initiative, South-South Cooperation and other global cooperation frameworks," he said.
"Innovation is an important solution to address the challenges of urbanization. It is necessary to take innovation as the fundamental driving force for sustainable urban development, and deepen the transformation and reform to accelerate the innovation of system and technology regarding urban planning, construction and management",said Mr. Ni Hong, the Vice Minister of MoHURD. Mr.Zhang Gujiang, the Vice Governor of Hebei Province, and Mr. Ding Xiufeng, Mayor of Tangshan City, made welcome speeches and introduced the concepts and practices of Heibei and Tangshan on urban transformation and innovative development.
Tangshan is the first Chinese city winning the UN-Habitat Scroll of Honor. Now as the hosting city, Tangshan Municipal People's Government released the Tangshan Initiative for Urban Transformation and Innovative Development to announce their advocacy on ecology and urban green development, innovation and urban governance, structure optimization and urban transformation, and openness, inclusiveness and cooperation.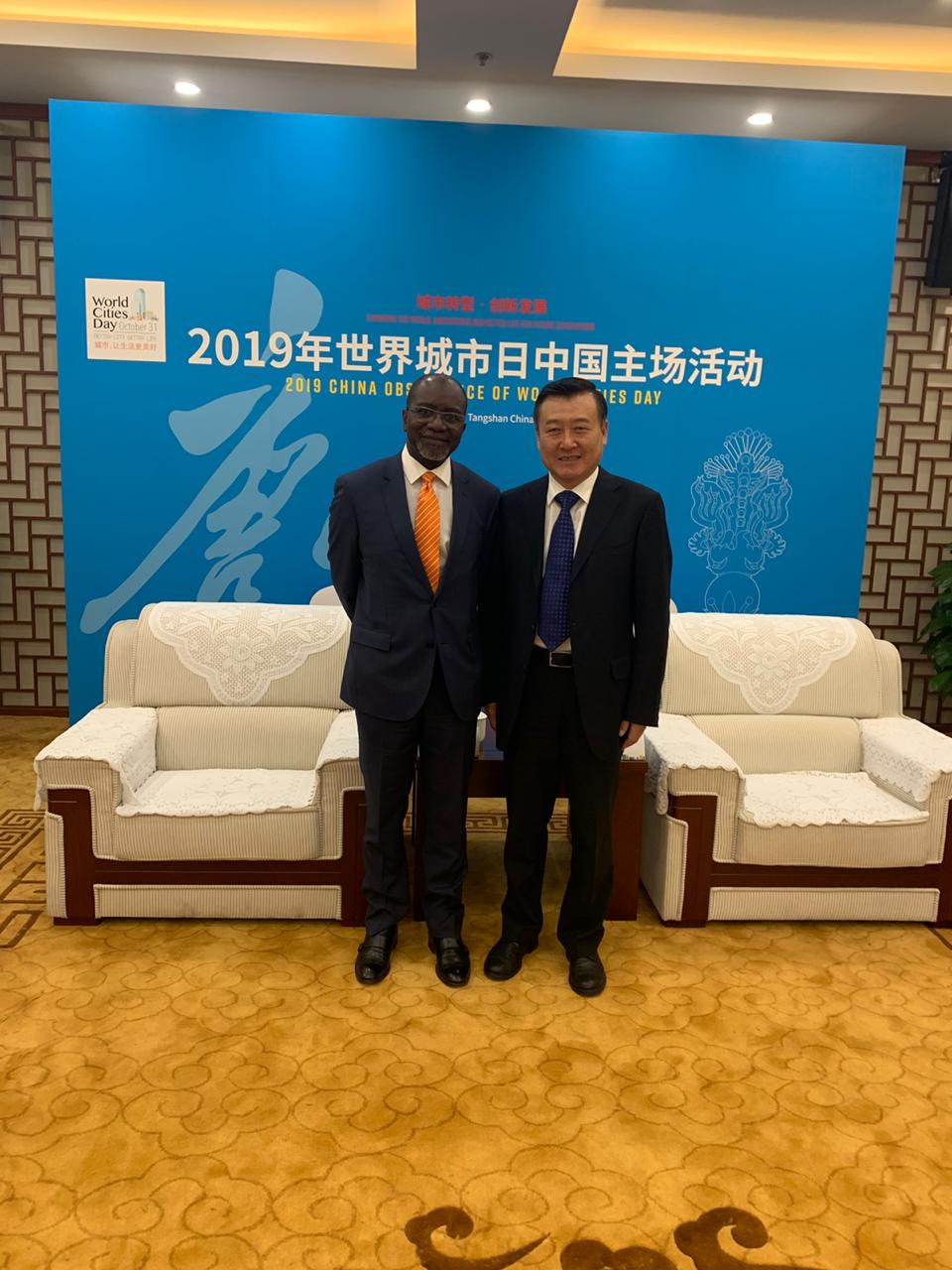 UN-Habitat Deputy Executive Director, Victor Kisob with H.E. Ni Hong, the Vice Minister of Ministry of Housing and Urban-Rural Development (MOHURD)
UN-Habitat
During the plenary session, the Chinese Version of Shanghai Manual – A Guide for Sustainable Urban Development in the 21st Century · 2019 Annual Report, co-prepared by UN-Habitat, Bureau International des Expositions and Shanghai Municipal People's Government and supported by MoHURD, was officially launched. The selected cases in the manual this year are of high pertinence and representativeness with wide coverage. Giving consideration to cities in different regions and types around the world enables this annual report to provide strong practical significance for cities at different stages and levels of development.
Following the announcement and launching, six keynote presentations were given by speakers from China and abroad. Ms. Shipra Narang Suri, UN-Habitat Coordinator of Urban Planning and Design Branch, introduced UN-Habitat's mandate, new strategic plan, and innovative approaches and tools.
Breakout sessions include the mayor's dialogue and experts' dialogue, supported by China Association of Mayors and Urban Planning Society of China respectively. Mayors had an in-depth discussion focused on the topics of strengthening ecological restoration and promoting urban green development, and upgrading the quality of infrastructure and improving the urban living environment. The experts touched the topics of urban renewal reducing inequality in urban space, urban upgrading enhancing prosperity, and micro-renewal of communities to regenerate cities for knowledge sharing.     
The 2019 International Workshop on Urban Adaption to Climate Change co-organized by UN-Habitat, MoHURD and Ministry of Ecology and Environment was held as a parallel meeting
A series of supporting activities were held during the China Observance, including Case Exhibition of Urban Development in China, urban culture event, etc. In the closing session, Fuzhou, the next hosting city for 2020 China Observance of World Cities Day took over the flags from Tangshan and sent their invitation for next gathering.
Meanwhile, UN-Habitat used the occasion of the Global Cities Forum in Shanghai to renew its Memorandum of Understanding with the Associated Research Centers for the Urban Underground Space (ACUUS). ACUUS is an international, non-governmental organization dedicated to partnerships amongst experts who design, analyse and decide upon the use of our cities' underground spaces. It aims to actively promote partnerships amongst all actors in the field of planning, management, research and uses of urban underground space and strives to bind public, private and university levels into a cohesive network of mutual cooperation for the benefit of all parties involved. UN-Habitat and ACUUS will further collaborate to build capacity, as well as to share experiences and knowledge how the urban underground space can contribute to more inclusive, safer, more sustainable and resilient cities.
As part of his travels to China, UN-Habitat Deputy Executive Director Victor Kisob was invited to provide opening remarks for the 2019 Global Cities Forum and World Cities Day Shanghai Observance. He highlighted the unique role cities play in the global challenges, including climate change, and thanked the Government of the People's Republic of China for highlighting the importance of cities by initiating World Cities Day, which will be celebrated on 31st of October. After the opening ceremony he signed a Memorandum of Understanding together with Jacques Besner, General Manager of ACUUS. On 28th of October, Mr. Victor Kisob was also part of the opening ceremony of the Shanghai Summit on Global Urban Underground Space Development and Utilization, where he provided remarks on the role of innovation for cities.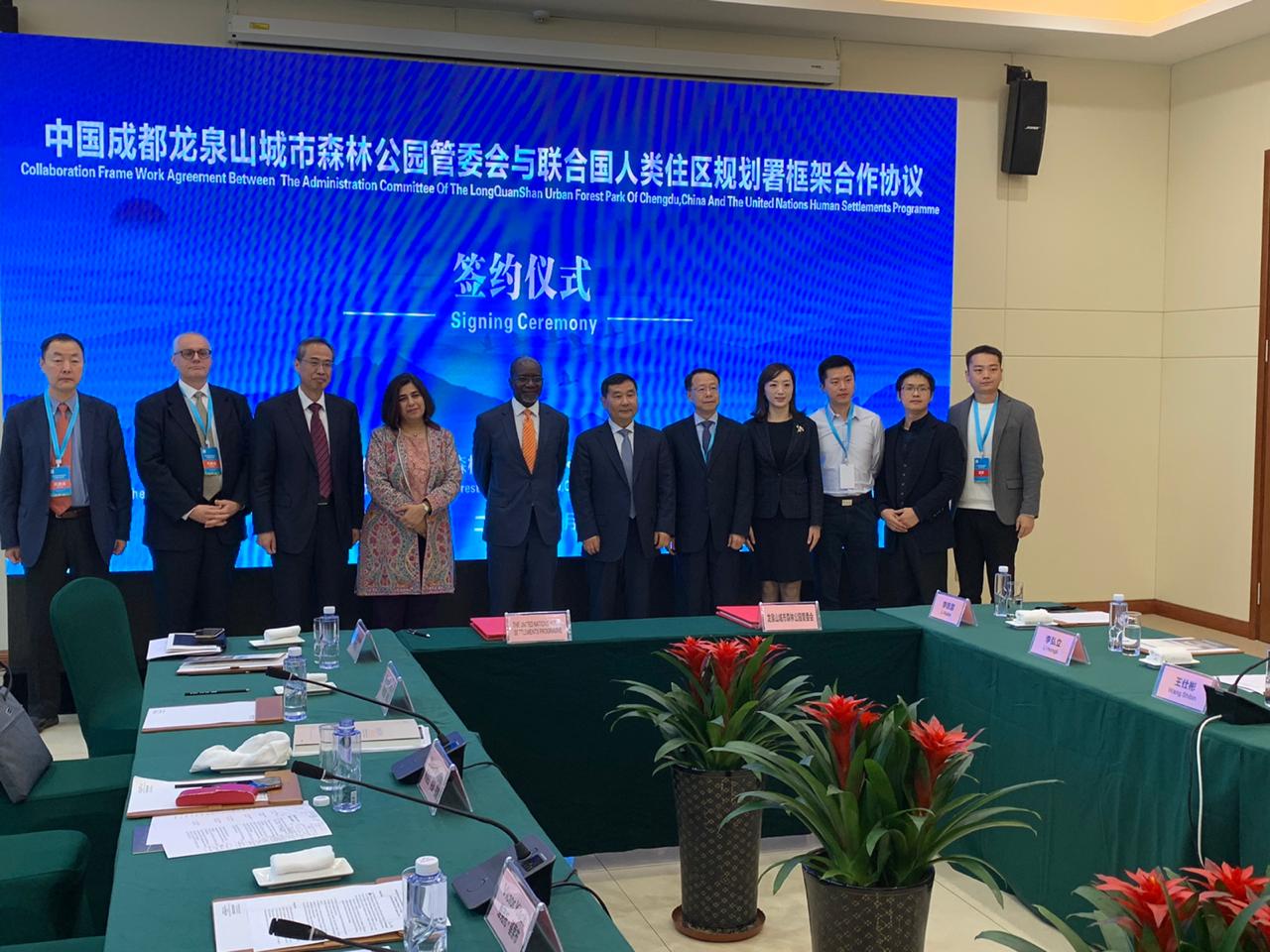 UN-Habitat Deputy Executive Director, Victor Kisob with other dignitaries at the Signing ceremony of an MoU with Chengdu regarding the ecological evaluation on Longquanshan forestry park.
UN-Habitat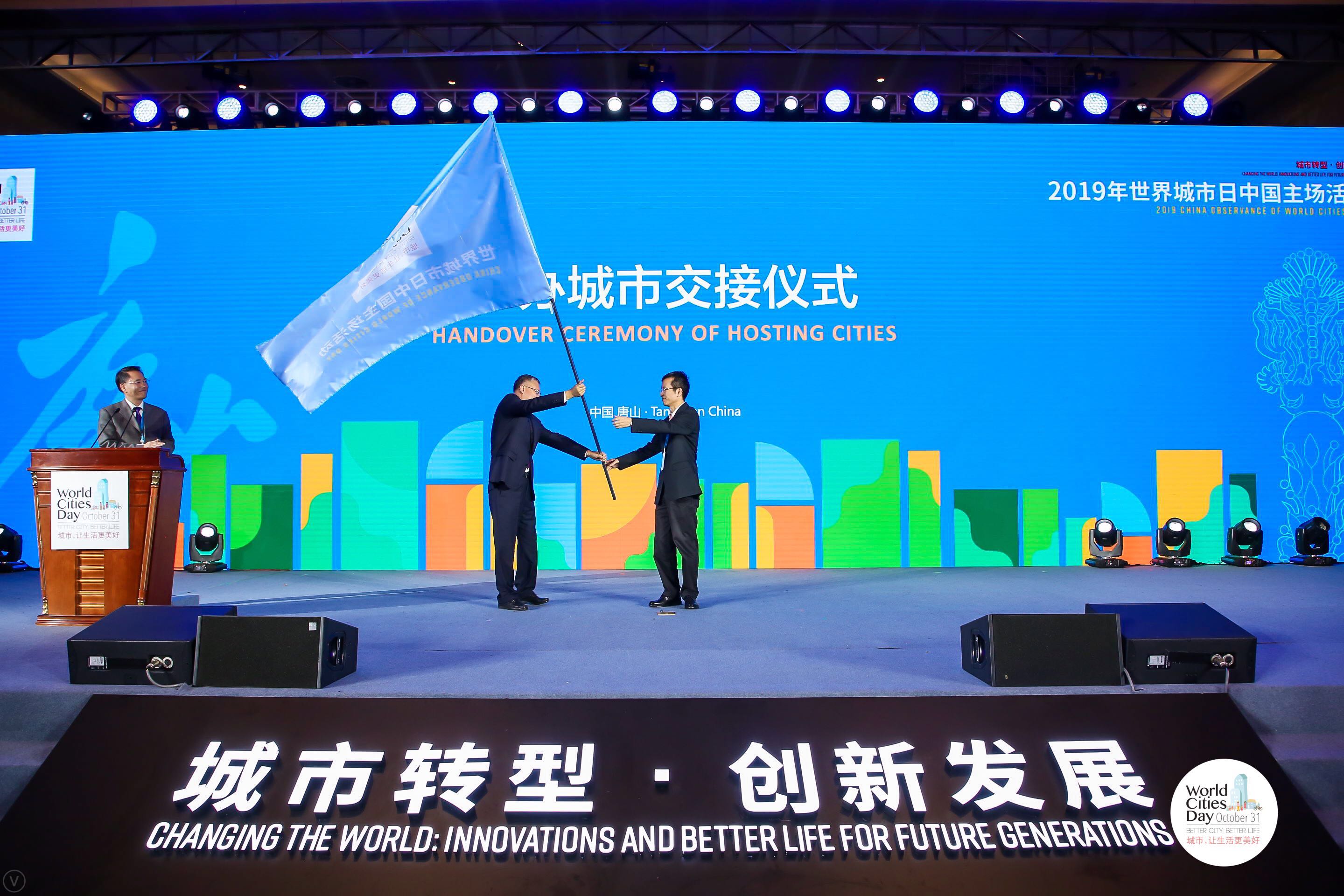 Handover of Hosting Cities at World Cities Day 2019