Surabaya, Indonesia 5 October 2020 - The Global Observance of World Habitat Day co-hosted this year by UN-Habitat and the Government of Indonesia, came from Surabaya, Indonesia combining dynamic physical meetings with global online participation and video messages.
The theme of this year's Global Observance was Housing for All: A Better Urban Future with many speakers referring to the essential role of housing in preventing the spread of the COVID-19. While Surabaya held a local gathering to host the event, the pandemic prevented many people from travelling so instead they joined online.
In his video message, the United Nations Secretary-General, Antonio Guterres, called for increased efforts to improve housing in cities through promoting partnerships, pro-poor policies and regulations.
 "As we strive to overcome the pandemic, address the fragilities and inequalities it has exposed, and combat climate change, now is the time to harness the transformative potential of urbanization for the benefit of people and planet," he said.
President Joko Widodo, of the Republic of Indonesia, in a video message, said urbanization was a great opportunity to advance as cities were centres of creativity leading to economic growth and increased livelihoods.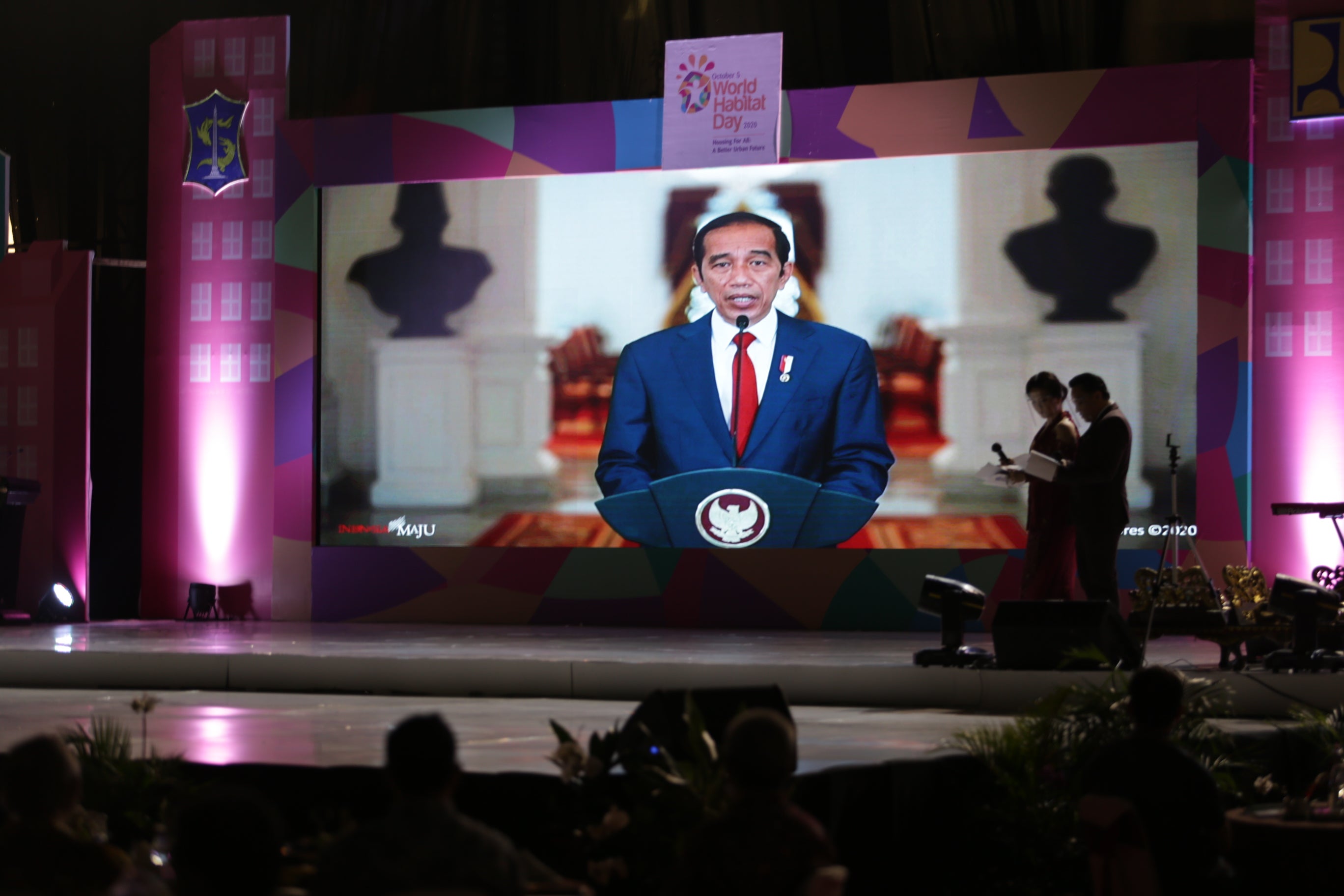 President of Indonesia giving a speech through a video message on World Habitat Day.
UN-Habitat
He said the Housing for All theme was "the right agenda for all of us" as globally a house is a basic need, adding that the Indonesian Government was trying hard to ensure everyone had decent housing.
In her statement the Executive Secretary of the UN Economic and Social Commission for Asia and  the Pacific, Armida Salsiah Alisjahbana, said a quarter of world's population living in slums and informal settlements were in the region.
 "To realize a future vision of "cities without slums" we need to make large-scale public investments in affordable and adequate housing and slum upgrading to ensure that marginalized groups have access to shelter that facilitates physical and mental health during the pandemic and beyond," she said.
Mexico's Undersecretary for Multilateral Affairs and Human Rights, Martha Delgado said the pandemic underlined that a house was much more than a place to sleep. Her words were echoed by Indonesia's Minister of National Development Planning/Head of Bappenas, Suharso Monoarfa, who said everyone now realised that "housing is an important need and pre condition for properly accessing needs such as education and health."
UN-Habitat's Regional Goodwill Ambassador for Arab States H.R.H. Princess Lamia Bint Majed AlSaud, thanked UN-Habitat for its work supporting local governments and for providing community driven solutions in informal settlements during the pandemic.
Speaking from Cameroon, where celebrations for World Habitat Day last for a week, the Minister for Housing and Urban Development, Celestine Ketcha Courtè stated: "the COVID-19 pandemic has exacerbated need for the right to housing, particularly for informal sector workers, especially women and young people."
During the Global Observance, the UN-Habitat Executive Director launched the Urban Agenda Platform explaining it was a space for Member States to "share their voluntary reports on progress in the implementation of the New Urban Agenda, and for all stakeholders to share what they are doing, and to make committed actions moving forward."
She also launched the Housing for All Campaign which will run for five weeks raising awarenss about the key role of housing, gathering solutions and encouraging global commitment.
One of the highlights of the Global Observance, was the awarding of the UN-Habitat Scroll of Honour Awards to the five winners.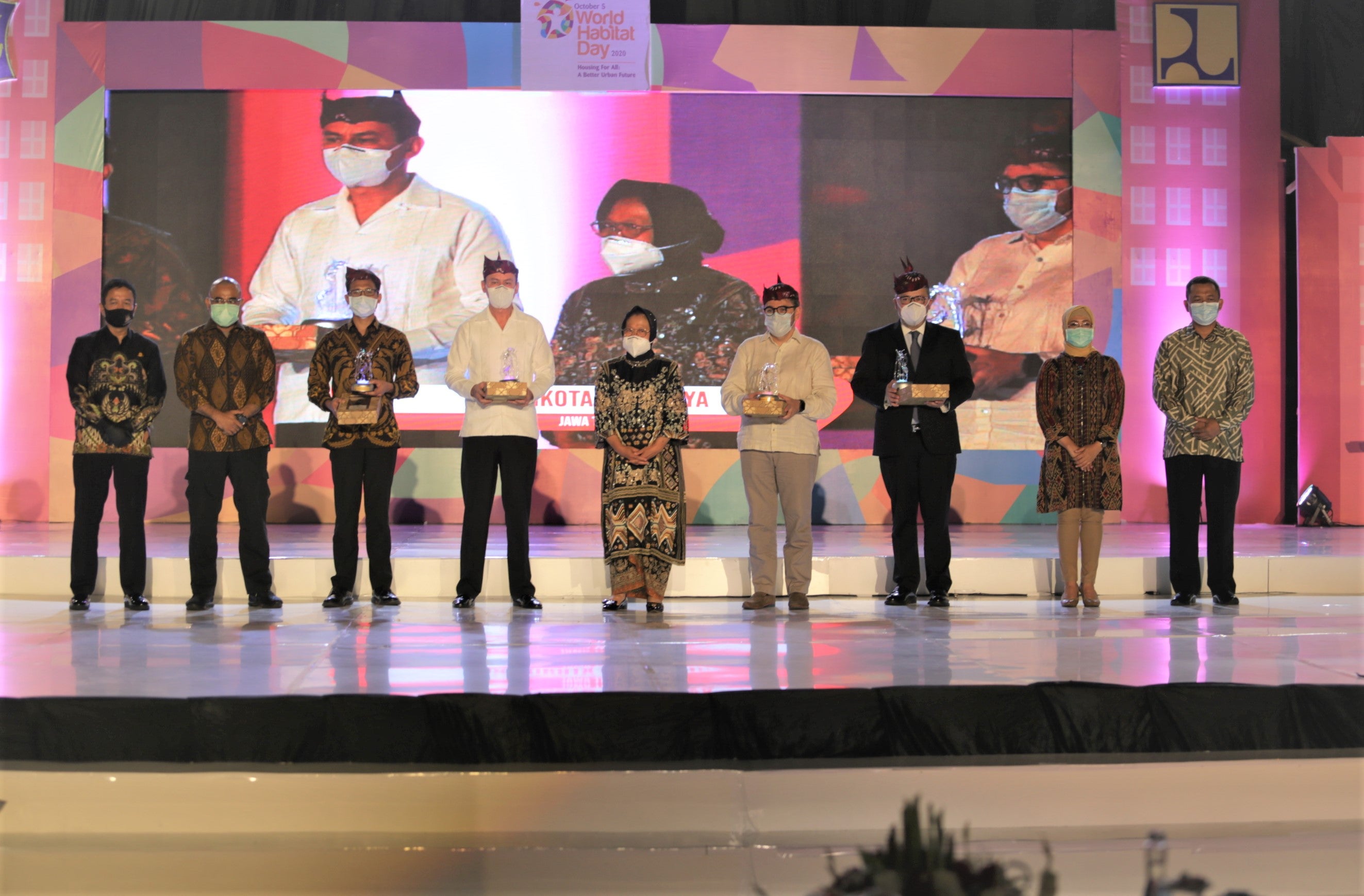 Awardees on World Habitat Day
UN-Habitat
Colombia's Minister of Housing, City and Territory, Jonathan Malagón, said that his Ministry, which was one of the winners, was one of the youngest in Colombia but they had achieved great results reducing the housing deficit and providing drinking water and subsidies for housing purchases.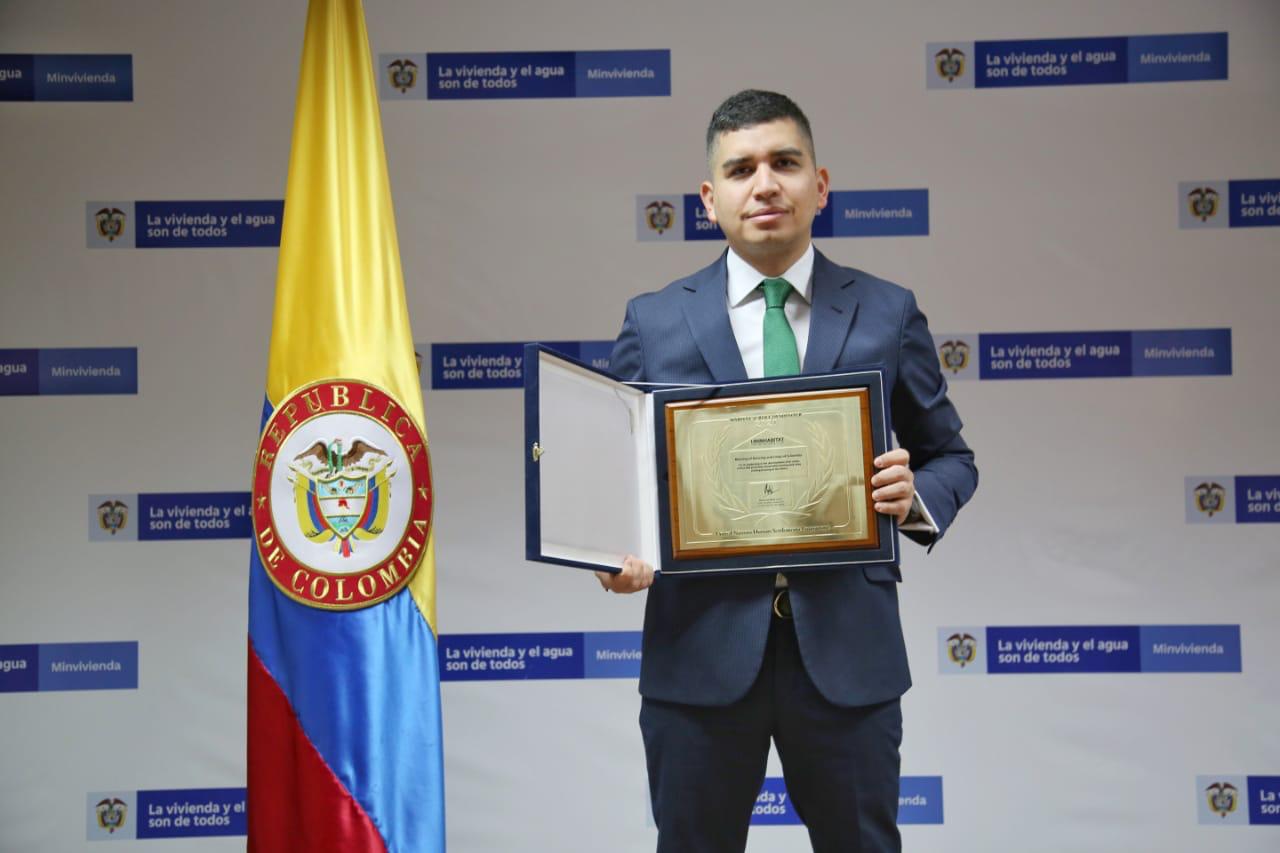 Colombia Minister and plaque
UN-Habitat
The Executive Director was in Subang Jaya, Malaysia where the Municipal Council was given the award for its holistic and integrated approach to affordable housing and community empowerment. The Mayor of Subang Jaya, Noraini Roslan, said she hoped their programme would inspire others around the world.
Community Impact Nepal, from Kathmandu, Nepal was honoured for empowering entrepreneurs to produce eco-friendly constructions for families in substandard housing. Pratik Singh Parmar, the Project Manager and Partnership Developer,  speaking from Nepal said: "if you want to make a real change never ever give up."
The founder of the fourth winner, Upcycle Africa, Johnmary Kavuma speaking from Uganda spoke about his own family's struggle to find decent housing when he was a child. His organization was awarded the Scroll for transforming lives through affordable housing provision, waste education and job opportunities.
 The representative of the fifth winner, Mexico's ECOCASA SHF, Dr. Jose David Alvarez, General Director of Promotion, travelled to Surabaya to receive the award. He said his organization was committed to offering sustainable financing solutions. ECOCASA SHF received the award for addressing energy efficient construction standards for housing, facilitating inclusive access to financial mechanisms and creating decent homes.
The Executive Director congratulated all the winners and called for everyone to join forces and share solutions.
"With 95 per cent of all confirmed cases of COVID-19 happening in cities and urban areas, it is clear that we need collective and multilateral efforts if human settlements are to recover from this global crisis," she said
World Habitat Day, which has been observed across the globe on the first Monday of October since 1986, was celebrated in some 50 other cities this year. More information is available on urbanoctober.unhabitat.org,