In celebration of the World Cities Day, held on October 31 of each year, this year under the theme: "Changing the World: Innovations and a Better Life for Future Generations" UN-Habitat sub-regional office for the Gulf States in Kuwait, in partnership with the municipal council, launched the first national campaign for greening open spaces, with the participation of many government agencies, the private sector and volunteer teams.
"Greening Kuwait" campaign aims to plant 100,000 trees in open spaces to create a green belt protecting cities from dust storms, desertification, and sand encroachment in the north and south of Kuwait.
Kuwait Municipality, Public Authority for Environment, Public Authority for Youth, General Authority for Agriculture and Fisheries, Ministry of Social Affairs, Health Cities Program, Ministry of Health, Kuwait Oil Company, Zain, Volunteer Team Helm Akhdar, in addition to many volunteering teams and activists are all joining hands in this joint campaign.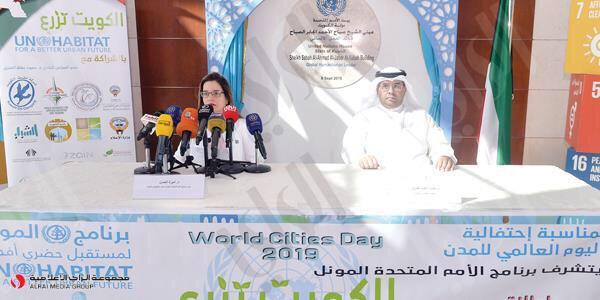 The campaign comes in line with the Kuwait National Development Plan that stems from the vision of His Highness the Amir of Kuwait Sheikh Sabah Al-Ahmad Al-Jaber Al-Sabah for achieving a sustainable living environment in Kuwait by 2035.
The objectives of the 2035 National Development Plan are based on seven key pillars, including a pillar on addressing environmental issues, greening, air quality and creating a sustainable living environment.