MAVOKO, KENYA, 6 December 2019 – Today the President of Kenya, Mr. Uhuru Kenyatta, launched the Habitat Heights Housing Project in Lukenya, Mavako. This is a project of the United Nations Office for Project Services (UNOPS) and their partners that will see the delivery of 8,888 affordable housing units to Kenyans when complete.
At the event President Kenyatta emphasised that he was pleased the launch had happened. "For the past one and a half years, we have been working diligently to formulate an implementation plan to usher Kenya into an era of affordable and decent housing and, indeed, I see the light at the end of the tunnel," he said.
At the launch Mr. Victor Kisob, UN-Habitat's Deputy Executive Director, congratulated the Kenyan Government and UNOPS. He noted, "Both the SDGs, through Target 11.1 and the New Urban Agenda have set an unprecedented recognition of how adequate housing can contribute to sustainable development and people's wellbeing." He added, "UN-Habitat has worked to promote the right to adequate housing for all and assisted Member States using our "Housing at the Centre" Approach. Over the past two years, more than 35 countries benefited from our support to strengthen their policies and institutions as well as to design solutions to improve the supply and affordability of housing."
In Kenya, UN-Habitat has partnered with Government to deliver a slum upgrading programme in Kibera Soweto and discussions are currently underway on how best to utilize a 55-acre piece of land at Mavoko for the Affordable Housing Programme.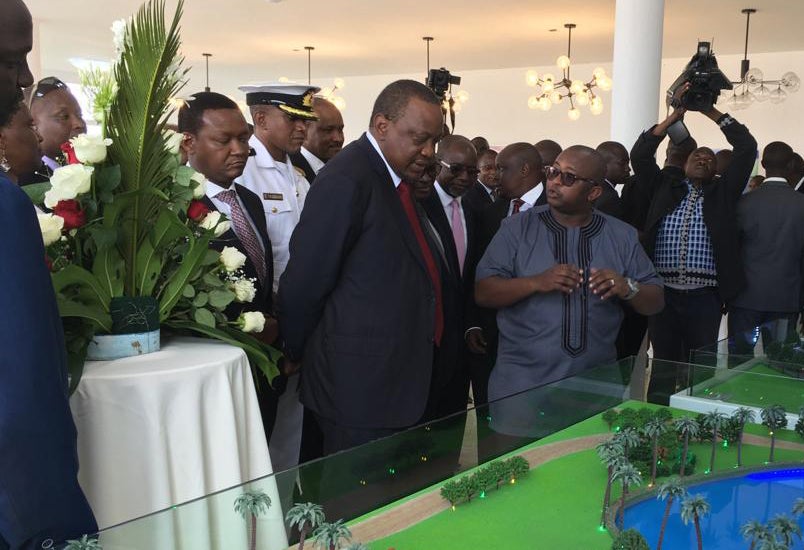 President of Kenya, Mr. Uhuru Kenyatta, at the launch of the Habitat Heights Housing Project in Lukenya, Mavako
[UN-Habitat]