Chengdu, China, 29 October 2020 – UN-Habitat supported "NexTus – the Night of Innovators" held during the Sixth Session of the Global Innovation and Entrepreneurship Fair in Chengdu, China. Twenty influential innovators showcased their solutions driving the post-pandemic recovery, the new economy development and green urbanization.
Supported by the Institute of New Economic Development (iNED), the "NexTus- the Night of Innovators" provides a platform of knowledge exchange and resource integration for innovators from various sectors and industries, promoting multilateral and cross-sectoral collaboration.
The Executive Director of UN-Habitat Maimunah Mohd Sharif said that while 2020 had brought one of the most critical challenges in our time, it had also brought "an opportunity to rethink urban living, to address the climate crisis, and adapt to the reality of this and future pandemics."
Marco Kamiya, Senior Economist from UN-Habitat's Knowledge and Innovation Branch of UN-Habitat, highlighted that "industries that grasp the new economy opportunities have shown incredible resilience, and innovations, especially from technologies, are important to fight pandemics." He stressed that digital and technological innovations are the key drivers for more effective and efficient solutions in achieving the Sustainable Development Goals and implementing the New Urban Agenda.
UN-Habitat's Marco Kamiya addressing the "NexTus – the Night of Innovators" event in Chengdu, China by video
iNED
Some 100 representatives from research institutions, civil societies, governments, international organizations, and enterprises joined to discuss  Smart Solutions for Public Health Crisis; Human-Centred Urban Development; Smart Urban Production, and Green Urbanization. The presenters included scientists from national research institutions, inventors of brain-inspired computing chips, frontier AI experts and economists, as well as local and national leading entrepreneurs from sectors of blockchain, ecotechnology, and clean energy.
UN-Habitat also seeks to provide analytical knowledge on the urban economy and promote exchanges of knowledge and best practices on sustainable and green urbanization. The special publication of "Future Cities, New Economy and Shared Prosperity Driven by Technological Innovations" in Chinese was released at the XingLong Lakeside New Economic Development Forum on 30 October. https://unhabitat.org/cn/future-cities-new-economy-and-shared-city-prosperity-driven-by-technological-innovations. It provides insights on how to mobilize digital and technological innovations and harness opportunities of the new economy to create effective and efficient solutions for green recovery and sustainable development.
Access to the Chinese version of the publication: https://unhabitat.org/cn/future-cities-new-economy-and-shared-city-prosperity-driven-by-technological-innovations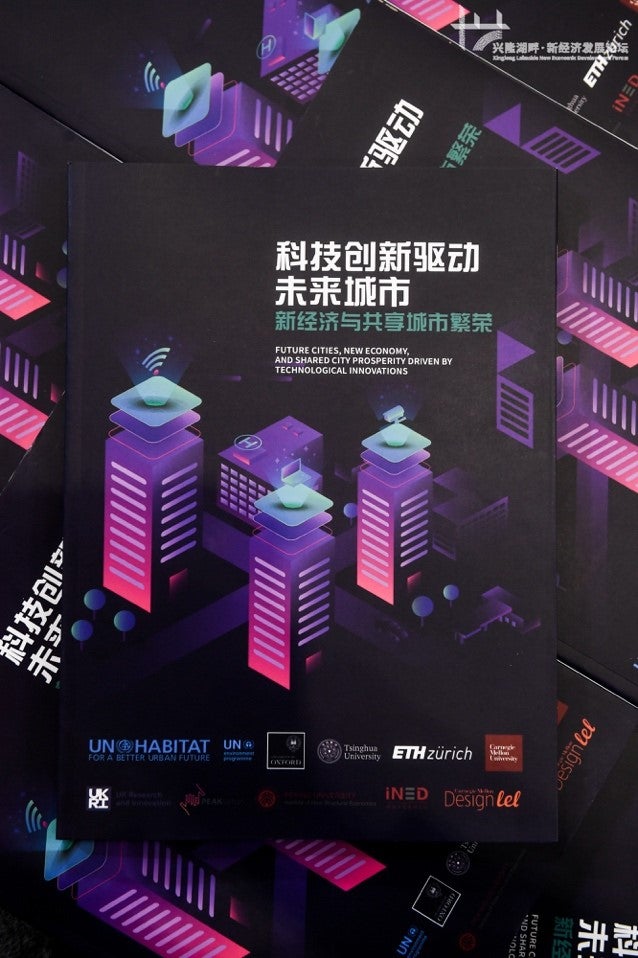 Future Cities, New Economy and Shared Prosperity Driven by Technological Innovations
[UN-Habitat]