Nairobi, 9 July 2019 – Air pollution in Kenya's capital is on the rise, and there is no escape from it. In an effort to measure this, UN-Habitat's Urban Pathways project partnered with the University of Nairobi's Maker Space Lab to train citizens to measure air pollution.
The project is called "Open Seneca Nairobi – Air Quality Monitoring powered by citizen science". Open Seneca works to create a global air quality sensor network using citizen science. Residents learn how to build air pollution sensors. These are attached to various vehicles and devices for a set period of time to measure and contrast the air pollution in different areas of a city. The results from these experiments are used to raise awareness about urban air pollutants along transport corridors, and can result in changes in commuters behaviour as well as influencing urban planning and legislation.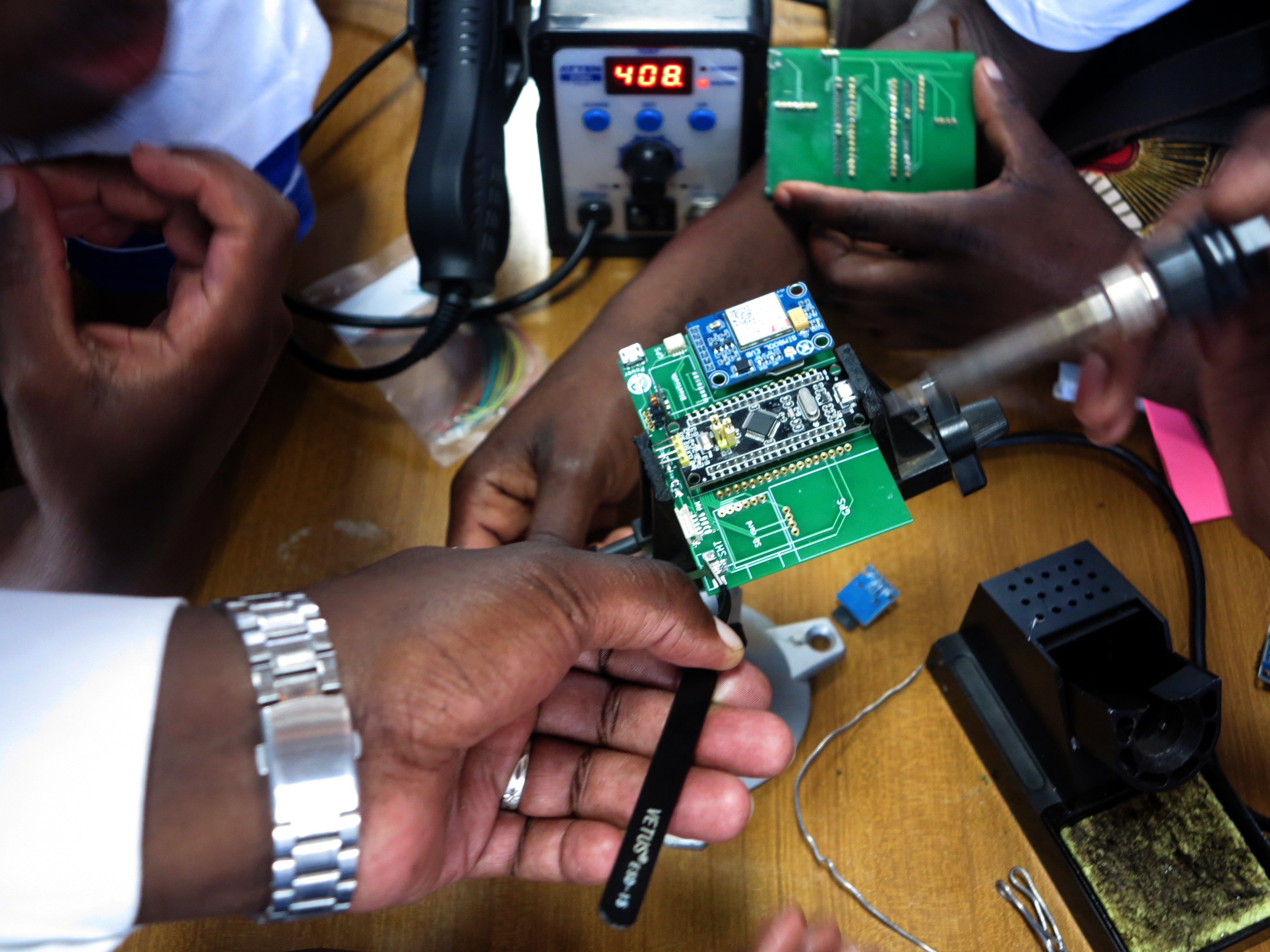 At the workshop working groups each assembled the low cost air pollution device.
[UN-Habitat]
This pilot project started in Nairobi on 2 July and is a collaboration between the University of Nairobi Science and Technology Park - Maker Space Lab, Open Seneca, the University of Cambridge and UN-Habitat. The participants built low cost mobile sensors. These sensors monitor particles with a diameter of less than 2.5 micron (PM 2.5), which are known to originate from the transport sector. The small particles impose a severe human health risk and affect the respiratory tract. The pollutant sensors are accompanied by a GPS module to correlate the air pollution data with location mapping.
"The Maker Space is full of bright minds that are turning ideas into actual products," said Dr Richard Ayah, Director of the Science and Technology Park at the University of Nairobi. He went on to note, "The results of the air pollution study will benefit the people of Nairobi and create awareness of the hazardous impact of pollution on human health."
Nairobi has a risky combination of increasing urbanization coupled with the city's dependency on motorized transport. "This project in Nairobi comes at the right time," said Stefanie Holzwarth, from UN-Habitat's Urban Mobility Unit. "55% of the world's population already resides in urban areas, however, 88% of urban residents are exposed to air pollution levels that exceed WHO recommended levels."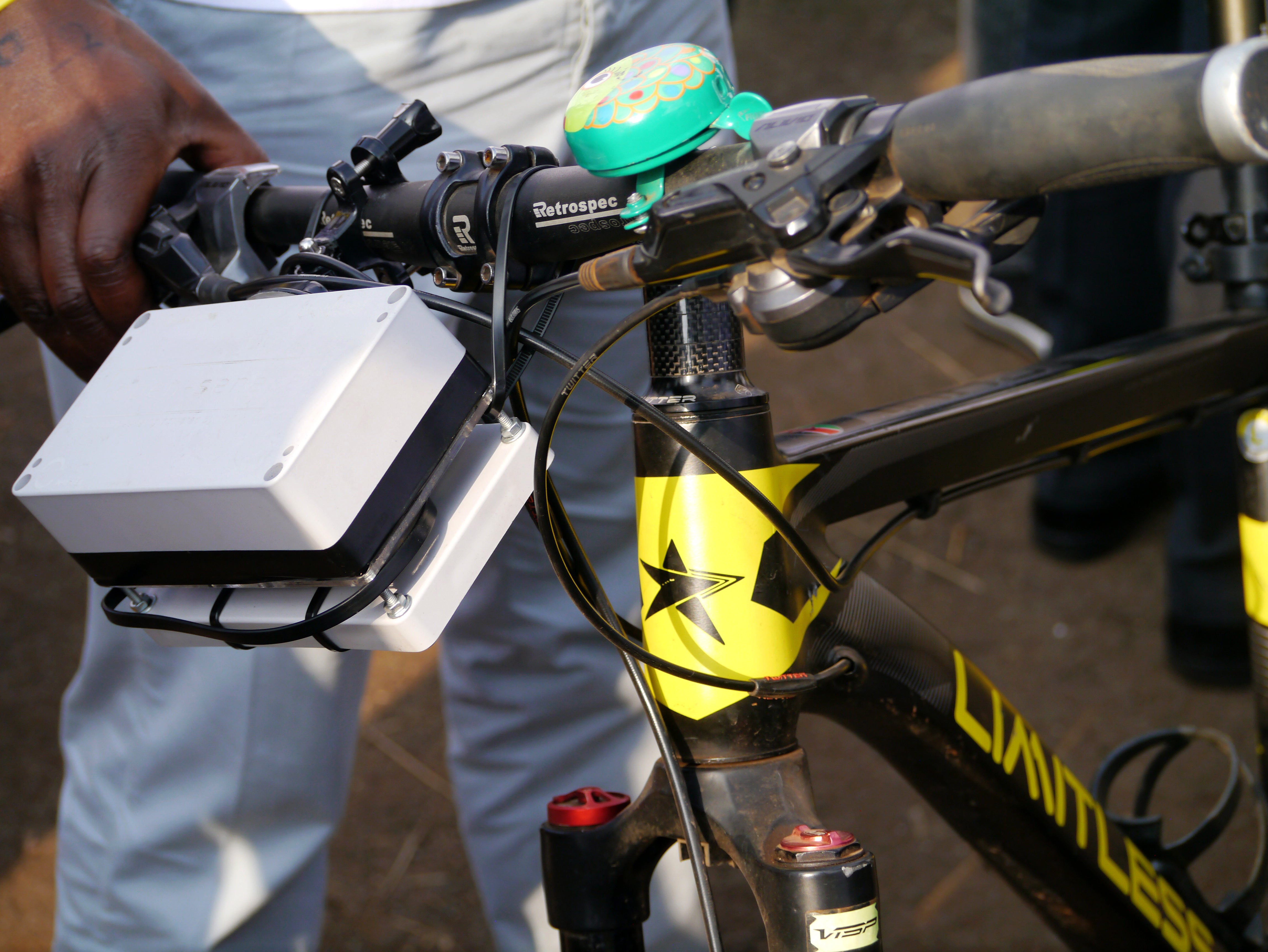 This newly built air pollution monitoring sensor is mounted on a bicycle.
[UN-Habitat]
A total of 12 devices were mounted on different transport modes: three on Uber taxis, three on matatus (Nairobi's minibuses), three on BodaBodas (motorcycle taxis) and three on bicycles. In addition to learning how to build low cost sensors with open-source hardware and software, workshop participants were also shown how to interpret the air quality data that will be collected over the next 30 days.
At the end of the workshop the drivers and riders were waved off – and the mapping of the air quality levels around Nairobi began. In 30 days the results will be back. What story of the city will they tell?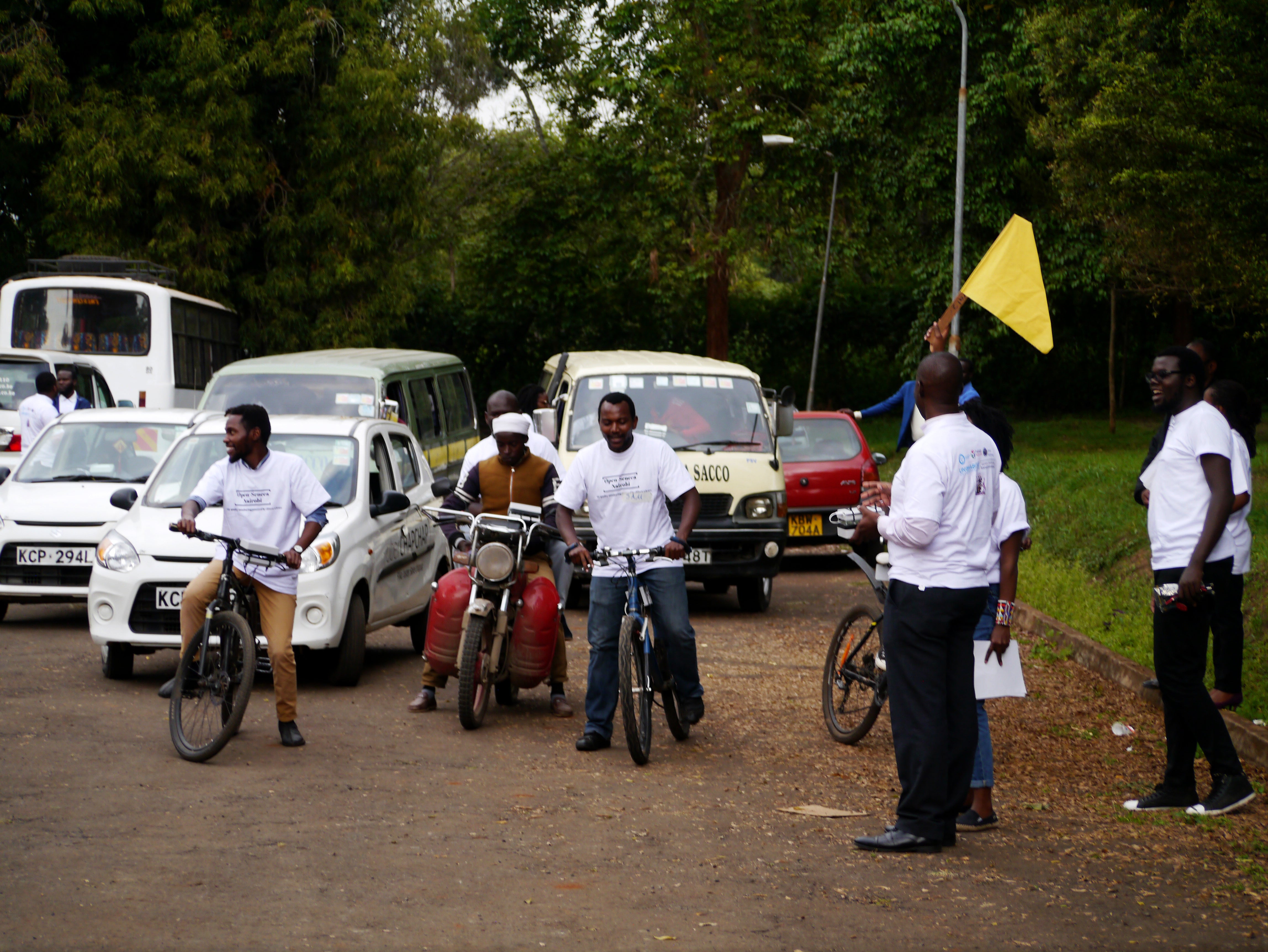 Vehicle drivers and bicycle riders prepare to depart with the air pollution sensors attached to their transport.
[UN-Habitat]