Fuzhou, China, 31 October 2020 – China's national observance of World Cities Day 2020 was held in Fuzhou city, capital of the southeastern Fujian province, organized by the national Ministry of Housing and Urban-Rural Development (MOHURD), the Provincial Government and UN-Habitat.
Government officials, experts, scholars and community representatives from China, Russia, Germany and other countries, regions and international organizations shared their experiences and best practices in promoting sustainable urban development and improving the living environment focusing on the theme of Valuing Our Communities and Cities.
Mr. Jiang Wanrong, Vice Minister of MOHURD said that World Cities Day had made a great impact and played an important role in promoting sustainable urban development, the implementation of the 2030 Agenda for Sustainable Development and the New Urban Agenda globally since its first observance.
"China has made prominent and historic achievements in promoting urbanization since its reform and opening up while many challenges emerged and shall not be ignored in the process," he said.
He emphasized that China was willing to deepen cooperation with other countries in the field of housing and urban-rural development, exchange practical experience and innovative measures to value our communities and cities, and jointly address the various challenges of urbanization.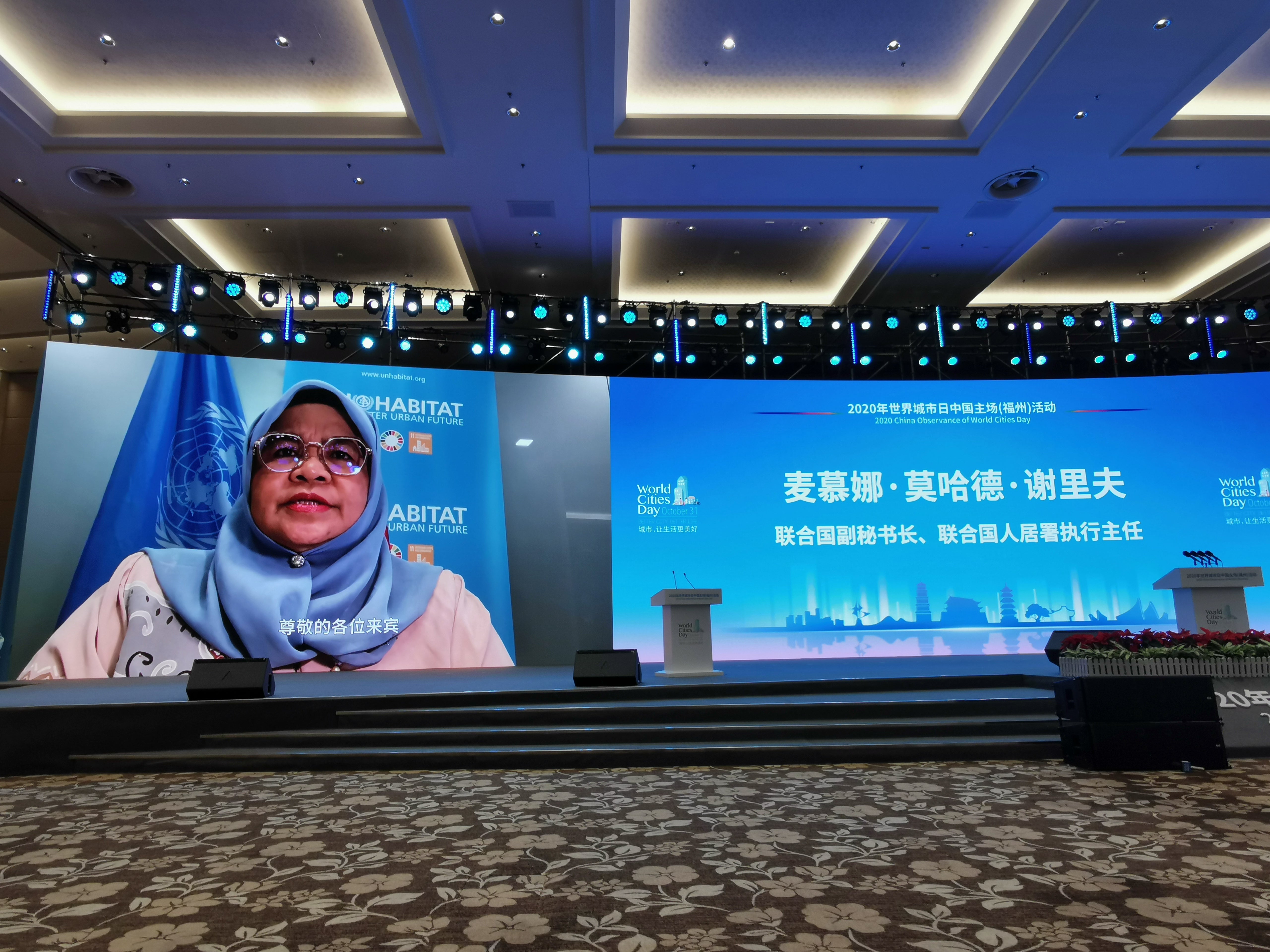 Ms. Maimunah Mohd Sharif, Executive Director of UN-Habitat, delivering a video message to the World Cities Day Observance in China
[UN-Habitat]
In her video message, Ms. Maimunah Mohd Sharif, Executive Director of UN-Habitat, thanked China for its efforts in organizing World Cities Day activities. "We are keen to collaborate with more Chinese cities for a people-centred, healthy urban future", she said.
"The theme of World Cities Day 2020, Valuing Our Communities and Cities, is a call to engage all stakeholders, to move from commitment to action, across the full reach of economic development, social progress, environmental sustainability and innovation," she added.
Representatives from over 40 cities signed the Fuzhou Initiative to express their common recognition of the significance of smart cities, communities, ecology, culture and safety in urban governance, and to call for building smart, eco-friendly, and people-centred cities that integrate traditional and modern culture in a participatory way.
The event was opened by Mr Wang Ning, Governor of Fujian Province. There were also messages at the opening ceremony from Mr. Lin Baojin, Secretary of the Fuzhou Municipal Committee of the Communist Party of China, Mr. Li Dejin, Vice Governor of Fujian Province, and video messages from Mr. António Guterres, Secretary-General of the United Nations and Mr. Nikita Stasishin, Deputy Minister of Construction, Housing and Utilities of the Russian Federation.
In his keynote speech, Mr. Benedict Arimah, Chief of UN-Habitat's Global Reports and Trends Unit introduced the newly launched World Cities Report 2020. Mr. Yang Baojun, Chief Economist of MOHURD, highlighted the need for reshaping the value of communities and China's commitment to building adequately serviced communities. Mr. Karsten Sach, Director General for International and European Policy, Climate Policy, Federal Ministry for the Environment, Nature Conservation and Nuclear Safety of Germany, spoke about the work of Germany and the European Union to promote ambitious National Determind Contributions to achieve climate neutrality by 2050.
The Chinese Urban Development Best Practices Exhibition presented case studies of Chinese cities responding to sustainable development challenges with innovative solutions. The event was livestreamed by Xinhua News Agency and attracted more than 2.1 million online viewers. It can be seen here https://live.xinhuaapp.com/xcy/reportlist.html?liveId=1603675001519373 .