Addis Ababa, 2 December 2019 - UN-Habitat's Executive Director,  Maimunah Mohd Sharif, discussed strengthening the relationship between the agency and Ethiopia during her visit to the country's capital where she met Prime Minister Abiy Ahmed, the President Sahle Work-Zewde, the Minister of Urban Development and Construction Aisha Mohammed and the Minister of Foreign Affairs, Gedu Andargachew.
During these meetings in November, Ms Sharif spoke of her appreciation for  the partnership between UN-Habitat and the Government of Ethiopia and highlighted the importance of sustainable urban development for the country's economic structural transformation, poverty reduction and social cohesion.
The Executive Director said UN-Habitat is undertaking activities to promote sustainable development  in Ethiopia mentioning in particular Bahir Dar, Hawassa, Dire Dawa and Kombolecha, where UN-Habitat has city-development projects.
The meetings focused on urban and regional spatial planning, solid waste management, river rehabilitation, research and urban monitoring through technical assistance and institutional capacity building. 
The Executive Director also met the UN Special Representative of the Secretary-General to the African Union and the Executive Secretary of the UN Economic Commission for Africa to discuss urban development and human settlements from a regional perspective as well as the UN Country Team.
The Executive Director saw two projects being implemented with the City Government. First, she visited the Koshe/Reppie dumpsite, where UN-Habitat has used the Fukuoka Method with funding from the Government of Japan and was accompanied by the Ambassador of Japan. She also visited the Ras Mekonnen public space that was recently rehabilitated using Block-by-Block, a community participation tool. 
During a dinner, hosted by the Ministry of Urban Development and Construction, the Executive Director appreciated the efforts development partners are making in Ethiopia, and requested for more coordination and focus on urbanization as a critical mean to achieve sustainable development. The dinner provided an opportunity to showcase the UN-Habitat's work in Ethiopia and present some of the priorities of the upcoming 2020-2025 Country Programme.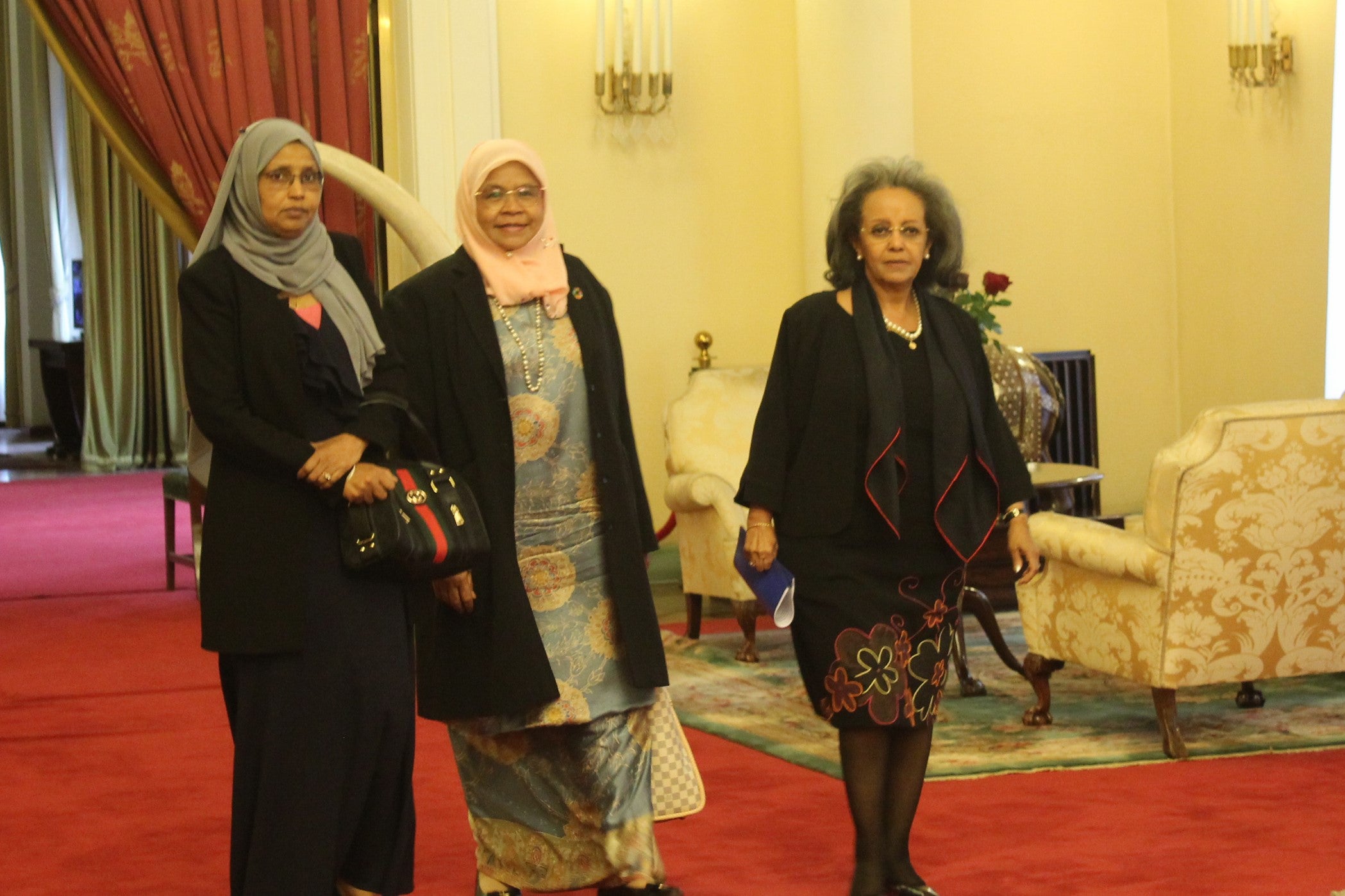 The UN-Habitat Executive Director with the Ethiopian President Sahle Work-Zewde and the Minister of Urban Development and Construction Aisha Mohammed in Addis Ababa.
UN-Habitat/Leon Kioko