Suva, Fiji, 31 October 2020 – At the first World Cities Day celebrations in Fiji, UN-Habitat supported the Local Government Ministry and over 20 Government and UN partners to promote and celebrate livable, vibrant, sustainable and inclusive communities and cities.
The event in the capital Suva encouraged the engagement with all segments of society, in particular children and youth, as well as people living with disabilities to take part in dancing and various sports.
A representative from the Fiji Association of the Deaf Leona Tamailai said the inclusive nature of the event provided an opportunity to raise awareness as well as showcase their talent.
"This programme is very positive and exciting and we hope that we'll do more on this and we'll see more inclusive events so that despite our disabilities we can showcase what we are able to do."
Alongside the sports and dancing there was a children's art space, dialogue sessions, live music and public awareness information booths providing an opportunity for celebration, education and dialogue.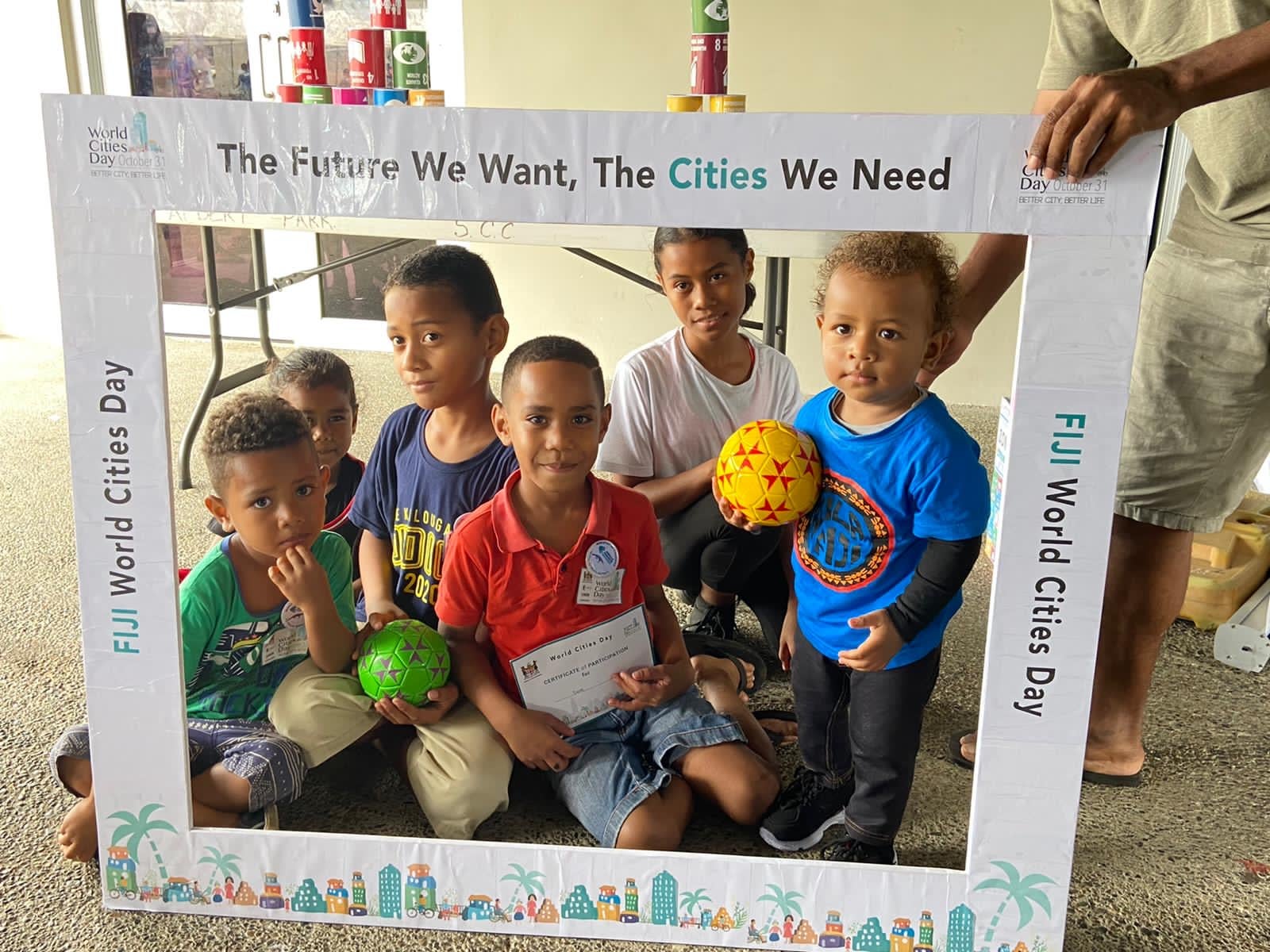 Participants at the World Cities Day 2020 event in Suva, Fiji
Local Government, Housing and Community Development Minister Premila Kumar officially opened the event, commending the inclusive nature of the event.
"To show our appreciation for the communities we serve, we dedicated a day to celebrate the partnership between all parts of our community in making our cities and towns great places to live, work and play," she said.   "It is about celebrating today the partnership we have with all parts of society that is why it's so important it's the United Nations day designated every year to celebrate better cities better life but this year it's particularly about valuing our communities."
UN-Habitat Urban Resilience Team Leader, Inga Korte, pointed out that the success of any city or town depended on bringing together the voices of all its residents.
"We put a special emphasis on this because we see that building cities or making cities that are more inclusive will be really important going forward. We have many people here today with a disability and we'll ask questions on what kind of cities they would like to see five years from now," she said.
As this year also marks the 75th anniversary of the United Nations, UN-Habitat organized an interactive mapping exercise to engage the public in dialogue on 'The future we want, the cities we need'. Participants were asked to provide feedback on topics such as basic service provision, recreational activities, housing, and safety and security, all of which will be used to inform future policy making and programming.