Beirut, Lebanon, December 2020 – The huge blast at Beirut's port in August damaged hundreds of buildings in the Lebanese capital's historic quarters of Gemmayzeh and Mar Mikhaël. UN-Habitat Lebanon is working with shelter sector partners to identify and renovate the buildings to ensure that they are structurally sound and to preserve city's balance of traditional and modern architecture.
UN-Habitat is using its experience earlier this year in Haddadine, Tripoli and the Old Town of Saida where it rehabilitated 36 historic buildings comprising 110 units ranging from 300 to 450 years old. Both host and refugee communities were living in substandard conditions in these areas which are marked by high levels of poverty and few public services.
In addition to the physical upgrading of the buildings and the enhancement of livelihoods and communal well-being, the project included capacity building and awareness raising activities. To promote the importance of preserving cultural heritage, UN-Habitat held a five-day training session for 45 local volunteers in each neighbourhood, which was followed by the development of an awareness booklet including basic instructions on how to protect historical buildings.
"UN-Habitat has cooperated with the Municipality of Tripoli in Haddadine neighbourhood. They have changed the reality of the area and improved the living conditions of the beneficiaries residing in the houses that were restored," said Dr. Riad Yamaq, the Mayor of Tripoli.
Speaking in her renovated house, Rida, a resident from Tripoli said: "I can't believe the change that happened to my kitchen and house, I don't recognize it anymore. I have never been able to save money in order to fix it. I am raising my four children with the money that I earn from cleaning and peeling vegetables in restaurants. I am very thankful as now I am able to cook and eat in a clean environment."
Through this project, which was funded by the British Council's Cultural Protection Fund, UN-Habitat actively engaged local authorities by establishing local technical units which operate under the mandate of municipalities which played a major role during the implementation of the project's activities. In addition, youth contributed to the physical restoration works.
A 3D tour was designed to guide virtual visitors around the historic neighbourhoods of Haddadine and Old Saida. Meanwhile, 32 youths participated in a six-day training to become touristic companions, enabling them to take visitors through the tourist trails developed by the project which will provide them with employment. The touristic trails formed a part of the larger touristic booklets for both areas.
"By renovating the residential units in a way which preserves the history and traditional architecture of the area, this project challenges the idea that renovation is part of gentrification. Residents' homes were restored, ensuring beneficiaries can live in dignity, without taking away from their historical significance. This has created a sense of belonging among residents in these historic neighbourhoods that were neglected for decades," said Taina Christiansen, Head of UN-Habitat Lebanon Country Programme.
There are more photos of this project in this album.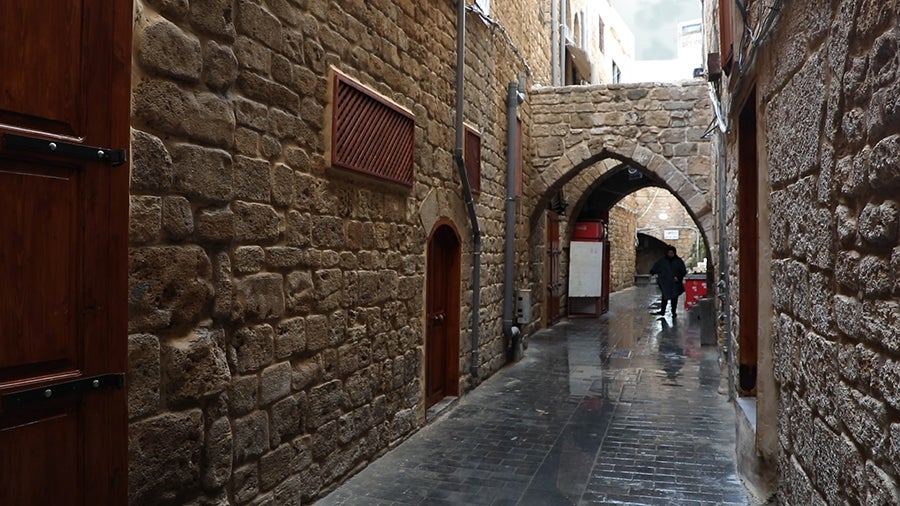 Furn al Saha neighbourhood in Old Saida after renovation
UN-Habitat