AMMAN, Jordan, November 2019 - UN-Habitat is supporting the humanitarian and recovery response in Yemen by providing better urban information and analysis through the Rapid City and Neighbourhood Profiling project with the European Union
As part of this project, UN-Habitat and iMMAP organized a three-day joint analysis and recovery planning workshop for Aden at the UN-Habitat Yemen Programme office in Amman. This was to bring stakeholders together to better understand the situation in Aden, particularly in the area of housing, basic services, governance, heritage, economy, and population, and to develop strategic priorities for a recovery plan. Officials from different departments and local government in Aden attended including Ahmed Hussein Abdulkarim Jawi, General Director of the International Cooperation from the Ministry of Planning and International Cooperation (MOPIC) who said: "We would like to thank UN-Habitat for this useful workshop, and especially for consulting the government in this planning process."
The workshop focused on how the conflict has affected Aden which is suffering from a housing crisis. More than 12.000 houses in Aden have been damaged, informal settlements have mushroomed as a result of the influx of IDPs, and rents have quintupled in some areas. These developments threaten cultural heritage sites, as informal constructions encroach on or taken building materials from historical monuments.
Participants worked in groups to analyse and strategically plan for urban growth, economic recovery, and cultural heritage, with the aim of identifying short-term and mid- to long-term goals for Aden's urban recovery and reconstruction.
Building upon the previous rapid city profiling experiences from the Arab states, UN-Habitat is currently developing seven City Profiles for Aden, Sana'a, Sa'ada, Taizz, Al Hudaydah, Al Hawah and Zinjibar. These profiles foster early recovery and contribute to stabilization and peacebuilding by empowering urban communities and to guide investments and capacity building towards this same objective.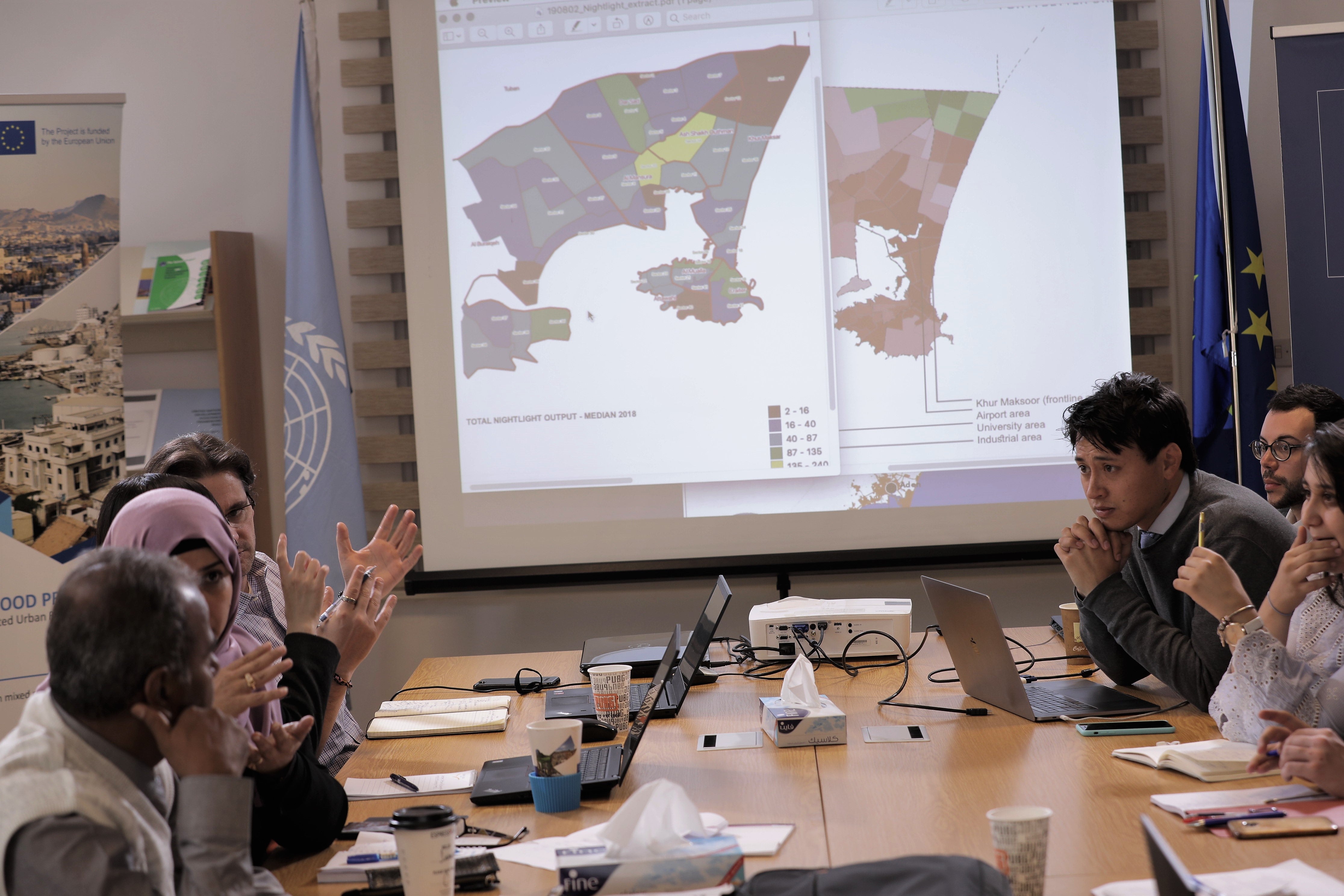 Officials from the Yemeni city of Aden City, UN-Habitat staff and iMMAP during a workshop on the city's recovery
© UN-Habitat / Ihsan Adnan